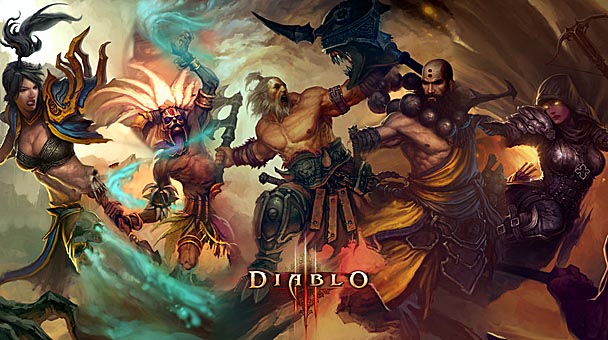 Console gamers who crave the creature carnage and loot drops perfected by the Diablo franchise have had to put up with second-rate surrogates for years. From Sacred 2, Dungeon Siege 3, and the especially woeful Dungeon Hunter: Alliance, developers have all been unable to faithfully replicate the rudiments which drove the series to overwhelming success. Even the Xbox 360 version of Torchlight, a title which garnered a considerable amount of critical acclaim, was generally considered a subordinate to Blizzard's Beelzebub-bashing IP.
So when the publisher/developer announced their plans to port Diablo III onto the Xbox 360 and PlayStation 3, expectations varied wildly. Skeptics pointed to Blizzard Entertainment's fifteen-year hiatus from consoles and the decidedly lackluster (and outsourced) PlayStation adaption of the original Diablo. Others hoped that the company would mend the most contentious components of the PC iteration: an always on-line policy, and the inclusion of the Auction House.  In execution, the adaptation of Diablo III to dedicated hardware proves to be remarkably adept, and stands as the definitive version of the title.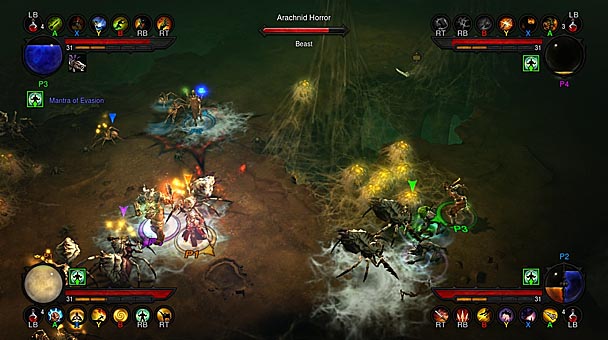 Unsurprisingly, the mouse and keyboard controls of the PC version have been adapted into a controller-based input scheme; what is startling is just how functional this new system is. Players move their characters with the left analog stick, while a majority of the face buttons and triggers activate the protagonists' arsenal of increasingly potent skills. For ranged-based classes, like the Demon Hunter, Diablo III offers a bit of aim assistance, highlighting foes and targets with a crimson outline. An addition to the console iteration is the evade command, which is initiated by a pull of the right stick. While this new move helps give players some distance from encroaching foes, it's not as effective when opponents strike with ranged missiles. Too often the maneuver isn't quick enough to dodge these projectiles.
Likewise, equipment management has largely been retrofitted around a radial menu system. A press of the back button and a twirl of the thumbstick allows players to compare items and assign skills or review Diablo lore, while a tap of the bumpers recaps active quests and give party information.  For adventurers with an aversion for menu navigation, an upward press on the directional shows a condensed comparison and offers the ability to equip newfound gear instantly. One casualty of the new scheme is the loss of the grid-based system which constricted carrying capabilities. The upside to the loss is that characters seem to be able to carry more items, making merchant runs less frequent.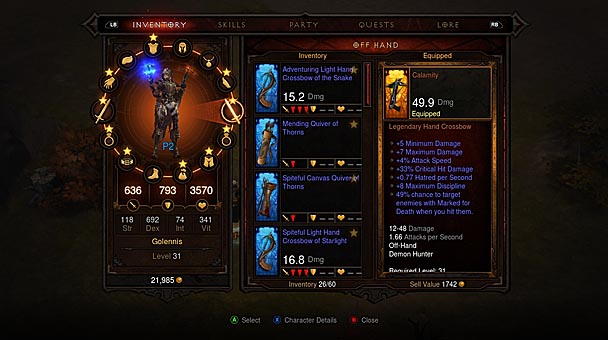 To replace the removal of the Auction House, loot drops have been modified. Now, unearthing weapons and equipment occurs with a lower frequency, returning excitement to the glimmer of a sundry signifier.  Items which aren't compatible with a player's class happen less often, meaning that found gear is typically usable. As such, gamers hoping for a specific article are at the mercy of the blacksmith's arbitrary wares or the cooperative adventuring companions.
Supporting both system link functionality and couch co-op for up to four players, Diablo III skillfully makes the jump from individual to communal game. The one caveat like local games is that loot is pooled across the party. Interestingly, the title's single-player defaults to online mode, with options to invite only or quick-matched partners. For those consciously seeking out cohorts, the game delivers a host of matchmaking possibilities, allowing gamers to specify linguistic and locational preferences, goals, and even which of the four acts they like to tackle.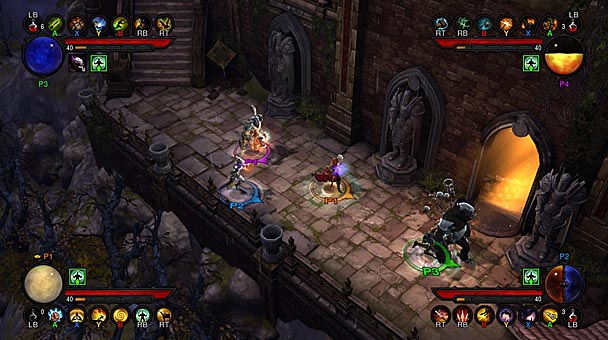 Despite Diablo III's ability to accommodate both a range of player sizes, the game's mechanics aren't as flexible.  While the title's selection of five contrasting classes come in both male and female forms, players have little input over the disposition of each character. Whereas most contemporary games with even a bit of role-playing DNA encourage divergence through conversation trees, personality is wholly determined by the developers. Told through static portraits and lively voice-over, Diablo III's overarching story in engaging, but the multitude of basic fetch quests can get a bit tedious.
Keeping with franchise tradition, Diablo III isn't a cerebral pursuit. Instead, ambition is fueled by the careful balance of a progressively powerful protagonist pitted against a cavalcade of increasing resilient foes. As such, the game doesn't have the dilemmas where players are uncertain of how to progress. There's always an indicator pointing to the next errand, or at least a sense of trying a different loadout when a baddie gets the best of you. As such, it's the ideal game for those seeking a cathartic, end-of-the-day experience rather than one where a high level of cognition is required.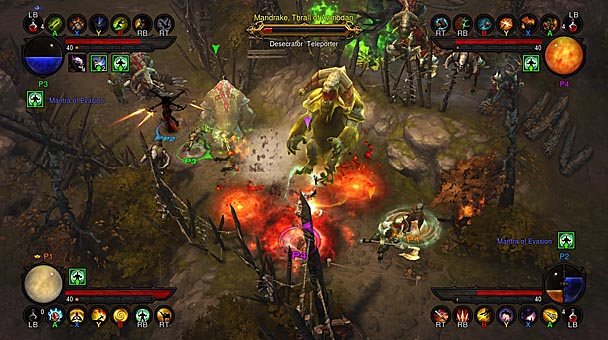 Graphically, the title is consistently proficient. Although character models utilize a measured polygon count, Blizzard's artistry helps to shroud any sense of visual economy. This procedure also helps to keep the framerate near the 60 FPS plateau, although a swarm of on-screen activity can cause some sporadic drops as well as a bit of screen tearing. Musically, the game's soundtrack channels its evocative vibe, offering an ideal complement for crypt and cathedral crawling. While custom soundtracks are an option, it's unlikely that players could find a better aural complement.
While Blizzard isn't known for their console ports, Xbox 360 and PlayStation 3 owners should approach Diablo III without fear. The game improves on its PC-based brethren, removing divisive elements like an on-line obligation and a cash-based economy. In essence, the game has been retooled and retrofitted, making the hunt for old Mephistopheles a faultless fit for home systems.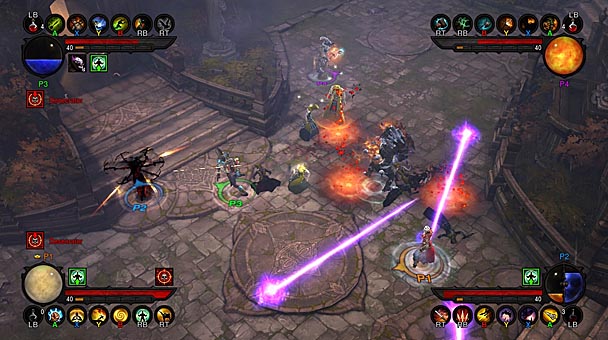 Diablo III was played on the Xbox 360 with review code provided by the publisher.
Review Overview
Summary : Diablo III's pursuit of loot is adeptly adapted for console owners of all skill levels.