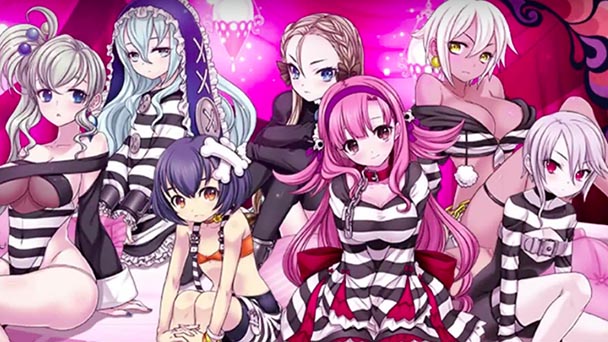 If you're an ardent role-playing aficionado, you've probably liberated dozens of lands and exterminated dozens of humanity-threatening enemies. Tales of epic heroism are ubiquitous in interactive entertainment. Developer Nippon Ichi Software understands this, and with the release of Criminal Girls 2: Party Favors, extends an expedition centered around a much more intimate type of salvation. It's a quest that shirks the sterile tone of most adventures, providing an impish amount of kink to open-minded players. Think of it as Fifty Shades of Moé, with Party Favors intermingling a cast of nubile maidens with some light sadomasochist frolicking.
Like last year's Criminal Girls: Invite Only (which was an enhanced PS Vita port of the 2010 PSP title), players are in charge of a troupe of seven girls- who were all on track to commit some kind of criminal action during their lives. But fate intervenes before the felonious act is committed, sending each future offender to Hell. It's in the abyss that players act as novice reformer, trying to save the soul of each girl, lest the ladies will be sentenced to eternal damnation. Like many of NIS' efforts, the plot is hung on a number of existential issues, but rarely takes itself too seriously. Most of the time, Criminal Girls adopts a consistently breezy, humorous approach during its rumination on delinquency and redemption.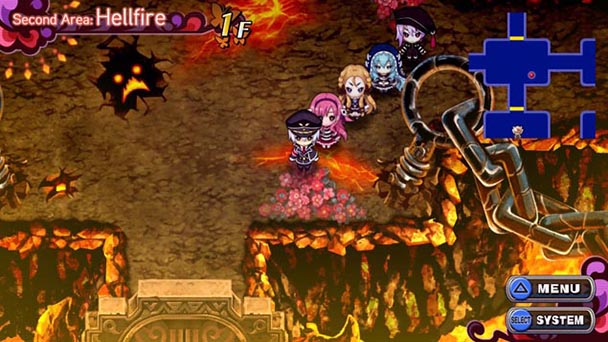 For the most part, the expositional method works. Discovering each girls' backstory proves stimulating. Although each member is hewn from trope, with Party Favors' cast offering a classic assortment of tsundere, dandere, energetic klutz, and busty ditz. But gradually, archetypes dissipate as players learn the backstory and motivations behind each character. While it may not be a transcendent work, there is enough nuance to make us care for each girl, and for those seeking humor- there's an inundation of innuendo. Forging distinction from its predecessor, Criminal Girls 2 toys with the prospect that at least one girl make actually be an offender attempting to make a clandestine exit from the underworld, adding a bit of intrigue to the storyline. But if there's a fault with Criminal Girls, it's that the cast rarely lives up to its moniker. Save for a bit of sass, most of the girls abide by a moral code that's hardly deserving of the 'motivations' hinted at by the mini-games.
Like the first game, players will periodically be burdened with applying a bit of sadistic incentive to the girls. Initially, that involves a rubbing the touchscreen to simulate the stroking of a soapsud removing scrub brush but eventually entails the use of tickle-inducing feathers, the spraying of gooey substances, and even mild electric shocks. Although these interludes are clearly meant to be Party Favors' showpieces, as the camera pans over the tantalizing body of each girl, the simplicity of each mini-game and their frequency can turn titillation into tedium. While NISA's slightly sanitized artwork keeps most of the lasciviousness intact and the addition of two-girl scenes are inspired, you'll likely wish there was more variety in your motivational catalog than the basic rubbing and rhythm mechanics offered here.
On the upside, these sequences do deliver a pleasing payoff, with girls periodically learning new skills which adds to their potency during random encounters and boss battles. Much like the original Criminal Girls, the turn-based offer a clever deviation from role-playing tradition. Each turn, your party of four combatants propose suggested actions from their arsenal of acquired skills. As manager, players decide which action should be executed, extending a bit of agency, while supporting the notion of autonomy from the girls. Like a card-based battler, the randomization of suggested skills means that players won't reflexively rely on their powerhouse proficiencies. Instead, you'll have to adjust with what's offered and play prudently, since you don't always know when a healing option will emerge.
This time out, selecting skills comes with a new wrinkle: each ability is aligned with either an "S" or "M" attribute. During combat, players can select coaching strategies, opting to scold, praise, sympathize, or worry about their team of delinquents.  Each approach influences the base stats, thereby boosting your S girls and weakening your M ladies, or via versa. Another element that can influence outcomes is the Bond Attack, where a pair of characters team up, issuing a punishing, and consistently gratifying combo on foes. One of the few downsides with combat is that the game occasionally required a bit of grinding before a boss battle, which can impede the sense of progression across the game's campaign.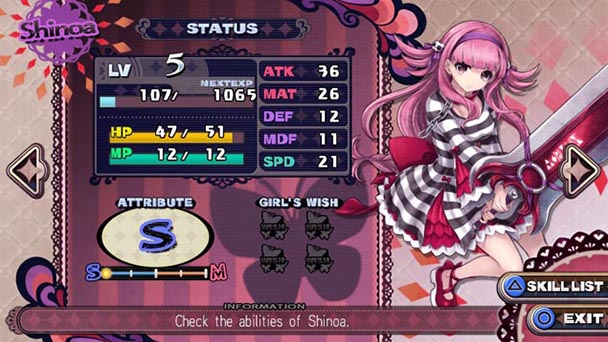 Like Criminal Girls: Invite Only, Party Favors uses a charming chibi-style when depicting the girls' journey through the Hell Spire. Backdrops blend the intimidating with the adorable, offering locales illuminated by the glow of hell fire or a landscape teeming with discarded teddy bears. Combat and motivational sequences increase character size and level of detail, imparting a contenting visual that help to define and delineate each criminal. Like its predecessor, Party Favors forsakes dubbing, delivering its voice work in the Japanese with English subtitles.
Given gaming's current environment- where Japanese titles that don't dovetail with U.S. cultural norms are all too frequently snubbed for location, the presence of Criminal Girls 2: Party Favors is remarkable. Here's a role-playing game which eschews a sanitized slog, advancing an adventure that's brimming with good-natured bawdiness. Sure, some of the racy parts lose their puckishness after overuse, but NIS's willingness to advance on Imagepoch's ideas and bring Criminal Girls stateside is commendable. If you're seeking out a decidedly adult title with a mischievous and occasionally sophomoric sense of humor, Party Favors lives up to its celebratory promise.
Criminal Girls 2: Party Favors was played on the PS Vita with review code provided by the publisher.
Criminal Girls 2: Party Favors
Platform: PS Vita
Developer: Nippon Ichi Software, Imageepoch
Publisher: NIS America
Release date: October 11th. 2016 (US)
Price: $39.99 via retail and PSN
ESRB: Mature
Review Overview
Summary : A little dirty and remarkably diverting, Criminal Girls 2: Party Favors deserves play from role-playing fans seeking a side of kink. Just make sure those sessions aren't in public, as onlookers aren't likely to understand your efforts in battling juvenile delinquency.