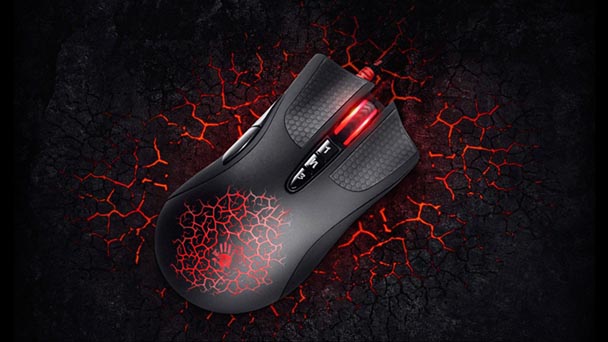 Evaluating the durability of a device can be a difficult endeavor for any writer. Most are forced to forecast long-term reliability by vigilantly inspecting the build quality of a consumer product- producing a prediction that can be tragically inaccurate. With Bloody's mice, I am fortunate to have at least four points of data. After reviewing the ZL5A,  TL80 Terminator, Gun3 V7,  and Headshot, each peripheral has managed to withstand the two-pronged tests of time and daily travel. While Logitech and Razer mice have been laid to rest in the gaming device graveyard, each succumbing to the stress of daily use and transport, Bloody's peripherals have held up in home and office, with only a bit of wire fray to reveal their age.
With the launch of the Bloody AL90 "Blazing Laser" Gaming Mouse, it's comforting to see the company hasn't deviated too far from formula. Opening the front flap on the mouse's cardboard housing and you'll see an inventory of familiar features. Leading that list is the incorporation of what Bloody calls their 'secret weapon'- a software-based tool that reduces the effect of simulated recoil in first-person shooters. But the ruse is that recoil reduction is a feature that you'll have to pay extra for.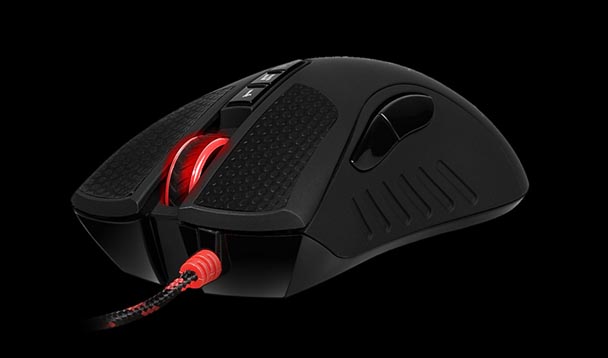 After owners download and install the Bloody app, they'll realize the manufacturer's slightly gimmicky marketing ploy. The software permits the mouse to be switched to different modes, which the company calls 'cores', as if there was a brawny Intel CPU lurking inside the peripheral. Out of the box, players have access to two of the mouse's four cores, forcing gamers to pay an additional expense if they want to unlock the peripheral's full potential. On the upside, the feature is only a ten-dollar purchase, and anyone who isn't interested in the functionality can skip the purchase.
The mouse's first core offers the most straightforward approach to input, while still extending a bit of practical flexibility. Head into the Bloody 6 app's menu and you can tweak five different presets along the X and Y axis, with a duo of topmost mouse buttons conveniently shifting between each setting. Owners can also remap any of the AL90's eight buttons, easily refiguring for a variety of different mouse functions, keyboard input, Microsoft Office macro, and even a screen capture.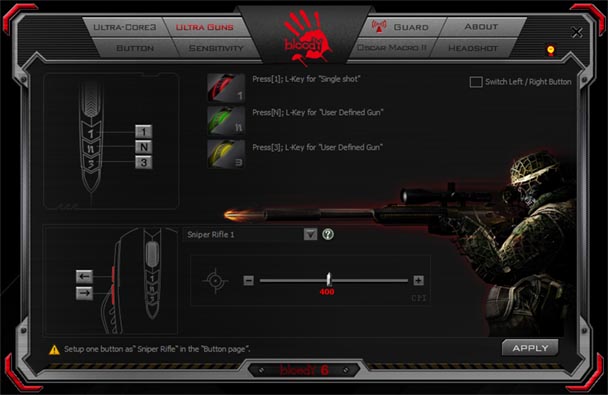 The device' single dedicated button can't be changed in the same way, but does allow owners to cycle through the device's seven different user-adjustable profiles. Each is signaled by different LED colors that are emitted from the mouse's palm rest. Mode 2 offer a similar experience, but with the AL90's top three buttons into single, double, and triple-burst shots, functionality is clearly intended for first-person shooter aficionados.
Core 3 is where the AL90's recoil reduction comes into play, with owners able to tweak settings in the 'headshot' tab of the Bloody 6 app. Essential handgun and rifle kick in games is represented by moving the player's crosshairs upward with each successive shot. The concept behind Core3 is that the AL90 compensates for the movement- allowing for a denser grouping of fire. Obviously, the simulation of muzzle lift varies not only across each game but also across each title's arsenal of weapons. To remedy this discrepancy, the mouse's drivers allow for players to adjust the amount of compensation on the fly, by using the top button to switch between different gun profiles.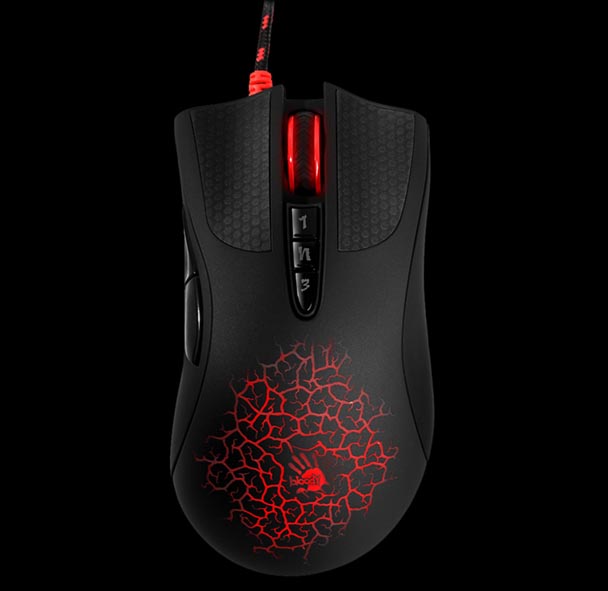 Certainly, zeroing in your weapons isn't automatic. The Bloody App still only offers presets for a handful of older games like Alliance of Valiant Arms, and All Point Bulletin Reloaded, so if you'd like to improve precision in Battlefield 1, Call of Duty: Infinite Warfare, you're going to have invest a bit of time. Variables like which game you are playing, screen resolution, type and make of weapon, all effect your shooting, so accuracy will require some experimentation. But once you zero-in a rifle, suppression is noticeable. In Sniper Elite: Nazi Zombie Army, second and third shots didn't require as much post-fire adjustment, leading to a slight advantage. But usefulness is essentially bound to long range-oriented characters. In Overwatch, Widowmaker was the only character who demonstrated advantage, assuaging the amount of actual assistance.
The AL90's fourth core is designed to help MMO and RTS players extending a robust macro-programming suite. Here, owners can create elaborate keystroke and mouse combination, doing things like creating loops that automatically activate commands when cooldown timers expire. Since this can be accomplished without the purchase of the AL90's, the core is a nice perk, but isn't a justification for purchase.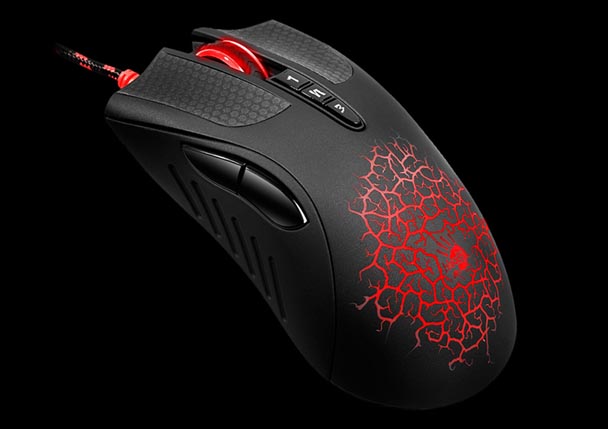 Ergonomically, Bloody's offering is a winner, offering a smooth exterior highlighted by texturized pads placed on top of the left and right mouse buttons. While palm, claw, and tip grips are all possible with the AL90, the latter two styles are best suited for the mouse, permitting the peripheral Teflon-outfitted underside to glide across pads with a minimum of friction. Where the device differs from Bloody's previous efforts is the inclusion of 19.5 grams of removable weight tuning. Rotate a hatch at the bottom of the mouse, and users can remove any of the seven cylindrical-shaped adjustors. One potential lingering downside with Bloody's mouse is the fabric cord. While the material resists tangling- if it rubs against a sharp desk edge it will eventually wear. Perhaps concerning consumers can place a bit of rubberized tape to ensure their mouse's longevity.
Quality is also found in the AL90's internals, with each clicks registering with unwavering dependability. The mouse's scroll wheel is just as adept, fine-tuning sniper rifle scopes and positioning wed pages with pinpoint precision and none of the friction that distinguishes an overly economical device. Pleasingly, the AL90's two side button require a bit more force, prohibiting accidental presses, but on the downside the relegate the peripheral to right-handed owners.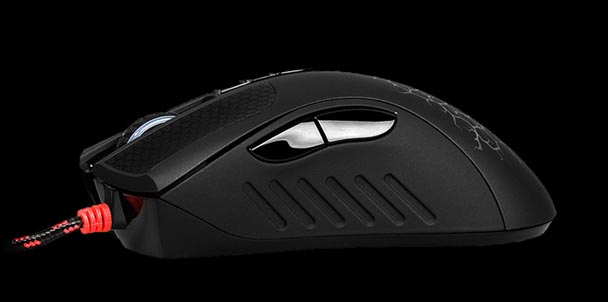 With a street price of less than fifty dollars on Amazon, the AL90 outshines all comparatively-priced competitors. In use, the device's AVAGO A9800 Laser provided unswervingly reliable, while switches seemed just as solid as our Razer Taipan. Sure, the unlockable functionality might make you feel like a cheat, but the AL90's performance is poised to make you feel like a professional.
A Bloody AL90 Gaming Mouse was supplied by the manufacturer for review purposes
Tech-Specs
Memory: 160K
Acceleration: 30 g
Frame Speed: 12,000 fps
Max. Resolution: 8200 CPI (5-level adjustable)
Key Response: Less than 0.2 ms
Infrared-Wheel: Over 1 Million Scrolls
Tracking Speed: 150 inches/sec (ips)
Image Processing: 10.8 Mega pixels/sec
Metal X' Glide Armor Boot: Over 300 Kms
Infrared-Micro-Switch: Over 20 million clicks
Report Rate: 125~1000 Hz/sec (4-level adjustable)
Type: Wired
Number of Buttons: 8
Cable Length: 1.8 M
Sensor: Laser Engine
Connector: USB(2.0/ 3.0)
System Requirements: Windows XP/ Vista/ 7/ 8 /8.1 / 10 or later
Review Overview
Summary : The AL90 Gaming Mouse continues Bloody's tradition of making well-built, highly functional peripherals at a reasonable price.