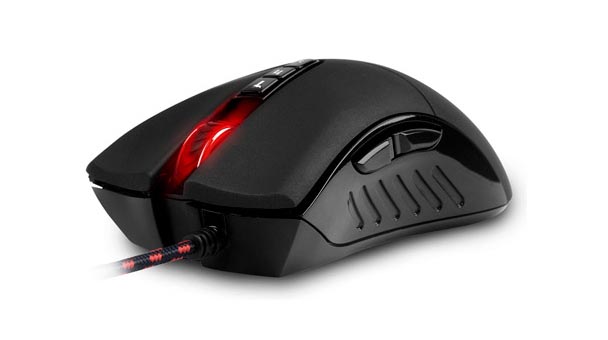 Last March, we reviewed the Bloody Multi-Core Gun3 V7 gaming mouse, a peripheral that purported to improve accuracy in first-person shooters. Any doubts about the device's claims were quickly diminished once we putted the mouse to the test. In execution, the Gun3's accompanying software neutralized a game's reproduction of recoil- allowing players to fire in precise groupings. Ethics (and accuracy) aside, the problem was having to manually zero each weapon, which left players prone as they were fiddling with ballistic details.
The release of the Bloody Headshot V7 improves upon its predecessor, demonstrating a number of enriching changes to both the hardware and drivers. Most valuable is the addition of game-specific data files, which provide pre-set tuning for APB: Reloaded, Alliance of Valiant Arms, CrossFire, Counterstrike and World of Warcraft. While that's hardly an exhaustive list of popular PC titles, the ability to download additional weapon files is in place- all A4Tech has to do is collect and assess the quality of player created data. If the manufacturer can accomplish that, the Headshot was the capability of becoming a conquering contender in the peripheral market.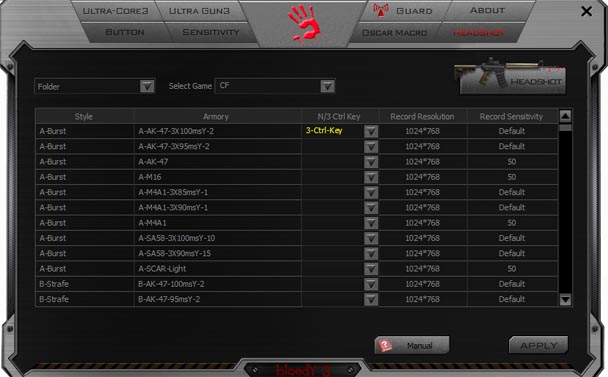 The Headshot's other minor shortcoming can be found on its packaging. Although the mouse is securely housed in an attractively windowed box, crucial specifications aren't listed on the packaging. While A4Tech boasts of click response times, recoil suppression, and durability, specifics such as sensor type, DPI sensitivity, and macro-making ability are absent. Most troubling is the lack of notification surrounding one of the Headshot's software modes, which is hidden behind a pay wall.
Strangely, the manufacturer neglects to taunt some of the amenities of the mouse, as well. Inside, owners might be surprised to find a quality cleaning cloth. Like its predecessor, the Headshot ships with a Velcro tie, which can reduce the unsightliness of excess cordage, or used to aid transport of the peripheral. The inner flap of the packaging does reference the mouse's 'ultra-metal' feet, which might like an ostentatious point. However, in use, the Headshot's pink underpads allow the device to glide across a surface with a minimum of resistance. When used with a superior mousepad (see below), the lack of friction is unmistakable, lending precision to ARMA III and well as the Microsoft Office suite. After two solid weeks of vigorous use, the feet showed absolutely no indication of wear. Not that abrasion was expected; our five month-old Gun3 with plastic pads reveals only the faintest of scratches.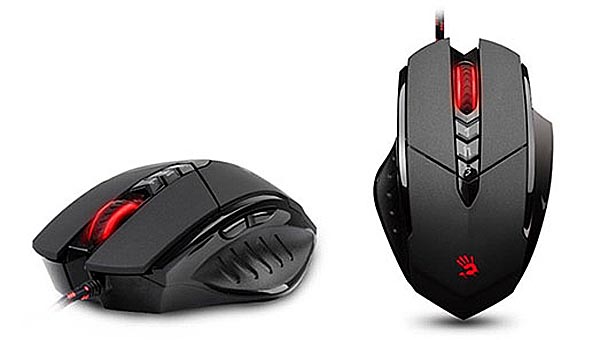 Ergonomically, the Headshot's wide body- accentuated by a ribbed skirt that matches the contour of peripheral fingers is unremittingly comfortable. Protracted play sessions elicited a minimum of fatigue and discomfort- on par with other premium mice. Button placement is well designed, with the conventional right and left keys complemented by a clickable wheel, a string of three macro keys below, and two programmable buttons on the left side. Regretfully, the latter feature limits the Headshot to right-handed players; A4Tech has made no mention of a left-handed model. One premium attribute that's missing from the mouse is weight tuning. While the peripheral is heavy enough to not lift off during impassioned sessions, some gamers might appreciate the option to add a bit of additional heft.
In execution, the Headshot's buttons feel strikingly responsive. Although the manufacturer's claims of a one millisecond response time couldn't be substantiated or denied, we hoped to get a better assessment of input lag by collecting average times on the Human Benchmark Reaction Time test. After completing two batches of twenty test trials on three different mice, The Headshot came in first, narrowly besting a Logitech G500 gaming mouse. A4Tech supplies its own Mouse speed test, and while their mouse earned top honors again, the diagnostic app doesn't divulge raw click response times, only a comparison with another mouse.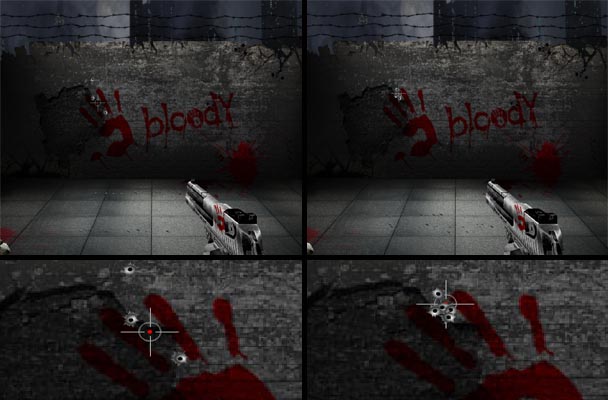 Whereas the Gun3 came with software on a mini-CD, Headshot owners must download the accompanying software, named Bloody3. Once the 17.2 MB file is acquired, installation is uncomplicated, with the application quickly identifying the mouse and installing the proper drivers. Like the Gun3, the Headshot operates in three different modes. Core 1 is intended for RPGs and RTS, permitting players to remap buttons, assign keys, and even assign functions for Microsoft Office. Core 2 maps the Headshot's underwheel buttons into firing modes, allowing single, double, or 3-burst shots to be easily fired. One owner's ante up $20 USD, they'll be able to utilize the device's third core. Here, gamers can program elaborate macros, while Bloody3's Headshot component grants access to the recoil suppression feature. What's more, players may adjust DPI on the fly and tweak the refresh rate of the mouse.
With a bit of tweaking, ARMA III's M320R Long Range Rifle become especially fearsome, dropping a cluster of foes as quickly as new rounds can be chambered. Likewise, once Battlefield 3's M16A4 was zeroed in to a specific distance, the Headshot correctly compensated for muzzle lift, allowing bursts to be fired with ruthless precision. Since the Bloody3 software does this by mimicking mouse movement, unless developers start scanning for the Headshot's drivers, the advantage will go undetected. While we would encourage players to limit the benefit to single player games, undoubtedly a few unscrupulous players will use the feature in competitive advantages. For those of you hoping to swindle the system- know that the Headshot's advantage is slight. Practice and skill remain the dominating factors of any match.
The Bloody Headshot Gaming Mouse blemishes are slight. Ideally, A4Tech would be forthright about the cost of the third core and they'll issue additional updates for their recoil suppression feature. That said, the Headshot is an undeniable value- the $40 device outperforms mice that cost twice as much. Coupled with a robust build quality and a commitment to comfort, A4Tech's peripheral should be considered by gamers who are serious about their leisure activities.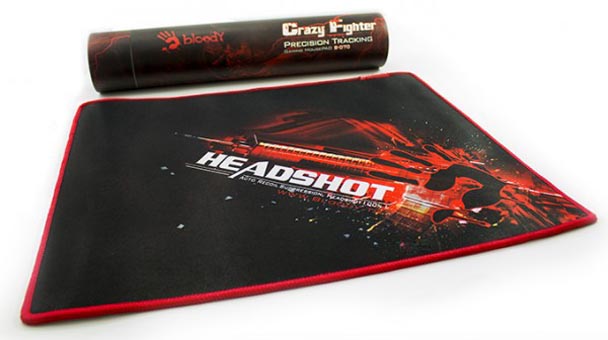 The Crazy Fighter Gaming Mousepad
Still using that flimsy promotional mouse pad? A4Tech's Crazy Fighter will change your mind. Available in three sizes, this premium accessory creates an ideal surface for frantic firefights. On the bottom, gamers will find a texturized rubber matting that keeps the pad secure. On top, the Crazy Fighters offer a smooth as silk fabric coating that not only accommodates optical or laser mice, but stubbornly repels liquids. With a red and black design that complements the Headshot, you'll want to bundle this in with your new acquisition. Nicely, the pad rolls up neatly for transit.
Basic Parameters
Multi-core system
Buttons: 7 keys + Wheel
Direction of wheel: one way direction
Tracking: Optical engine
Type: Wired
Connection: USB (2.0/3.0)
Hardware requirements: PC
Software system requirements: Windows XP / Vista / Windows 7 / Windows 8
Mouse size: 125 x 64 x 39 (mm)
Cable length: 1.8 m
Mouse weight: 155 g
Technical Parameters:
Resolution: 200 Dpi to 3,200Dpi (5 ranges adjustable)
Image processing: 368 mega pixels / sec
Acceleration: 30g
Tracking speed: 75 inches / sec
Report rate: 1,000 Hz(4 ranges adjustable)
Key response time: 1ms
160K onboard memory
Review Overview
Summary : Even when the price for the Core 3 purchase is factored in, A4Tech's Bloody Headshot is one of the better mice in the $75 and under market.