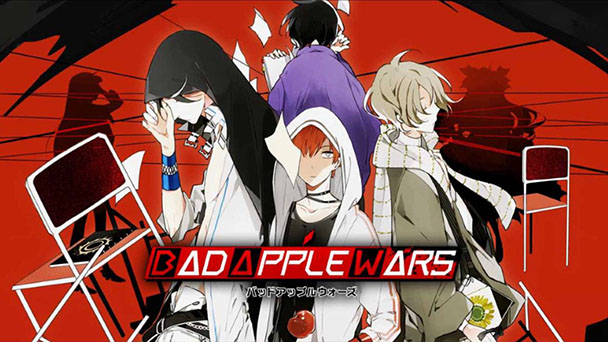 Japanese writers are especially adept at allegory, crafting eloquent and often evocative metaphors when tackling provocative subjects like animism, environmental abuse, or war. With the release of Bad Apple Wars for the PS Vita and PlayStation 3, Ikebukuro-based developer Otomate employs an academic setting to explore the nuances of religion, conformity, and our capability to empathize. And while that might make the visual novel sound like a cerebral graduate-school seminar, the title manages to be thoroughly stimulating, at least for its initial read.
The novel begins on the first day of school, seen through the perspective of the game's rather nondescript protagonist. As Rinka is crossing the street, she loses her shoe, and during an attempt to retrieve it, is stuck and killed by a vehicle. Following a brief blackout, she gains consciousness at the NEVAEH Academy, which functions as both purgatory and a prep school for the next life.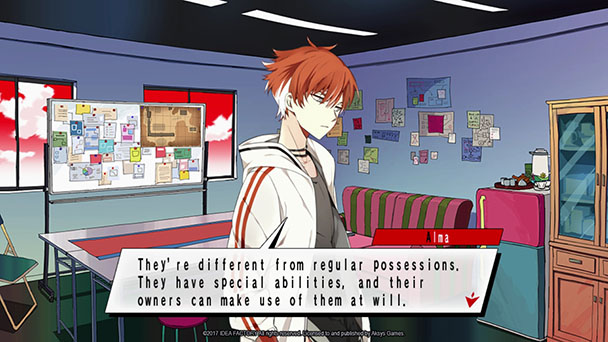 Naturally, the otherworldly school is off-putting, which students concealing their faces, and a greeter clad in a white suit, sporting an oversized bunny head. The enthusiastic character quickly ushers Rinka to the academy's opening ceremony, where the student body is told if they obediently follow the rules, they'll be reincarnated, thereby getting another shot at existence.
The ceremony is interrupted by an explosion, filling the auditorium with smoke. Emerging from the chaos are the novel's eponymous faction, the Bad Apples. Readers soon learn these insubordinates have an oppositional agenda, preferring to subvert the NEVAEH Academy's long itinerary of rules. Most policies have already been countered, but later, its discovered that a surreptitious set of seven rules has yet to be contested. One decree which is known states that any student who consumes something called the forbidden apple will be immediately expelled. But is not clear if this is a figurative or literal apple, or what discharge entails. The rebels believe that ejection is an express ticket back to their old life, which could very well be wishful thinking.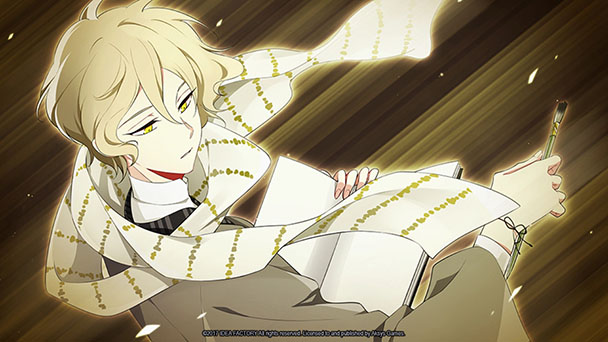 As long as readers haven't watched or read Angel Beats!, which has a conspicuously similar context, Bad Apple Wars' early hours are an engaging affair. Much of the enjoyment stems from the intertextual approach, where elements of Eastern and Western spirituality intermingle, and religious obedience is juxtaposed with a punk rock-like stance against conformity. Save for the naming conventions (NEVAEH is obviously Heaven spelled backwards while Prefects literally enforce discipline), there's obviously a lot of thought that went into Bad Apple Wars' exposition. For one, compliance just isn't discussed, it's articulated through the identity-obscuring masks worn by Prefects and Good Apples, the similar vocal inflections, and comparable attire. Then there's the role of teachers, who usher in a set of fascinating quandaries and behaviors, like providing Prefects with rulers, which act as disciplinary tools.
The context is fascinating enough to support a forty-hour persistently ambiguous rumination, but woefully, the title forces Rinka to select an alliance with Bad Apples or Prefects early on. While there's reward both either end of the forked path, it would have been fascinating if Bad Apple Wars remained on the middle road for just a bit longer, playing tug-of-war with the reader's sentiments. What follows isn't faulty, as it humanizes the conflict, but expect the novel to shift styles long before the circumstance has been fully explored.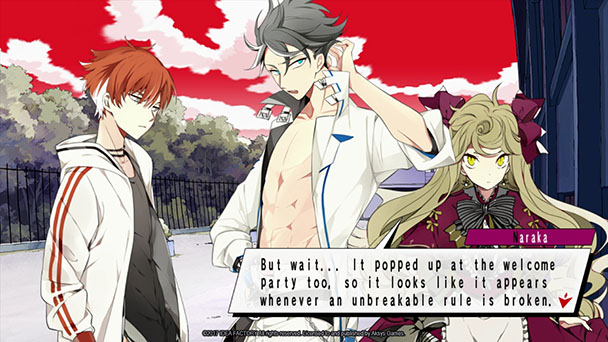 Fortunately, there is pontification courtesy of the game's male leads. As they're hewn from an assortment of tropes, the quintet of characters offers a variety of perspectives on things. But quality isn't consistent across the cross-section of rule keepers and breakers and some backstories are decidedly better than others. Another problem is the homogeneity of their backgrounds. The first two times you learn of their trauma, Bad Apple Wars musters up emotion. But gradually, you'll discovery a laundry list of tragedy in almost everyone's past, diluting your level of compassion with each additional reading. And all too often, Rinka's confidant becomes a romantic partner, extending the same broad trajectory. A few more platonic relationships would have helped the overall package.
But credit needs to get given for Bad Apples' method for depicting emotional attachment, rooted in a touch-based minigame. While these segments could have easily recalled the cheeky diversions found in Monster Monpiece or Criminal Girls, there's a surprising amount of maturity to be found. Essentially, you are making physical contact with your romantic interests to acquire their memories. Caress the wrong area and you'll demonstrate a lack of intimate understanding and drift toward a bad ending. But those who 'Soul Touch' appropriately bond with their partners, symbolizing relational development and the power of haptics. It's an ambition that many developers have struggled to depict but only a scant few have been successful.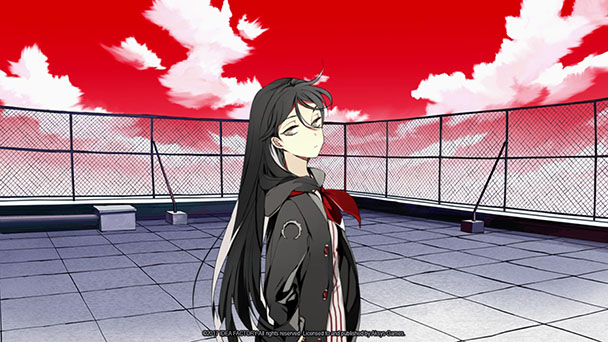 Aesthetically, Bad Apple's stylized artistry and crimson-drenched user interface provides distinction, separating the visual novel from most of its peers. Art for leads and NPCs is drawn well, with consideration evident from character design. For one, the pervasive lankiness conveys a sense of uneasiness across the novel's cast. Sonically, Bad Apple excels, delivering both atmospheric pieces and the upbeat tracks that help to make NEVAEH memorable. On the downside, Aksys Games' font choice is unfortunate, with wide kerning slowing the pace of reading.
Although Bad Apple Wars doesn't completely capitalize on its premise, there's enough emotive exposition here to warrant a read-through. Be aware that subsequent treks to experience the memories of the novel's other bachelors fall victim to the law of diminishing returns, which might dishearten completionists.
Bad Apple Wars was played on the PS Vita
with review code provided by the publisher.
Bad Apple Wars

Platform: PS Vita


Developer:

 Otomate

Publisher:

 Aksys Games

Release date:

 October 13th, 2017

Price:

 $39.99 via retail or the

PlayStation Store

Bad Apple Wars review
Review Overview
Story - 85%
Interface - 80%
Aesthetics - 80%
Content - 70%
Accessibility - 75%
78
78%
GOOD
Summary : Bad Apple Wars has a wealth to say about conformity and complacency, devotion and dogma. Unsurprisingly, the novel's ambitions aren't always addressed in a flawless manner. But the aspiration alone makes the experience worth seeking out- if you crave a bit of philosophizing alongside the delights of otome courtship.

User Rating:

4.08 ( 3 votes)