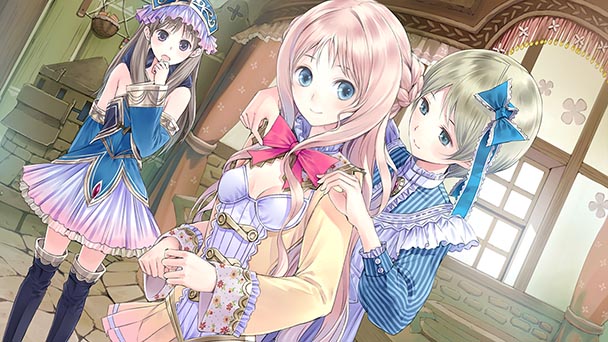 While progressive representations of female characters remains a stumbling block for the game industry, few emphasize the handful of exemplary efforts. In the genre of the Japanese role-playing game, Gust's Atelier franchise has long been at the forefront, with a sixteen-entry series which routinely depicts a journey of self-actualization for its prodigious protagonists. By harnessing the capabilities of the PlayStation 3, 2010's Atelier Rorona: The Alchemist of Arland demonstrated a significant evolutionary step for the franchise. Beyond transforming the sprite-based characters into charming three-dimensional polygonal models, the game also advanced the resonance of the franchise's storyline and dialog.
Identifying with the title's eponymous heroine, Rorolina "Rorona" Frixell was natural, as the character was a charismatic amalgam of youthful trepidation and determination driven by a virtuous demeanor. But like any renovating series entry, The Alchemist of Arland also ushered in a number off-putting elements, from an engine which often failed to match the developer's aspirations to a time-management mechanic which did little to welcome newcomers. Thankfully, subsequent series entries (Totori, Meruru, Ayesha, and Escha & Logy) gradually reformed these blemishes- but these improvements left the amiable but outmoded Rorona abandoned by all but the most fervent role-playing fans. Mercifully, the release of the revamped Atelier Rorona Plus: The Alchemist of Arland brings the entry up to date, allowing PlayStation 3 and PS Vita owners to experience the game's copious charms.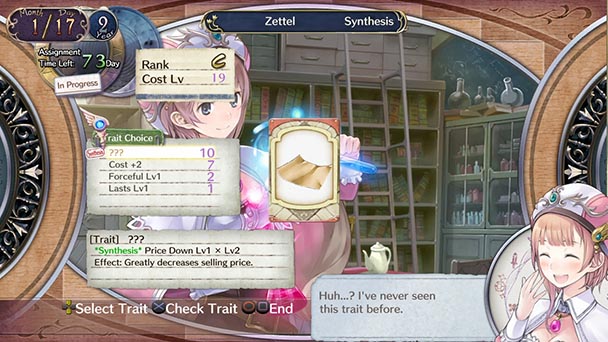 Although improvements are abundant, Atelier Rorona's narrative remains graciously unchanged. The game's prologue expresses the pending closure of Arland's local alchemical shop- it seems the store's keeper, Astrid Zexis exhibited little effort to keep the establishment afloat. This indolent attitude doesn't mesh with Arland's bustling economy, so a knight by the name of Sterkenburg "Sterk" Cranach informs resident apprentice, Rorona that the store has three years to demonstrate its merits. During that duration, the shop has to successfully complete twelve assignments or face immediate closure.
This ultimatum forms the basis for Atelier Rorona Plus' main objective: every quarter-year, players are issued a succession of alchemical tasks. Competition of these missions involves a sequences of venturing into areas that are brimming with both reagents as well as beasts, bringing these components back to meld them into a sundry of requested items, and finally- delivering these objects to Sterk. The beauty of the game is the tension between linearity and autonomy. Although the game is always issues a clear set of objectives- there's almost always enough time to craft an item or device that will make your journey an easier one. And therein lies the draw of the Atelier games, which gradually goad gamers toward their goals, while rarely making them feel their on a forced path. Here, optional sub-quests offered for local denizens don't feel like a scheme to merely pad playing time, but rather feel like rewards for proficiently managing your time.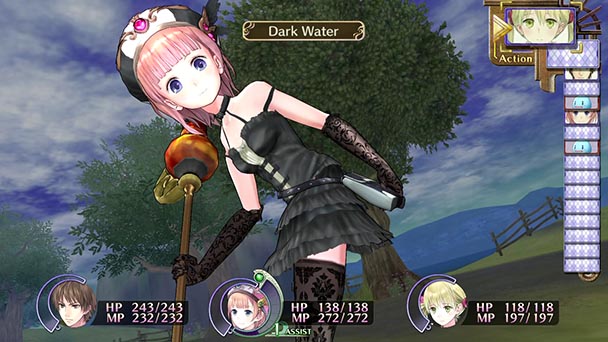 Adeptly, Atelier Rorona Plus clarifies many of the rudimentswhich were a bit ambiguous in the original game. Time remains your most valuable resource- and this revision does a better job at clarifying how much each decision is going to deduct from each interval. Likewise, the act of alchemy is much clearer, with the enhancing characteristic of each alchemical component pleasingly articulated. Being able to use the triggers both a list of request and a fast travel system is a time-saving godsend. Players who already completed may want to revisit Arland solely for the supplements offered by this edition. Without spoiling much, a post-campaign "overtime" chapter unites a trio of Atelier luminaries for a two-year,  time-tweaking escapade that both as contenting as it is challenging. One of the more indulging elements is the integration of cameos by a number of Atelier staples- seeing a certain languid alchemist join the party might just be worth the price of admission for hardcore fans.
Platform Comparison
Undoubtedly, the PS Vita iteration of
Atelier Rorona Plus
offers a significant visual improvement over the 2010 original. From the game's redrawn polygonal models, which offer a superior interpretation of the each character's conversational portrait to a framerate which didn't succumb to shuddering during resource gathering expeditions and battles, Sony's portable system demonstrates it has the power to deliver a next-gen role-playing experience.
On the PlayStation 3, Atelier Rorona Plus: The Alchemist of Arland runs flawlessly, effectively rendering the original game obsolete. Refresh rates are consistently sinuous while the game's textures look more in line with the detail exhibited by Ayesha and Escha & Logy rather than the decidedly PS2-quality aesthetic exhibited by the first Rorona. Given this visual enhancement, as well as the ability to assign musical themes from the entire Atelier games, Rorona Plus is the atypical title that's worthy of a double dip during the same console generation.
Nicely, those aren't not the only reasons for a double-dip.
Atelier Rorona Plus
has been given an opulent visual overhaul which brings the game up to
Ayesha
and
Escha & Logy
standards. While there's still a bit of shudder when the camera tilts and pans across panoramic city shots, the game's framerate and animation have been noticeably improved. Similarly, the game's character design have been given an enriching renovation, offering faces and clothes that exhibit a bit more elegance. Following precedent established by the previous
Plus
iterations, players can outfit main protagonists in a number of whimsical getups. A few other novelties, like being able to place items in a time capsule (and receive superior substances in return) as well as a reagent cultivating garden are interesting additions, but probably not as practical as the cross-save ability between the PlayStation 3 and PS Vita platforms.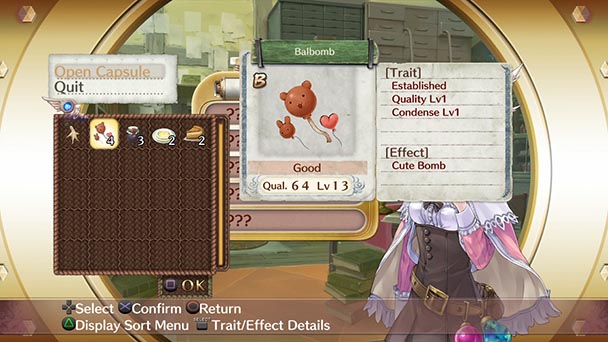 Gamers who habitually skip over crucial pieces of conversation will appreciate Atelier Rorona Plus' dialog system.Now, a press of the select buttons bring up a scrolling list of verbal responses- with a button press providing players with vocal delivery in whichever language they've selected from the main menu. In execution, it's an ingenious system which should ideally proliferate to every role-playing game. While Rorona Plus' localization customarily shirks the long-winded banter that often afflicts the genre, a few glaring typos might push players out of the experience.
While Rorona's original combat system was functional, this edition bring battles in line with Atelier Meruru Plus, jettisoning mechanics like the element bar in favor of an MP-regulated system as well as assist attacks. While the game's conflicts don't require the level of party management that Escha & Logy obliged, there's still enough strategy to make each fracas quite fun. Between the utilization of character abilities, the regulation of turn order and the ability to send teammates into to deflect attacks or provide additional strikes, battles strike a respectable balance between accessibility and variability.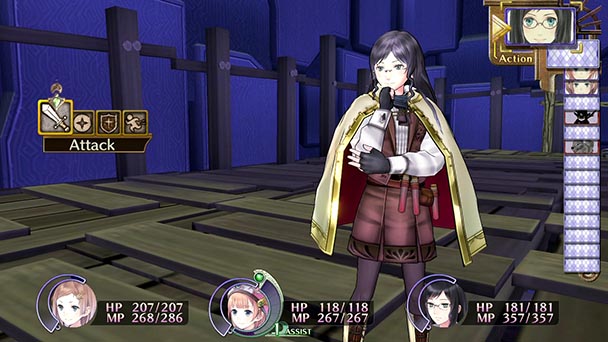 Adapting both visual style and mechanical structure, Atelier Rorona Plus: The Alchemist of Arland isn't just the definitive version of Gust's title but also an ideal starting point for series newcomers. With the game's strict time system softened, both new and returning players have the chance to step into the shoes of the likeable apprentice alchemist, and follow her through one of this generation's more engaging and enjoyable role-playing journeys.
Atelier Rorona Plus: The Alchemist of Arland


Platform:
 PlayStation 3/PS Vita
Developer:
 Gust/Tecmo-Koei
Publisher:
 Tecmo Koei America Corp.
Release date:
 June 24th, 2014
Price at release:
 $49.99 PS3 version/$39.99 Vita digital download (via PSN)
Language(s):
 Japanese and English
Atelier Rorona Plus: The Alchemist of Arland was played on the PS Vita and PlayStation 3 with review code provided by the publisher.
Review Overview
Summary : While previous "Plus" version offered a decent number of improvements, Atelier Rorona Plus is a comprehensive overhaul, transforming a good game into a requisite purchase.