What is the concept? Role-playing video games started as simple affairs, with titles attempting to emulate table-top experiences. But naturally, the genre evolved, and electronic interpretations steadily integrated a bevy of now-conventional mechanics. From elaborate tech-trees, complex elemental systems, branching conversations, and the ability to attack specific body parts on enemies, intricacy intensified, making boss battles nearly as thorny as a Mars landing. For people distressed by this cornucopia of complication, Alphadia for the Nintendo 3DS brings players back to that blissful era.
Even the set-up can induce feeling of nostalgia, as a duo of unassuming young guards are plunged into geopolitical turmoil. After the fraternal pair assist two members of the resistance, they are become targets of the Rosenkreuntz- a group of elite soldiers who serve a tyrannical superpower that's hell-bent on controlling the realm's prized resource.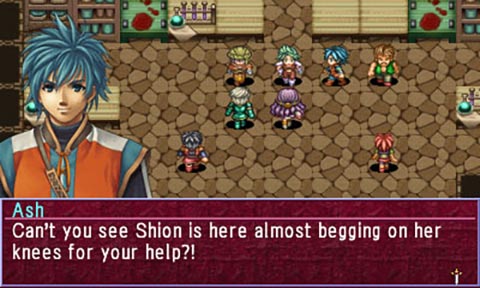 What are the game's strengths? With enemies brandishing Germanic monikers, the plot might seem like another clichéd retelling of World War II. But what lifts Alphadia from mediocrity is the game's characterization and its localization. Between a third act that poised to pull at your heartstrings and dialog that's a bit more eloquent than the average JRPG, Alphadia's storytelling delivers a few surprises.
While random encounters happen with intense frequency during the campaign, they're typically completed quickly. It's here that the title shows it roots as a mobile game, catering to the kind of abbreviated playtimes that are commonplace with 3DS owners. As such, you probably won't worry about losing your battle bearings as you put your hardware into sleep mode- most conflicts can be handled in the duration between bus stops. Pleasingly, the game allows players to save almost anywhere, which is a blessing when batteries are running dangerously low. While the game's musical selections aren't exceptional, each is evocative enough to help to set the mood for the on-screen events.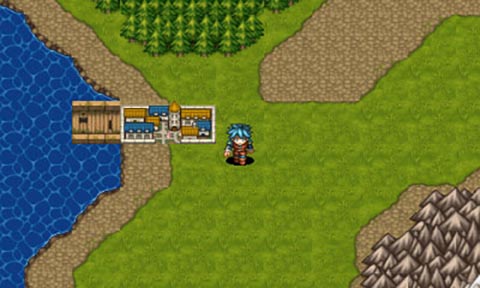 What are the game's weaknesses? Aesthetically, Alphadia doesn't fare well. Character portraits look culled from a second-rate doujin, drawn with a style that's quite outdates. But in-game visuals are even worse. Peer past plain, jerky-scrolling environments hewn from a meager collection of bitmapped titles, and you'll find sprites rendered with only two frames of animation. Battles aren't much better, with defeated monsters disappearing from view via a primitive wipe. On the upside, enlarged enemy sprites sporadically divulge visual details.
While Alphadia's simplicity is deliberate, there are times when players might crave a scrap of sophistication. Beyond the basics of attacking, guarding, and spell casting, there's an elemental system in play- but it's painfully obvious how to min/max your way through battles. What's more although party members have an innate elemental trait, they have the ability to acquire other affinities, undermining any semblance of party management. Although, grinding is kept to a reasonable level, artificial contrivances like invisible traps that plunge players to a previous floor feel like they exist to artificially inflate playtime.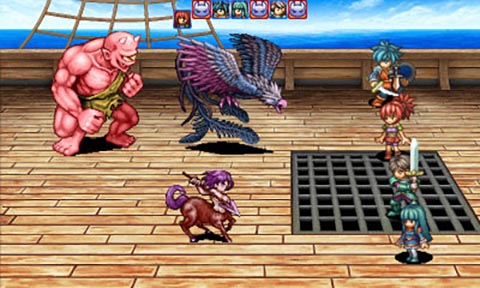 Is it worth the money? Alphadia's price correlates with its enjoyment level. At ten dollars, the title is roughly the quarter of the cost of a full-fledged, top-tier JRPG. For gamers accustomed to the playtime, nuance, and graphical showmanship of an epic adventure, the title offers about a quarter of those constituents. A such, if you're seeking a portable adventure that feels rooted in '90s-era role-playing, approach Alphadia with tempered expectations.
Alphadia was played on the 3DS with review code provided by the publisher.
Alphadia
Platform:
3DS, previous on iOS, Android
Developer:
Exe Create Inc.
Publisher:
 KEMCO (Kotobuki Solution Co., Ltd.)
Release date:
February 4th, 2015
Price:
$9.99 via
eShop
Review Overview
Summary : Hindered by basic visuals and for many, mechanics that will feel dated, Alphadia manages to deliver a plot nearly intriguing enough to make up for its deficiencies.