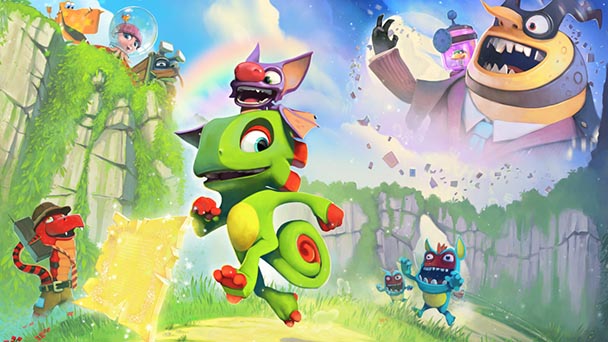 While some might remember the late 1990s for the ubiquity of pagers, Tamagotchis, and boy bands, veteran games likely associate the era with the proliferation of three-dimensional platformers. Popularized by franchises like Gex, Ape Escape, Spyro the Dragon, and Banjo-Kazooie, exploration and item collection reached a critical mass- before the genre gradually dwindled in quantity across the new millennium. But, while the number of new platformers declined, popularity is seems remained remarkably resilient.
When several former Rare creatives banded together to make a spiritual successor to the Banjo-Kazooie series, public response was overwhelming positive, with the Yooka-Laylee breaking crowd-financed video game records, earning a million dollar in six short hours. Now that the title is completed, it's exceedingly likely both backers will be content with their pledges. To a fault, Yooka-Laylee remains true to many conventions and if it wasn't for the game's alluring high-definition output and shift toward more antonymous exploration, the game could be mistaken for being produced amidst the Clinton years.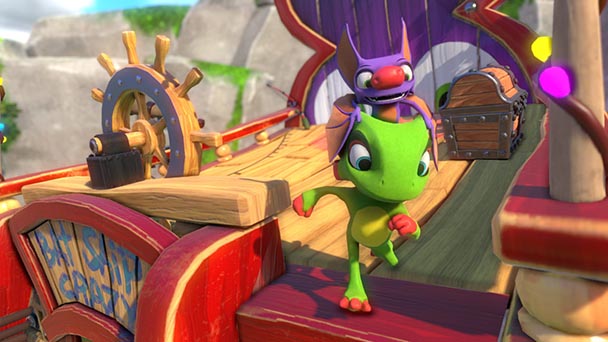 Like the efforts of the day, Yooka-Laylee's impetus hangs on a curt dialog that's delivered through grunts and snorts. Although the methods were defensible when hardware memory capacities were constrained, it's less permissible today. Sure, it's an amusing throwback to a bygone era, but after listening to the staccato sounds for a few minutes, you'll probably wish that the developers dropped the gag and offered voice acting for duration of the journey. Strangely, at times, you can fast-forward through conversation, but at other times, you're forced to sit through it.
The narrative, which centers on a maniacal bee named Capital B, and his sidekick, Dr. Quack, isn't without a few comic moments. From a dubious serpent named Trowzer (genitalia refences always produce a laugh, right?) to a constant succession of fourth-wall fractures that reference game conventions, the writing occasionally converges on the clever. But the actual plot offers the kind of contrived motivation that feels two-decades old and has lost most of its effectiveness over the years. Essentially, the antagonists are attempting to amass all of the world's books, but one book resists capture, it's pages are spread across five sprawling stages and a hub world. As Yooka the chameleon and his partner Laylee the bat, players are tasked with collecting both the 'pagies' as well as a multitude of quills which can augment your ability set.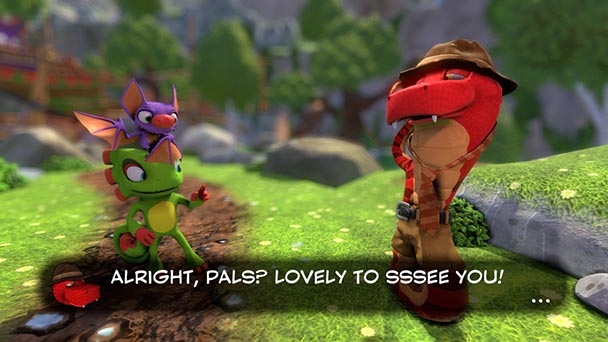 Unlike the aforementioned platformers that used smaller stages to chaperone players through the expedition, Yooka-Laylee favors autonomous exploration. Following a succinct tutorial, players are left to reconnoiter each expansive environment.  While collecting quills is relatively easy given their quantities, pagies often resist assemblage until players can either navigate to their location or until a puzzle is solved. As such, the game's early hours can be a bewildering, as you spot pagies but may not be able to collect them yet. While 2D Metroidvanias typically gate access to one or two areas at a time, here the restraints are exponentially greater in number. Thus, players wish for a mini-map or at least a bit of guidance.
But stick with it, and you'll discover developer Playtonic Games ambitions. Amassed pagies can be used to open new stages naturally enough, but they can also be used to enlarge existing environments. In theory, the method is intended to gradually open up each stage, offering more area for exploration. But in practice, the studio favored physical space over density of physical objects, and frequently you may feel like levels are incredibly spacious but also lack any kind of rhythm and a feeling of exigence.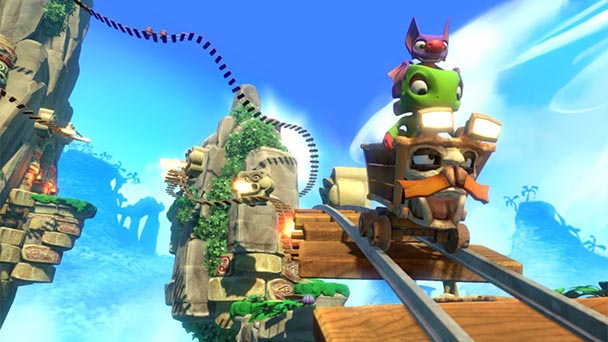 Some of that is rooted in the game's combat. Periodically, a restrained number of enemies spawn across different part of each playfield. But most prove to be little more than navigational nuisance, effortlessly eliminated by a single spin or two.  Contrast this against say, the Spyro the Dragon series, where foes weren't particularly formidable, but did require a specific technique to dispatch. With Insomniac's franchise, there was reward for eradication, but here, normally there's no dividend to be found. The exception to this are Yooka-Laylee's appropriately demanding boss battles, that tasks players with the study and exploitation of behavior patterns. But here, the game's approach can get in the way of these showdowns, with a couple ostensibly tucked away from players.
Despite a few setbacks, Yooka-Laylee has quite a few redeeming qualities. Most of the time, the game's control feels spot on, with jumps, rolls, leaping, and tongue-lashing abilities extending enough precision to make death feel like it's often the players own fault. Visually, the game looks fantastic on a GPU-power PC, extending brightly-hued, detailed landscapes rendered with dazzling draw distances. While the game can go rogue in confided areas, it usually frames the action appropriately. Even better, the title's framerate is impressively solid, showing only the sporadic instance of wavering from its sixty FPS ambition. One of my favorite elements of the game's is a collect of retro-inspired games that can be tackled by a single score-chaser or a group of players. Musically, the game's soundtrack is consistently melodic infectious with David Wise, Grant Kirkhope and Steve Burke creating a score than outshines some of Retro's originals.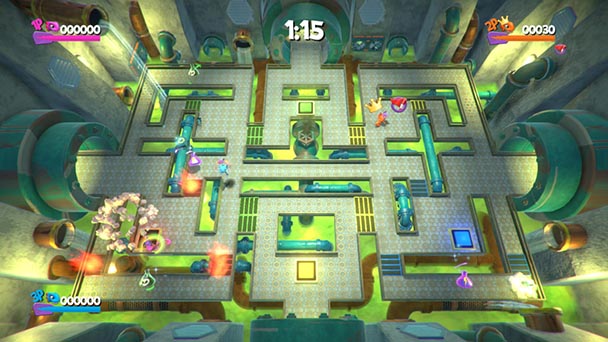 On PC and now-gen console, 3D platformers are a rare breed, with praiseworthy efforts in the genre even scarcer. Although Yooka-Laylee isn't without issue, it can be satisfying, offering a Nintendo-like experience on other platforms, without the burden of emulation. While the storyline is stuck in stagnancy and the push to larger, more wide-open worlds might caught a bit of bewilderment, there's also plenty of enjoyment (and collectables) to be found.
Yooka-Laylee was played on PC with review code provided by the publisher. 
Yooka-Laylee
Platform:
 PC, PS4, Xbox One, and Switch (upcoming)
Developer:
Playtonic Games
Publisher:
 Team 17 Digital
Release date:
 April 11th, 2017
Launch Price:
 $39.99 via
Steam
Review Overview
Summary : With one foot in yesteryear and another striding toward innovation, playing Yooka-Laylee can be off-putting at times. Fortunately, there's enough pleasure in the platforming to warrant a purchase for genre fans. Others will want to demo the game first.