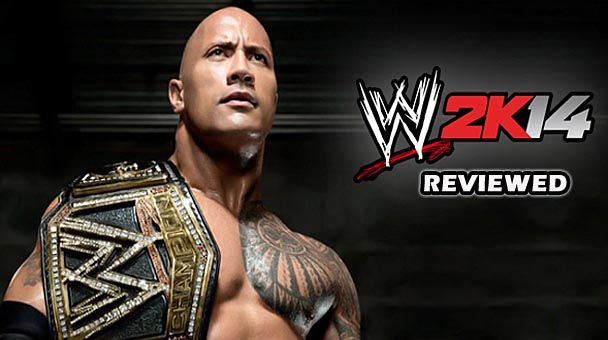 Last year's WWE '13 was a bitter disappointment for me. From the outside looking in, it had all of the pieces needed to be the best WWE game since the AKI Corporation-developed Nintendo 64 releases. However, in a Hardy Boyz-esque twist-of-fate, WWE '13 suffered from a deeply-rooted glitch with the limb targeting system that would cause the A.I. to regularly kick out of finishing moves at the count of one, breaking the "kayfabe" that the WWE lives and dies on. Since WWE '13's launch, the WWE video game license has found its way from THQ to 2K Sports. WWE 2K14 marks the publisher's first entirely-new WWE game since the acquisition and if it's any indication of what's to come, the sports-entertainment juggernaut is in good hands.
Despite the switch in publishers, WWE 2K14 is still developed by Yukes, the developer that has handled the Smackdown franchise since its inception on the original PlayStation. The engine powering 2K14 is largely the same as last year's game, with several noteworthy improvements. The "no two counts" glitch I mentioned earlier has, thankfully, been future-endeavored. Adding to the increased WWE-like experience is a new gesture system where the Superstars do subtle movements during matches, such as motioning with their hand for the opponent to get up or adjusting the waistband of their tights. Unlike regular taunts, when these animations are randomly triggered, the player's control over the wrestler still remains. Countering has been overhauled to feature more reversals that go directly into moves instead of transitioning into a different grapple position. While chain grappling hasn't been removed entirely, this revision gives matches more of an offense-oriented feel to them. Wrestlers with a catch finisher (finishing move that can be hit on a mid-air opponent) can now perform what are called catapult catch finishers. Pressing a shoulder button when you have a finisher stored and the opponent is running at you will launch them into the air, giving you the opportunity to hit them with a catch finisher.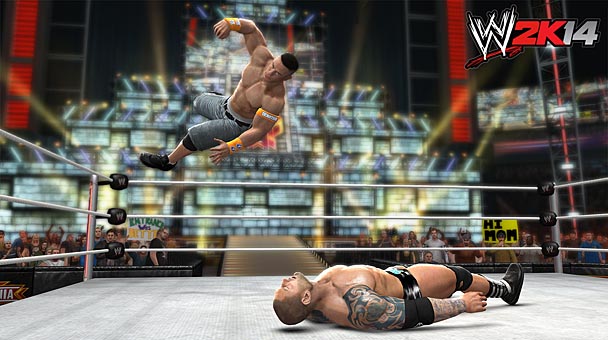 2014 marks the 30th anniversary of the WWE's Super Bowl; Wrestlemania. To celebrate, WWE 2K14's main single player attraction (outside of the never-ending Universe mode) is called "30 Years of Wrestlemania". Like WWE '13's Attitude Era, this is a mode that recreates classic Wrestlemania matches dating all the way back to the very first "showcase of the immortals". While simply winning is enough to advance forward, completing the objectives based on the actual real-life matches is the only way to unlock the game's extraordinary legends roster. Historical objectives can sometimes trigger cutscenes motion-captured to be as close to the source material as humanly possible. Occasionally, these have audio from the original WWE footage, such as "Macho Man" Randy Savage cutting a promo on Hulk Hogan the day of their clash at Wrestlemania V. Giving older bouts the appropriate visual look are screen filters intended to duplicate the camera technology used at the time. Playing Hogan vs. Andre the Giant at Wrestlemania III looks grainy and dated in the best way possible. If the 30 Years of Wrestlemania mode has a major weakness, it's that any inaccuracies will stick out like sore thumbs to wrestling historians.
Buried within the 30 Years of Wrestlemania mode is one of the game's best new features; a mode dedicated to the Undertaker's legendary Wrestlemania winning streak. Smackdown fans from the PlayStation 2 era will no doubt remember the name "Slobber Knocker". For WWE 2K14, this classic survival mode returns as "Defend the Streak", where you play as the Phenom and try to rack up as many wins as possible before someone snaps the streak. After attaining a certain number of wins in a row as Undertaker, the original Slobber Knocker mode becomes available for the rest of the roster. The other half of the Streak mode is "Defeat the Streak". As the name suggests, the goal is to get a win over Undertaker at Wrestlemania. This is no easy task, though, as the Undertaker has increased durability and special counters that can turn a pinfall attempt into a chokeslam. Those who manage to either defend or defeat can upload their score for online rankings.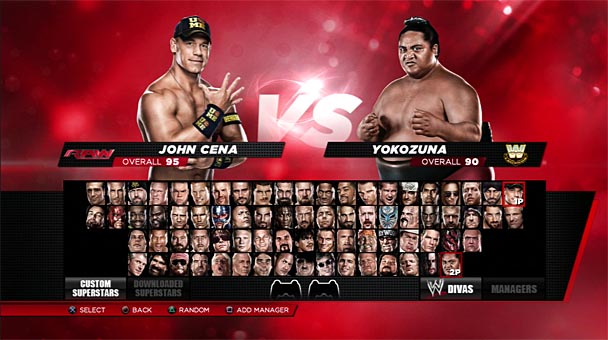 One of the most important elements of any wrestling game is its roster. This goes double for games with licensed talent due to the potential for odd or glaring omissions. Fortunately, WWE 2K14 delivers a Stone Cold Stunning knock-out with a "who's who" collection of current and past WWE Superstars. Simply put, this is the greatest line-up ever assembled for a WWE game. Modern day wrestlers, such as John Cena, Daniel Bryan, Randy Orton, CM Punk, The Shield, and Antonio Cesaro are joined by marquee names from yesteryear, like Hulk Hogan (complete with "Hollywood" nWo persona), "Macho Man" Randy Savage, Ric Flair, Diesel (a.k.a. Kevin Nash), Razor Ramon (a.k.a. Scott Hall), Bill Goldberg, "Stone Cold" Steve Austin, The Rock and so many more iconic characters. In a bizarre move, "Rowdy" Roddy Piper makes an official appearance as a Create-A-Superstar template, but not as a main roster wrestler. This could be to draw attention to the "Superstar Parts" feature that allows you to create costumes for a select few members of the roster.
The news isn't all glowing, though. The Divas get the short end of the stick, with only five current ladies and Lita and Stephanie McMahon as legends. 2013 WWE Hall of Fame inductee, Trish Stratus, does not return for WWE 2K14. Making the comeback nobody wanted are the atrocious Bret "The Hitman" Hart and Vince McMahon character models from WWE '13. Why these glorified create-a-wrestlers were not scrapped and redone is beyond me. Character models for the entire roster suffer from unnatural facial animations, especially with open-mouth movements. This can make angry or intimidating faces look downright laughable. Regrettably, 2K14 is not without performance issues. Noticeable slow-down hammers Armageddon (six-man) Hell in a Cell matches and some alternate camera angles. On top of that, two separate times, the game froze up hard enough to require a system reset. The first was during a post-match replay and the second while editing Sgt. Slaughter's ring entrance. My attempt to recreate the latter was unsuccessful, so they could have been anomalies. Lastly, I would have liked to have seen the WWE's fantastic developmental division, NXT, get some sort of representation on the roster, but the new arena based on the Full Sail University set and NXT title belts will have to do.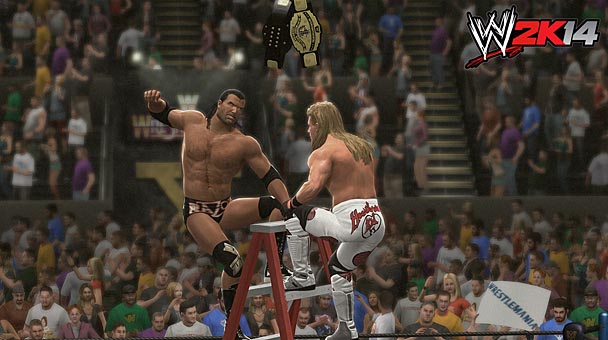 By-and-large, WWE 2K14 is an improvement over last year's buggy release. It's no Mr. Perfect, but as far as modern WWE games go, it's the King of the Ring. As an avid WWE fan and wrestling game player, I can safely say that WWE 2K14 will be a part of my Monday night ritual for months to come. That said, wrestling gamers that have abandoned WWE games in favor of the Fire Pro-Wrestling series or other classic titles will find little to pull them back in.
WWE 2K14 was reviewed on the PlayStation 3 with review code supplied by the publisher.
Review Overview
Summary : WWE 2K14 is an essential purchase for anyone who considers themselves to be a member of the WWE Universe. Solid gameplay improvements and the best roster this side of Fire Pro make this a game to chant "YES! YES! YES!" over.