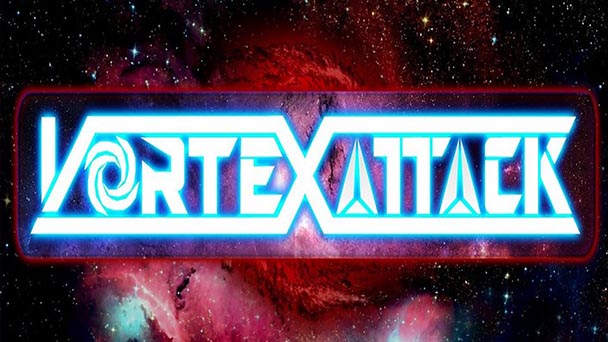 It's generally agreed up the Golden Age of Shoot'em Ups came and went. Many still fondly remember the 16-bit days when gamers were treated with new entries within this genre every other week. Still, some would argue the true high point for this genre was not found in titles like R-Type, M.U.S.H.A. or Thunder Force, but a decade earlier with classics like Taito's Space Invaders or Namco's Galaga. Vortex Attack takes a page from the latter, being obviously inspired by the days of single screen Shoot'em Ups while attempting to modernize this genre's often overlooked roots.
Vortex Attack makes its retro-inspired intentions clear as soon as the menu screen appears, providing a clean almost vector-like graphical style coupled with flashy effects one would expect from an arcade. Not only that, but a high emphasis is immediately placed on high scores with over half of options presented showing different the best scores for local, online, singleplayer and multiplayer matches. Clearly, this is a return to a simpler time when the main objective was not to reach the end, but to beat your own high-score and that of your friends'.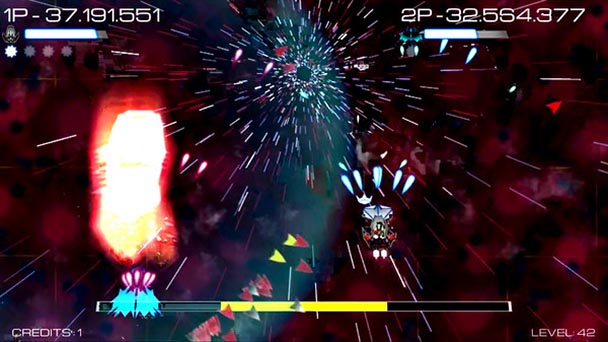 Gameplay is limited to a single screen as swarms of enemy craft slowly (and in later stages, not so slowly) populate the screen. When foes are shot down they drop small energy triangles which must be collected before moving to the next level, failure to do so results in enemies continuously respawning until enough triangles are in your possession. The goal may sound easy and simplistic, but in true retro-fashion, Vortex Attack is easy to learn and hard to master.
Initially, shutting down vortexes by capturing triangles is easy and even somewhat boring, but soon enough chaos ensues. Foes become more aggressive, spawning faster and in greater numbers as they rain fire on your position. Environmental hazards such as asteroids also need to be dealt with. However, this pales when compared with the challenge that comes when adjusting your gameplay towards building a higher score.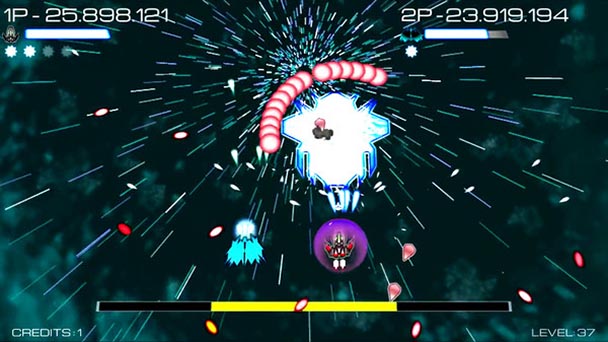 Players receive bonus points when capturing multiple triangles in a short amount of time, meaning I often found myself juggling the concept of killing enemies, obtaining their spoils and dodging enemy fire. This creates an addicting risk vs. reward gameplay mechanic that only gets more intense with each passing level. Moreover, opponents will occasionally drop random power-ups ranging from speed boosts, weapon upgrades, spread shots and even "option" helpers similar to Gradius or R-Type, all of which are stackable. After a dozen or so stages the firepower both you and your attackers possess create a spectacle of light and particles. Many times I even lost track of my own ship in the sea of fire, explosions, asteroids and grey triangles.
Luckily, being hit does not result in a gameover as your ship comes with a health bar which can replenish with specific power-ups or by completing a stage. With that said, you are only ever given one life but limitless continues, the catch being your score will reset. Considering how this is the sort of game aimed at high-scores I never bothered to hit that "continue" button, choosing instead to restart the game and attempt to tally up more points.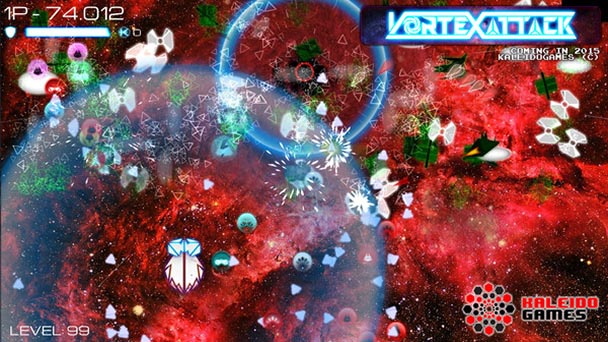 At first, players are limited to just one craft though it displays nine others which may unlocked as bosses are defeated. For the most part these larger adversaries are fairly easy to defeat provided you've built an array of upgrades. Once a boss is defeated players are treated to a bonus stage reminiscent of Galaga's "dancing" levels where you are expected to defeat fast waves of ships before they leave the screen. Many of the initially unlockable craft failed to impress me as they felt too similar to your starting vessel. Luckily, the latter bosses give way to more varied craft, my favorite being one which sacrificed mobility for increased firepower suiting my gameplay style better.
Multiplayer is limited to local only, allowing for up to three players simultaneously. It's a shame there are no online options though at least Kaleido Games has already strongly hinted it will add tournaments in the future. Although it's possible to play Vortex Attack with a keyboard I personally wouldn't recommend it. Fortunately, the game recognized and auto-mapped my Xbox 360 controller without any additional input required on my part. Needless to say, this is the sort of game where a controller or an arcade stick are highly recommended.
Vortex Attack may not create a positive initial impression due its slow start and seemingly simplistic graphical look. However, as the difficulty builds up both concerns are eventually dispelled. In the end, reaching a score of over thirty million proved to be an extremely rewarding endeavor and one I would gladly partake in again.
Vortex Attack was played on the PC with review code provided by the publisher.
Vortex Attack
Platform:
 PC
Developer:
 KaleidoGames
Publisher:
KaleidoGames
Release date:
 May 27th, 2015
Price:
 Currently $4.49 via
Steam
, $4.99 regular price
Review Overview
Summary : Vortex Attack modernizes the classic Galaga formula with fast and addicting gameplay while staying true to the genre's roots.