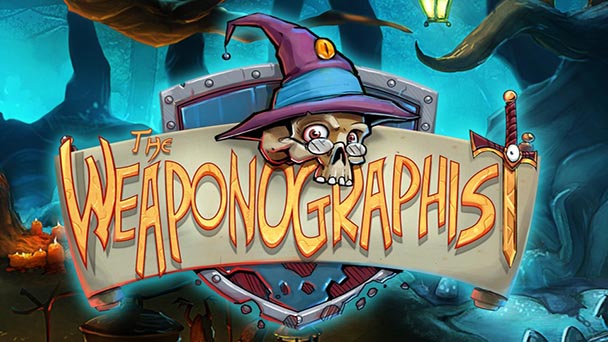 You know those jerk mercs who only save towns and people for money?  Well, in Weaponographist, you're that guy.  The muscle man with the chiseled jaw covered in five o'clock shadow, wielding a sword, a shield, and a slew of other weapons.  But in this case, the walking ego that is your character is put in his place by a wizened witch who, having plead with you to save her poor town, punishes your greed by cursing you.  Your weapons become brittle and broken after only a few uses, and you cannot lift the curse until you save the town of Hellside. For free.
This is the start of The Weaponographist. Doug McGrave awakes lying on the ground in a town full of colorful and quippy characters.  His traveling companion Bardtholomew Bardcakes has also accompanied him to the town, but alas, Doug McGrave must brave the dungeons on his own.  The townspeople inform Doug that they can help lessen the effects of the curse in exchange for demon goop, which serves as the town's currency, and so, off Doug goes to defeat demons and gather goop.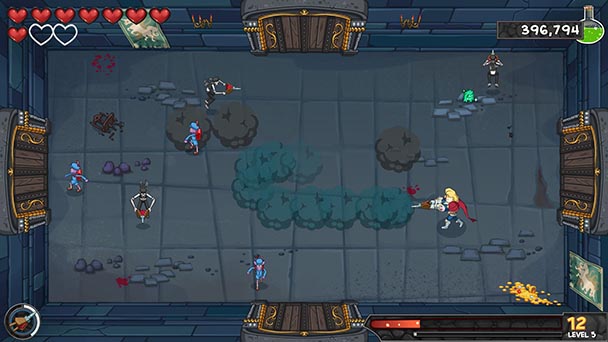 Typically I don't prefer random level-regenerating, top down, dungeon crawlers.  I often find that either the difficulty curve is too steep, or that there isn't enough incentive to keep subjecting oneself to the brutal onslaught of baddies.  However, Weaponographist does not have these problems. After a few dungeon runs, I found myself surprisingly addicted to the game, although there was a bit of a frustration hurdle which first needed to be surpassed.  Both the frustration and the fun have mainly to do with a key characteristic that sets Weaponographist apart from other dungeon-crawlers.  Due to the curse, Doug's experience points and combo meter drop every moment that you aren't slaughtering demons.  Which means the game forces you to play fast, not smart.
This mechanic is initially frustrating because it creates such a frenetic pace that it leaves the player with little time to analyze the movement and weapon types of the various demons.  But what starts out as a forced lack of strategy due to the need to dive straight in, develops into an intuitive anticipation of how monsters or weapons will respond. Unlike other roguelikes, there is no permadeath for Doug, so you can take what you learn about the levels and monsters without consequence for your character.  Upgrades and abilities stick with you when you regenerate back in town, which is a great because you will die a lot.  As the game progresses, players are likely to acquire a strategy which is more akin to second nature than actual planning.  Long term, this lends itself to a faster increase of combo points and experience, which is necessary as it gives a boost to damage which Doug needs for the harder level demons and dungeon bosses.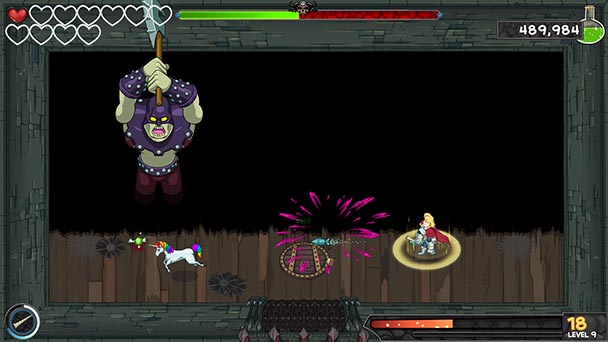 Unfortunately, the other part of the frustration arose from a lack of consistency in the controls.  I used a keyboard instead of a game controller, and I found that Doug floats somewhat as he moves and his attacks seem to unreliably affect targets.  A spear would sometimes clear a wide swath of enemies, and other times only stab into empty air.  Hitting the shift key is meant to pick up the next weapon off the ground once the current one has shattered, but often "shift" had no effect, and Doug was left running empty handed into a gang of demons only to be stabbed to death while the major magical weapon lay mere feet away.
The weapons themselves are one of the strong points of the game, although with a name like Weaponographist, one would probably expect them to be.  Each weapon Doug uses has a different ability, range, and effective timing.  Each monster has a different weakness and a different angle which is most susceptible to attack. Once players get the hang of the weapons and attack-timing, the game play results in a surprising feeling of accomplishment, and the forced fast-pace leads to fun and fluid action. Then grabbing weapons and brutalizing demons becomes a satisfying experience, leading the player farther and deeper into the difficulty of the dungeons.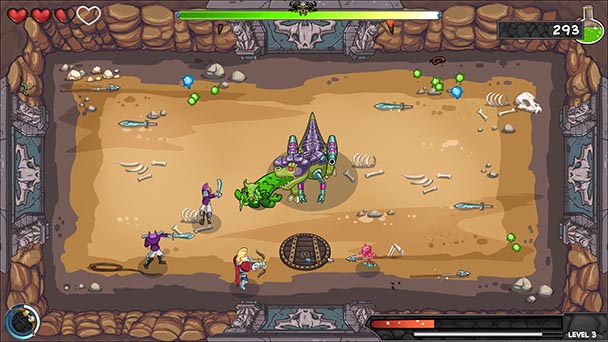 For the most part The Weaponographist is quite pleasing.  The character and level design are simple but colorfully compelling.  The demons are comical but still adequately difficult.  The game inspires players to continue playing for the reward of discovering stranger and funnier demons at every dungeon depth and for the promise of a satisfying victory once a player is able to make it all the way to the end.  Definitely a game worth checking out.
The Weaponographist was reviewed on PC with a review code provided by the publisher.
The Weaponographist
Platform:
 PC
Developer:
Puuba Games
Publisher:
Mastertronic
Release date:
 April 29th, 2015
Price:
$9.99 via
Steam
Review Overview
Summary : The Weaponographist is a very fun game. It is difficult, but it is the kind of difficulty which can be mastered and beaten. Even though the controls and weapon effects can be inconsistent, the flow of game play is satisfying, and players will want to progress both for the sense of accomplishment and to discover the awkward and amusing characters that proliferate the dungeons.