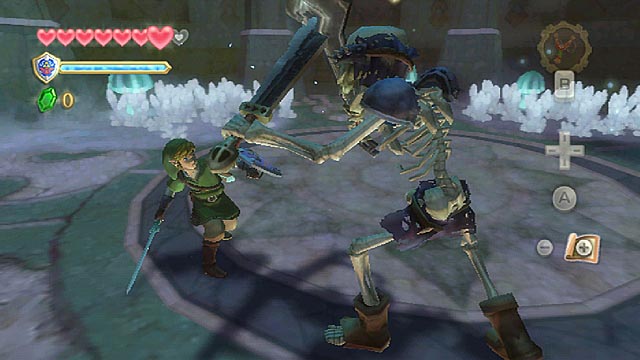 If rumors are true and The Legend of Zelda: Skyward Sword is indeed Nintendo's parting Wii title, the company has created a flawless farewell. As a deft celebration of the franchise's quarter-century of existence as well as a commemoration of the console's duration, the title nimbly blends classic rudiments with contemporary mechanics. Longtime series veterans are bound to appreciate the game's trek, where players revisit the type of tricky temples and legendary foes which propelled Link to luminary status. However, gamers who only know the Hyrulian lad from Twilight Princess will still be in fine form to face Skyward Sword's new antagonist- as the title plays like an inventory of every Wiimote gesture instilled during the last five years.
From rolling bombs like Wii Sports bowling balls to firing a bow with the steady aim gleaned from Wii Sports Resort, Skyward Sword is the first title which fully capitalizes on the Wii's motion-sensing potential. With the precision of the Wii MotionPlus peripheral, controlling Link's multifunctional flying beetle is absorbing, as gamers sever the web holding arachnidan foes aloft or use the device to scout an area, like some type of organic Predator drone.  Sword fighting, a Zelda mainstay, comes alive with control that comes close to delivering true 1:1 motion mirroring, allowing players to toy with foes. As such, showdowns with other blade brandishing rivals feel visceral, demonstrating that the hardware has the potential to deliver stirring duals.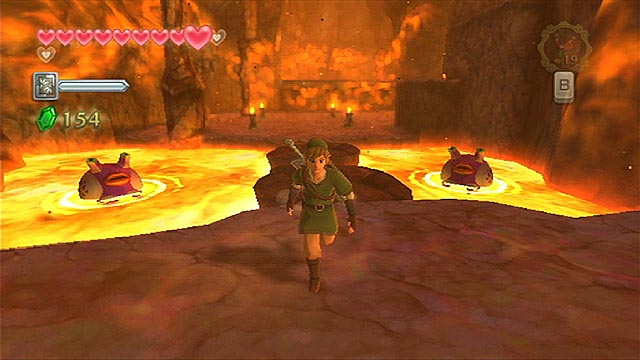 Cleverly, Skyward Sword's common enemies are no longer the quickly dispatched pasts of recent series entries. Drawing inspiration from Punch-Out!!, players have to vigilantly study a foe for signs of vulnerability, issuing a strike at just the right moment and location. As such, the overworld doesn't seem like the tundra of tedium it once was, with even diminutive opponents posing a threat to players on elongated journeys. Fortunately, two extravagant maneuvers allow extra punishment on enemies: a gratifying finishing strike and the Skyward Strike, which allows player to power-up the ferocity of their attack by holding the Wiimote aloft.
Expectedly, Skyward's temples are the game's crescendos, each offering increasingly challenging conundrums to complement the action. For the most part, the old standbys of torching lighting, box pushing, and hidden switches have been excised for more cerebral conundrums. Players will still have to rely on their inventory of items to persevere through each dungeon, using the tools imaginatively to preserve. Regretfully, the title forces a bit of backtracking, sending players back through surmounted dungeons for say, a simple fetch quest. One form of backpedaling that isn't as exasperating is Skyward's help system- beyond instant information from your spirit companion, players stuck on a puzzle can march back to town for a solution video. It's enough of a trek to discourage frequent use, but available as a last-ditch effort.
Despite the popular insistence that each entry in the franchise takes place in a distinct chronology, Skyward Sword introduction reveals the mythos of the Zelda series: every game is a variant of a main theme, recalling the manner in which oral narratives are transmitted. While the heart and characters of the story endure, each retelling offers its own distinct account. Here, Link and Zelda's characteristic roles of savior and princesses have been recontextualized as proletariat protagonists. No longer is their relationship sustained by the surreptitious glances and subtle longing common to a Wong Kar-wai film; now the duo's affection is conveyed with awkward teenage tenderness. Although the game's traditional dialog of wails, grunts, and battle cries effectively coveys emotion, the game's textual conversations are soiled by a sluggish display pace.
Like the series' mutable plotline, the Zelda franchise has employed a variety of art styles to render contexts, from Wind Waker's homage to 60's Toei animation to Majora's Mask tribute to murky fantasy. Skyward's visuals balance the capacity of the Wii with inspired ambition, providing flourishing forests and dungeons which hint at menace. Most striking is the title's visual filter, which casts an impressionistic haze over background objects. Sonically, the title's orchestral pieces are suitably majestic and evocative, complementing each step of Link's journey.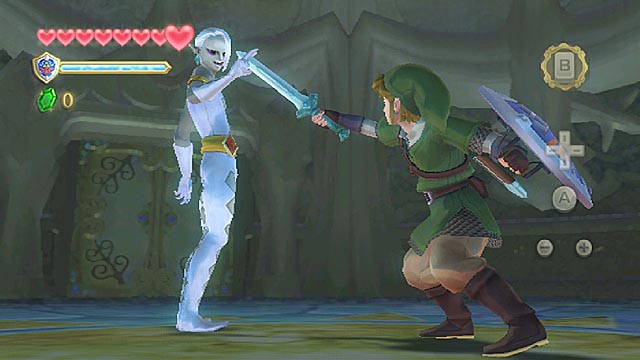 Making good on the potential exhibited when the Wii was unveiled during the 2005 Electronic Entertainment Expo, The Legend of Zelda: Skyward Sword is the console's consummate title. Flawlessly flaunting immersive motion control, as well as a design which incorporates classic design tropes with an influx of imaginative new ideas, the title brilliantly lives up to its lofty heritage. For players who have ever been awash in elation at the defeat of a temple boss or can recall the 'a-ha' moment when a gadget allows access to a previously impenetrable path, Skyward deserves a spot in your library.