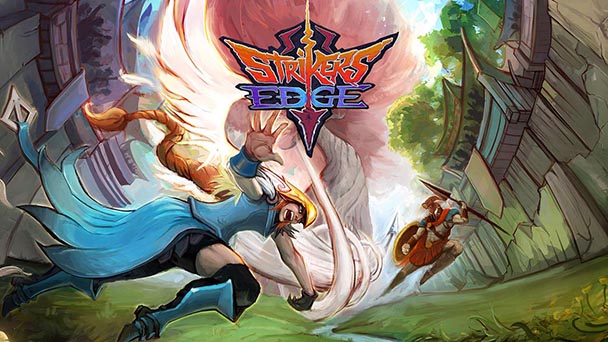 Gaming's early years offered plenty of enthralling duels, with titles like Pong, Combat, Warlords, and Discs of Tron offering bouts of pure competition. While today's sophisticated fighting games undoubtedly have their merits, occasionally it's enjoyable to revisit the days of yore, reveling in the virtue of single-screen rivalry. Undoubtedly, getting back to the basics of impassioned battles is the motivation behind the release of Strikers Edge.
With pixelated visuals, the title could easily be mistaken for a forgotten NeoGeo effort. In both action and appearance, the game seems like an experimental riff on 1994's Windjammers. But whereas Data East's effort played like a combination of air hockey and Frisbee, Striker's Edge is more aggressive, tasking players with wounding their opponents with a steady succession of projectiles.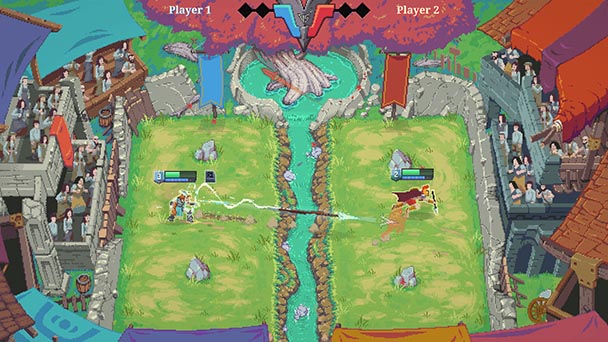 Matches pit opponents on opposite sides of the screen, with a largely impassable channel dividing the playfield. Single characters or pairs move around each allocated area with the left thumbstick, while the right stick is reserved for adjusting an indicator that shows the trajectory of your shot, with skillful players able to execute headshots for additional damage. Participants have two offensive options. They can fire a standard shot or risk a few seconds of decreased agility to fire a more powerful charged shot. Additionally, each character has their own distinctive aptitude – from Haru the ninja's ability to streak the gap and stab foes to Eir the Valkyrie's capacity for creating a flaming trail behind her projectile that can sear opponents. Collectively, there's just enough offensive option available to players to endow Strikers Edge with nuance without overburdening players with superfluous intricacy.
Defensively, combats have a gratifying arsenal of skills. Characters can dash about, dodging any incoming shots. A stamina meter thwarts exploitation, with the gauge depleting a bit every time an evasive maneuver or projectile is thrown. Another option is to block an inbound shot, which unsurprisingly requires quick reflexes and is restricted in the number of usages. Some arenas even feature destructible objects that can offer shelter, but also can inhibit the flight of your shots.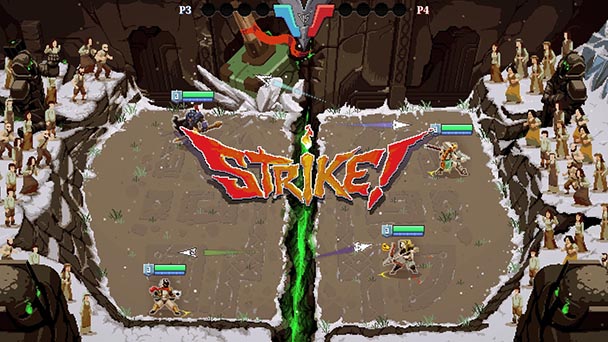 But summarizing Strikers Edge's control scheme offers little insight into the experience of combat. In execution, battles are wonderfully hectic, requiring players to mind multiple simultaneous variables. While one-on-one matches demand concentration as you shift about, aim your shot- all while evading any enemy projectiles. But when you're facing a duo of opponents, either as a team or alone, the number of concurrent elements becomes exceptionally frenzied and is undeniably fun.
The game permits either local or online matches with up to four participants. But currently, internet-based matchmaking is a protracted process, slowed by the number of online competitors. But when the game does locate rivals, showdowns are habitually lag-free, with net-code that permits play that's just as fluid as local bouts. Fortunately, Strikers Edge complements its competitive bouts with a single-player campaign that meshes matches with the light narrative that drives the action along.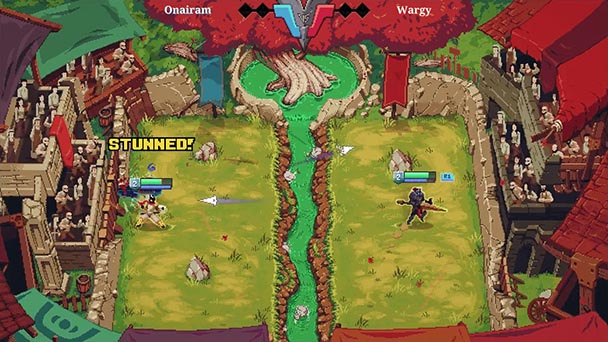 The game's scope is narrow, which might distress players seeking an experience that's rich in breadth. But other than this negligible trait, there's little shortcoming to be found in Strikes Edge. As such, Fun Punch's inaugural effort comes recommended, especially for players who appreciate the exhilaration of a tense, imaginative faceoff.
Strikers Edge was played on the PC with
review code provided by the publisher. 
Strikers Edge
Platform: PC, PlayStation 4
Developer: Fun Punch Games
Publisher: Playdious, Plug In Digital
Release date: January 30th, 2018
Price: $14.99 via Steam, currently on sale for $12.44
Review Overview
Summary : Strikers Edge extends a creative take on reflex-based combat, pitting players in the middle of a projectile-pelting showdown. While it might not retain your attention for weeks, there's enough enjoyment and a low enough price to warrant a recommendation.