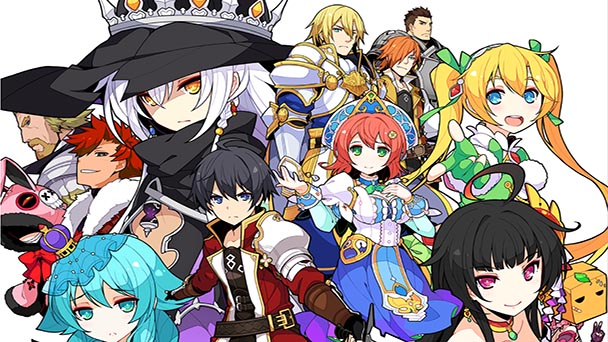 While it's sad to see a disappointing game cause a developer to fold, it's exceptionally tragic to witness a studio shut down after a string of successes. Not long ago, Tokyo-based Imageepoch was riding a wave of accomplishment, churned by competent titles like Luminous Arc, Criminal Girls, and Black Rock Shooter: The Game. After lending a hand to Arzest for Yoshi's New Island, Imageepoch sought to craft a title to commemorate its ten-year anniversary, and thus Stella Glow was conceptualized.
But soon after the game's Japanese release, crippling debt forced the company to close. Mysteriously, the studio's CEO, Ryoei Mikage disappeared, as did Imageepoch's official website. Now, Stella Glow lingers as a legacy- a glum reminder of the studio's prodigious potential. (Let's just forget about Time and Eternity, ok?). As swan songs go, Stella might lack innovation. But overlook that, you'll find a near-requisite role-playing game which combines visual novel-like storytelling with capable combat. Oh, and there's even a healthy amount of J-pop to sooth that angsty, otaku soul.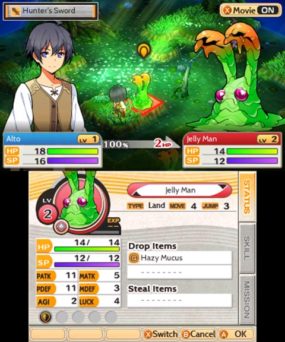 The game's prologue establishes a fantasy world almost completely devoid of music, after a vengeful deity seizes song following act of human arrogance. Naturally, when the game's protagonist, a sociable young boy named Alto, first hears melody, he's drawn into the adjacent forest. There, he finds a mysterious women donning a pointed hat, who explains that witches are the only ones able to produce vocal melody. It quickly becomes evident that Hilda intentions are more barbaric than bard-like, as she begins her wrathful destruction of the peaceful hamlet.
As such, the adopted, amnesiac Alto and his ersatz sibling/authentic love interest head to the capital. There, the duo joins the Ninth Regiment of the Regnant Knights, a brigade which seeks to find the land's four other witches and persuade them to overpower Hilda's malevolent melody. Although Stella Glow's story is entrenched in role-playing trope, with a hero trying to regain his memory and maidens who represent the quartet of J-convention (tsundere, genki, stoic, and confidant), this is hardly a detriment.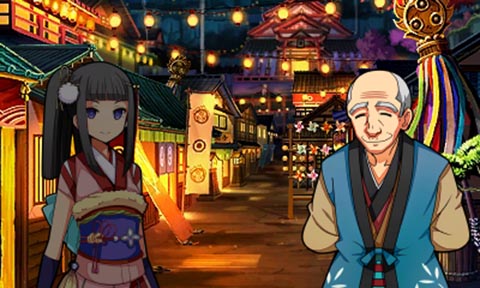 From the roots of conventions, the title produces a robust harvest- with fruits of indulgent familiarity, the unforeseen branch into the unexpected, but mostly a bounty of pure charm. Occasionally, games can struggle to shift between comical and expositional elements, but dependably Stella swings between these moods, skillfully punctuating levity with a bit of pathos. While there are missteps, with foreshadowing that's occasionally a bit too obvious, a sense of charm enshrouds the game, recalling the allure and virtue of golden era role-playing games.
Gameplay is divvied into two main components, Free Time and Mission. Situated in the Capital City, Free Time extends a number of activities capable of augmenting your team. In the Barracks, you can build relationships with your associates- with bonding bolstering your team's arsenal of skill and abilities (ala Persona's Social Links). More importantly, there is where character and relational growth is depicted, with the sit-downs even influencing the game's storyline and ending. Don't worry, if you can't foster friendship with all your witches and bros though. The New Game+ option permits players to persist their socialization efforts, with a bonus of additional Free Time actions each round.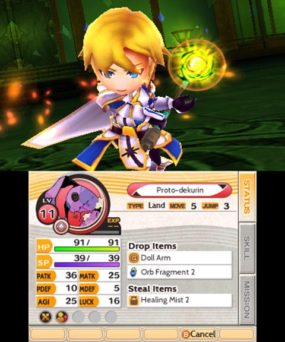 To improve the potency and breadth of your witches' songcraft, gamers can also enter the Tuning Hall. There, you'll enter each enchantresses' heart, as you battle metaphorical monsters in a wonderfully surrealist spirit world that magnificently merges sumi-e and M. C. Escher. While Stella Glow's journey doesn't require much grinding, both the Tuning Hall and Red Bear Tavern- where players can accept part-time work, extend growth opportunity should you feel a bit underpowered.
While the ratio of balanced ratio of conversation to combat might not be to everyone's liking, you'd be hard-pressed to find significant fault on Stella's isometric battlefields. Skirmishes are driven by a turn bar displayed on the bottom of the screen- with the game actively adjusting the sequence after each action. As such, if party members elect for motionlessness or forgo an attack, they'll be pushed to the forefront in the game's turn order. While it might seem like a minor wrinkle, with a bit of foresight, you'll be able to use the system to your advantage.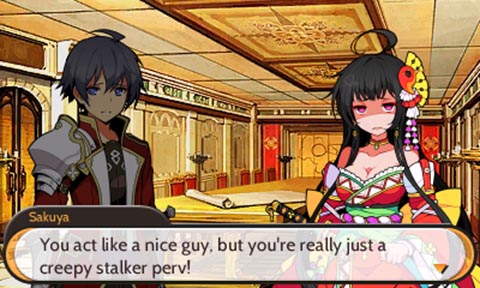 Naturally, your team's songcraft plays a bit part in fights, with a well-timed tune able to turn the tide of war. These limit-break style abilities are often lifesavers, with invaluable traits like the combined healing of allies and harm of enemies, saving players from a fated fatality. What's more, these songs are exquisitely performed, with Stella Glow employing a number of J-pop luminaries. Adeptly, non-witch characters have their own capabilities, with characters having distinct active and passive ability. From being able to push adversaries backward to the automatic countering of attacks, Stella Glow encourages the resourceful use of each teammate. While battle might be a bit easy, there's optional goals, such as protecting a party member from damage or using a healer to kill a specific number of enemies. These undertakings aren't always stress-free, but the dividends can be inviting.
Many of combat's other complexities are culled from other SRPGs. Like Final Fantasy Tactics, assaults are more powerful on the sides or backs of opponents, with the game displaying a pleasing Advance Wars-like breakdown before players commit to the attack. Pleasingly, the ensuing battle animations can be turned off. While they're a fine showcase for 3DS capability, there's a two-second transition before each cinematic.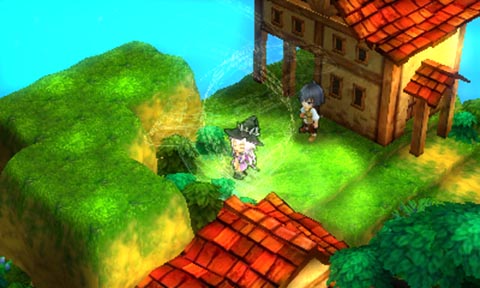 Beyond that foible, Stella Wars is an aesthetic pleaser, whether on its vibrant colored battlefields or via its collection of adorable Chibi-witches. Portraits used for conversational sequences are well-drawn and emotive while backdrops demonstrate subtle stereoscopic layering. Although the game only has a handful of animated cinematics that are used to punctuate key events, each looks splendid and more importantly matches the art style used during dialog sections. On the downside, an inability to rotate the combat camera can annoy while the decision to use an English dub will irk the hardcore.
As long as players can endure lengthy conversational sequences, there's little reason not to pick up Stella Glow. Within the cartridge or digital download, players will find more that forty hours of story, skirmishes, and song, that easily earns a place in the all-too-lonely pantheon of 3DS strategy-role-playing games. Imageepoch, if you have been hard to go out on a higher note.
Stella Glow was played on the 3DS with review code provided by the publisher.
Stella Glow
Platform: 3DS
Developer: Imageepoch
Publisher: Atlus 
Release date: November 17th, 2015
Price: $49.99 retail or via eShop
Review Overview
Summary : With Chibi witches, grid-based combat, a bit of fan-service, and a J-pop soundtrack is a symphony of role-playing bliss destined to delight the eyes and ears of genre enthusiasts.