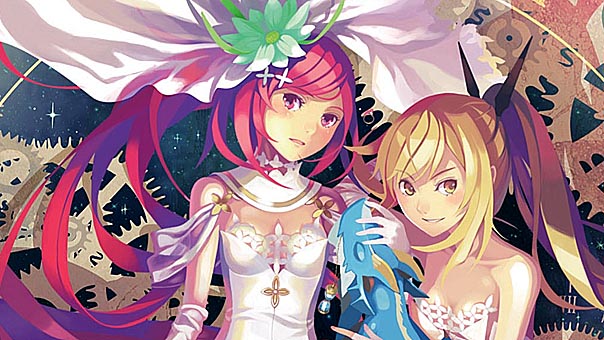 For decades, games have strove to duplicate the visual appeal of anime. Over the past few years, a number of titles such as One Piece: Pirate Warriors and Naruto Shippuden: Ultimate Ninja Storm 3 have come remarkably close to replicating the aesthetic of their source material. Showcasing hand drawn 2D art from Satelight Studio (Genesis of Aquarion, Macross Frontier), the recent release of Time and Eternity converges on the splendor of Japanese animation. Yet, the title's shallow characterization, simplistic mechanics, and dearth of visual diversity sully the initial impact of the game's enticing graphical style.
Like the game's visual design, Time and Eternity's storyline makes an accomplished first impression, but progressively wanes across each of the four subsequent chapters. The title's introductory sequence begins before Princess Toki's wedding day- as a trio of her acquaintances, her fiancé Zack, and the bride-to-be's pet dragon assemble for afternoon tea. Soon, the light-hearted banter turns serious- as the group recalls a premonition that tragedy would occur amidst the nuptial celebration. Following expository conversation between the groom and the female characters, Time and Eternity transitions to the wedding ceremony, where a squad of assassins storm in as the vows are traded. Unexpectedly, the demure Toki reveals an aggressive alter ego named Towa, who ferociously defeats the killers- but while engaged in battle, the groom become mortally wounded. Desperate, Toki/Towa rewinds time to the day of the conversation, in hopes of uncovering the motive and thereby, stopping the slaying.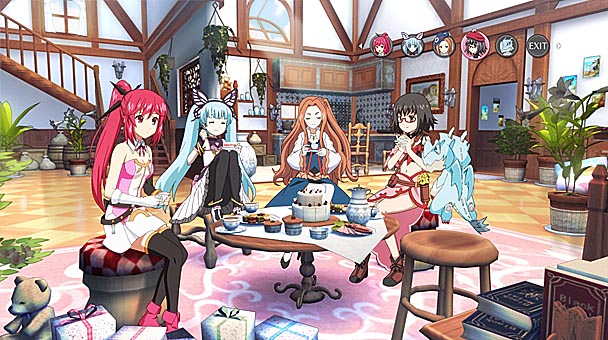 In the panic, the time reversal was botched, with Zack swapping bodies with Drake the dragon. While Hollywood has employed time travel and soul switching plot devices for years, entertaining audiences with films such as Back to the Future, Time Bandits, Face/Off, and Freaky Friday, developer Imageepoch struggles with the concepts. Save for detached sections of long-winded dialog, these hooks are largely disregarded during the game's cavalcade of mundane fetch quests. Inevitably, the studio relies on lascivious antics to get laughs, a technique which wears thin after a while. It's comical the first time Drake bites one of Toki's would-be suitors, but each additional repetition grows increasingly grown worthy. Similarly, once players learn the impetus for the assassin's plans, they'll likely be disappointed by the thread-thin provocation that the story hangs on.
The other problem is Time and Eternity's cast- a group of personalities which are both one-dimensional and unlikable. Other games have offered redemption, as tropes such as the the pervy male, the cheerful klutz, the conceited tsundere, and the naïve but effervescent maiden transform across a character arc. But here there's little development or poignancy to the proceedings, making identification with any of the title's blemished characters prohibitive. This is compounded by the use of a rotating protagonist. During conversational sequences, players assume the guise of the Zach, the lead male character. Yet, combat shifts between the contrasting personalities of Toki and Towa. Considering that battles shirk role-playing convention- pitting a single character against processions of foes, players should feel a connection to the heroine's. Instead, players will likely feel like a detached observer, growing increasingly irked by the game's gaping plot holes and being forced to take control of unpleasant or bland character.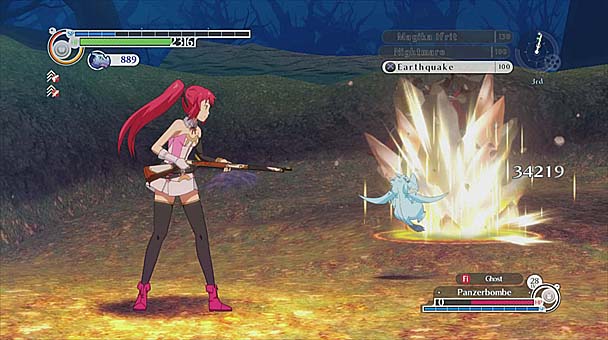 Square-Enix's Kingdom Hearts and Star Ocean as well as Namco-Bandai's Tales series have all offered virtuous alternatives to traditional menu-based skirmishes. While Time and Eternity's ambitions are noble, combat quickly becomes a tedious task rather than an absorbing treat. In execution, skirmishes recall Punch-Out!!, with players franticly mashing buttons to initiate ranged and melee combos between enemy attacks. While enemies thoughtfully telegraph strikes, the rapid button presses inadvertently lock gamers into attack animations. As such, the title seems to request players to take their time, which can extend the already lengthy battles into tedium. Later the ability to rewind, freeze, and accelerate time add gradation to combat, buy they are added a bit too late in the storyline.
Luckily, Time and Eternity's conflict isn't completely devoid of enjoyment; gratification can be gathered among the game's skill trees. Points earned by quest completion and the vanquishing foes can be used to purchase a robust collection of active and passive buffs. Shrewd selection does help with the repetitiousness of battles, once core branches are unlocked, gamers have access to spells which can quickly incapacitate most foes.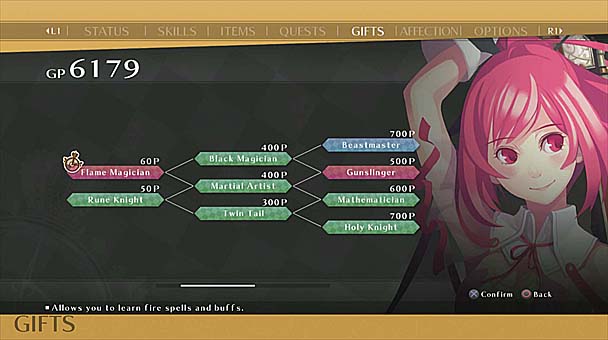 With discontentment in both conversation and combat, Time and Eternity is forced to rely on its visuals to charm players. Undeniably, the looping sprite-based animations on 3D backdrops recall an era when CG was shoehorning its way into anime. Yet, look past the occasional clumsiness and the title paints an attractive picture, as Toki and Towa movements bear little resemblance to the typical polygonal characters of most games. Yet, problems occur with asset recycling- from four repeating milieus to about a dozen palette-swapped enemies, Time and Eternity feels artistically truncated.
Following Imageepoch adept adaptation of Black Rock Shooter: The Game, players might have high hopes for Time and Eternity. But beyond a distinctive visual aesthetic, the game's mechanics and storyline are subpar. It's unfortunate that the developers couldn't go back in time and mend the title's weaknesses. While Time and Eternity's nuptial-based narrative and chronological traveling are noble ideas, an incompetent execution means that players are best advised to leave this one waiting at the altar.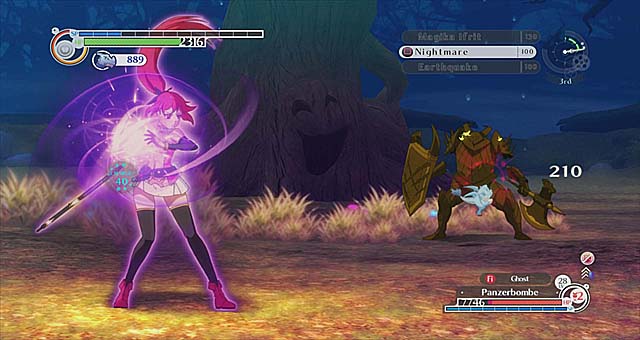 Review Overview
Summary : Time and Eternity is impressive to watch and oppressive to play. Even the staunchest NIS loyalist will struggle to enjoy this game.