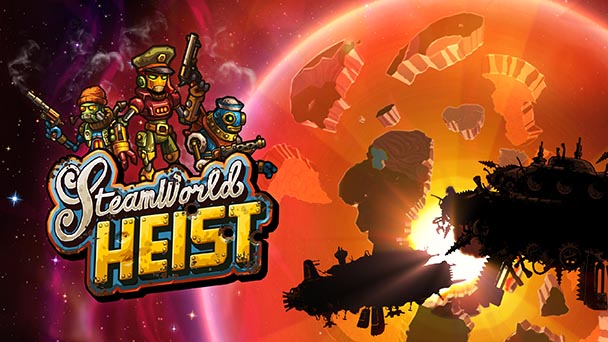 For most thriving developers, the path to prosperity is paved with variations on a theme. The customary modus operandi is to keep attempting new ideas until you stumble upon a hit. And if success is lucky enough to emerge, studios typically offer a steady succession of negligible variations and improvements until the popularity and profits eventually dry up for the series. And by that logic, we should all be playing SteamWorld Dig 2: Dig Deeper, the predictable follow-up which expands on the efforts of Image & Form's 2013 hit, A Fistful of Dirt.
But we're not. Instead the Swedish studio took a large and laudable risk, creating a title that might share the mythos of its predecessor, but offers a completely divergent set of play mechanics. This time out, SteamWorld Heist extends an exceedingly accomplished tactical effort which evades the oft-plodding pace found in some turn-based affairs. What more, the developers reduced many of the unseen dice-rolls that can induce frustration. In short, it's the rare third-party eShop title with the playability and polish of first-party game.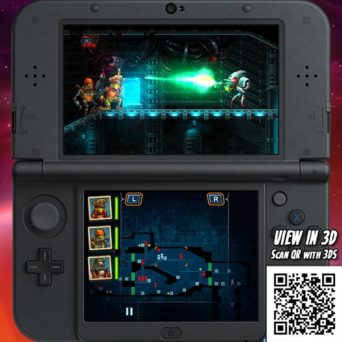 Set centuries after the post-Armageddon events of SteamWorld Dig, Heist reveals its sentient robots still staunchly scrapping for survival, with water being at the foundation of their steam-power economy. A persistent shortage of the precious liquid has goaded the automatons to scour the galaxies, which are filled with the type of antagonism that expected for a game that draws from Western archetypes. Initially, players are introduced to Captain Piper Faraday, a plucky part-time pirate who suffers loss during a refueling mission fiasco. As such, her first priority is reunification with her missing teammates.
Admittedly, it might seem like a skeletal impetus, but Heist pulls it off thanks to the appeal of its characters and the decision to not let long conversations slacken the title's pace. Credit should be given to the game's dialog, which conveys context through twangy accents and Western drawls. Pleasingly, this parlance is persisted on Heist's menu screens, adding ambiance in a subtle fashion. Another attribute is the game's delivery, flaunting both allies who stand nearly a third of the screen tall, and move with marionette-like articulation. Sonically, the game's is just as adept, with vocalized compositions from Steam Powered Giraffe bestowing an idyllic aural accompaniment at Faraday and company's base ship.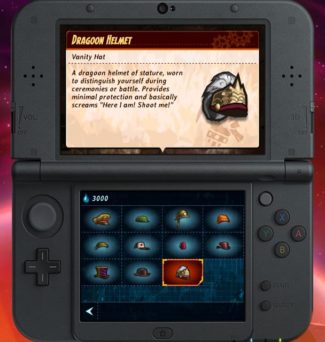 Missions begin with the vessel docking with a hostile craft, sending up to a quartet of teammates on a variety of assignments. Some are compulsory, while optional duties like keeping all party members alive or finding the level's piece of consummate loot goad players into peril. As the game saves every turn, lingering in each procedurally-designed stage is truly a gamble. Compassionately, Heist not only bestows the right tools, but persistently offers a second chance after an errant decision sends things south. However, that's not to say the game's a pushover with boss battles testing a player's strategic prowess.
Movement is accomplished via the direction pad, allowing gamers to select a destination for each party member. Not only in the navigational cursor intelligently assisted, but potential locations use icons and color-coding to convey if they offer cover or require a heated sprint which prevents characters from action.  In essence, traversal feels like XCOM depicted in a side-view perspective, and before long Heist will make you strategize similarly. Within hours you'll find discover a tactical approach that allows teammates to protect one another and shield the mortally wounded. Although the game uses the 3DS's bottom screen to render a map of the stage and you can use the circle pad to zoom around the top screen, gamers might find themselves wishing that they could zoom out a bit when aiming.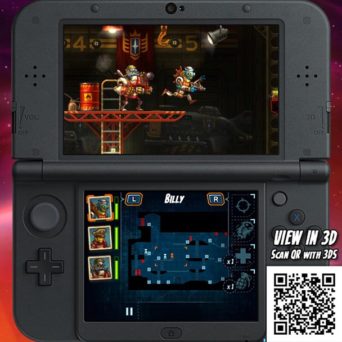 Once enemies poke through the fog-of-war, you'll use the right trigger to free aim, setting the ballistic angle of your pistol, SMG, grenade launcher, or sniper rifle. Here, Heist draws unlikely inspiration from Bubble Bobble. Not only does your introductory weapon reveal its firing trajectory, but you'll soon find out that this is a game of angles.
Most environmental elements in SteamWorld Heist reflect your bullets, making trick shots an indispensable strategy. Can't quite get the proper angle to nail a foe for crouching next to a barrel? Fire at the proper angle and watch the ricochet strike him from the rear. Of course, that's just one possibility with players able to fire at destructible cover and even exploit the obligatory exploding cans which fill battleships. Playing on any of Heist's five difficulty setting does more than just improve enemy accuracy, with the upper echelons bestowing larger awards for completion.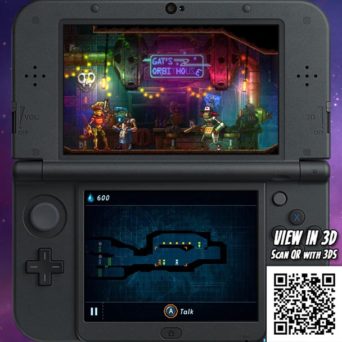 These bonus fall into the game's light role-playing system, where found loot can be scrutinized for advantage, or sold for currency. More importantly, survival in each stage rewards experience, which is used to unlock distinctive special abilities. While some of the dividends might sound meager, with Faraday 'inspiring' adjacent allies or a character healing one health point every turn, they all contribute advantage to the player. Collectively, the perks prove vital as players persevere through the extensive fifteen-hour campaign and new game+ component.
Given SteamWorld Heist's substantial length, it might seem selfish to want more. But even after twenty hours of turn-based robotic carnage, I'm hoping that Image & Form revisits the game's mechanics. I haven't tired of shooting the hats off of enemies or watching defeated foes tumble into countless pieces of (slow motion) falling scrap. There's still fun in trying to get through a stage before an alarm is answered by hordes of enemies- especially when backtracking is all but eliminated. Given how fresh and fun Heist feels, it would be unfortunate if the developers didn't give the concept another go. In case they don't, pick up this digital download, so you'll appreciate how different the studio's next effort will likely be.
SteamWorld Heist was played on the 3DS with review code provided by the publisher.
SteamWorld Heist
Platform:
3DS
Developer:
Image & Form
Publisher:
 Image & Form
Release date:
December 10th, 2015
Price:
$16.99 via
eShop
Review Overview
Summary : Image & Form somehow manages to outshine their previous eShop title with a brilliant, turn-based title that's an essential purchase for 3DS owners.