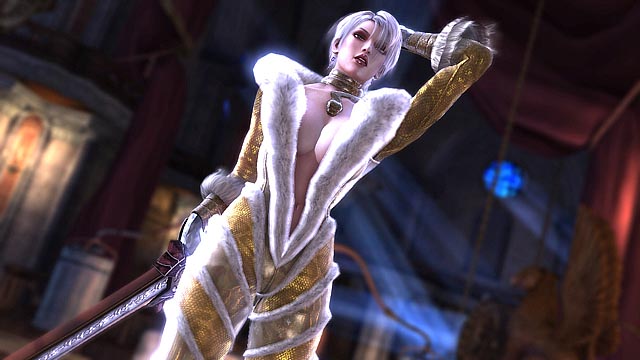 Like nearly all fighting franchises, the Soul series has had its share of missteps. From Soulcalibur III's clunky engine to the awkward inclusion of Star Wars characters in IV, the Project Soul team is certainly guilty of making some questionable design decisions. Yet, by crafting one of the rare three-dimensional, weapons-based battlers where players clash with opponents instead of an unwieldy control scheme, the developers certainly deserve a bit of clemency. After all, if wasn't for the tag-team prowess of Soul Edge and Soulcalibur, we just might still be playing sequels to Battle Arena Toshinden, Mace and Dark Rift.
One of the series' fundamental strengths has been the ability to balance novice accessibility with enough depth to satisfy fighting game fanatics. Elegantly, the recent Xbox 360 and PS3 release of Soulcalibur V sustains this trait, while making some careful tweaks to placate both audiences. As such, button-mashing neophytes are able to initiate a pleasing variety of stirring strikes without much effort. Yet, in the hands of a Soul virtuoso, the game reveals an intricate interplay of resource management and a conscientious execution of quick strikes- peppered with punishing combinations.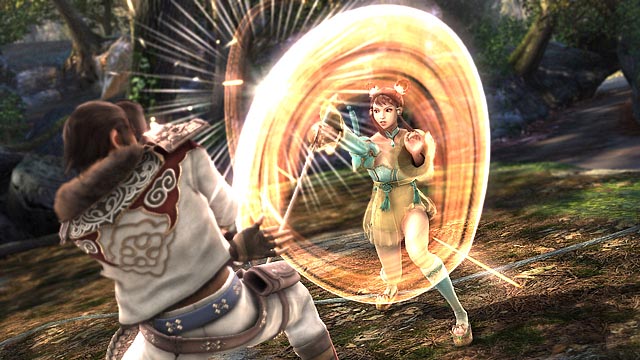 Soulcalibur V's rudiments are all in place: vertical and horizontal slashes are executed while airborne, standing and crouching- as well as the game's capacity for sidestepping opponents. Look beyond the basics and you'll notice a handful of notable renovations. Dishing out damage (as well as guarding) gradually fills up the Critical Gauge. Once a player has topped off the meter, two quarter-circle turns and a trigger pull initiates the Critical Edge- an ostentatious set of combatant-specific combos which recall Street Fighter 4's Ultra Attack. Alternately, players can employ an EX Attack-like boost to the arsenal with the use of the Brave Edge- adding additional damage, guard-braking, or combo continuing possibilities. Parrying an opponent's attacks has been altered, no longer requiring a player to predict a high, mid, or low-level strike. Now, the Guard Impact has been modified to repel any attack, albeit at a slight depletion of the Critical Gauge. Undoubtedly, some players will bemoan Soulcalibur V's adaptation of the system, as it limits the use of the ability. Controversy aside, the adjustment reflects this installment's elevation of strategic elements.
Less justifiable is the title's reductive single-player component. Forgoing the tournaments which rewarded a character's journey with an individualized cinematic, the game's 1607 A.D. mode adheres to a single storyline. Using hand drawn images accompanied by vocal narration to spin the yarn of Patroklos and Pyrrha Alexandra, the campaign certainly feels lacking after experiencing Mortal Kombat's interactive chronicling of series history. Slogging through the scenario feels tedious at first, with the first seventeen levels putting up on a modest challenge and offering little in the way of tutelage. The final three stages ramp up the difficulty exponentially, culminating in the cheat and repetitive conflicts which fighting games regrettably rely on. Nevertheless, players will want to persevere to unlock Legendary Souls mode, which offers SoulCalibur's interpretation of a boss rush mode.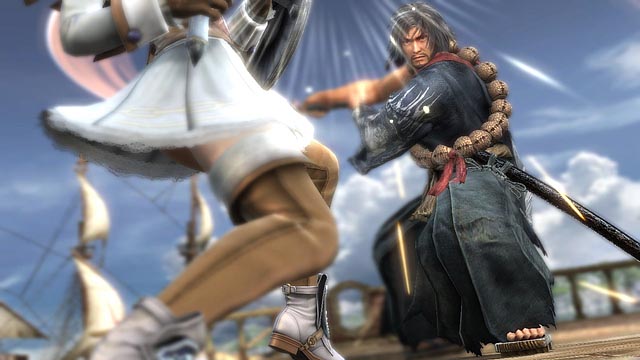 Beyond 1607 A.D., Arcade Mode offers six, time-based skirmishes, while Quick Battle offers a collection of over two-hundred fights against adversaries crafted by the game's satisfying character creation component. Although players are still bound to the basic skillsets and broad appearances of SoulCalibur V's 27-combatant roster, the amount of costuming possibilities are vast, with gamers even able to affix textures on equipment pieces. While it ultimately boils down to being a digital doll set, taking your handiwork online makes it rewarding, especially when you trounce an opponent with a busty brawler wearing little more than a deer head. While Namco-Bandai's supplemental DLC gear is bound to be contentious, there's more than enough paraphernalia to keep players engaged.
After jumping into the title's online arenas, it's clear that the Project Soul was dedicated to offering a polished experience. SoulCalibur V's netcode proved to be consistently reliable, supporting matches that were free of lag and persistently responsive. Clever additions such as being able to watch live battles while waiting to participate in a ranked or player match are pleasing as is the title's Global Colosseo mode- which allows a room of participants to freely interact and challenge each other.
When SoulCalibur was made available along the Dreamcast launch, it was visually lavish; little has changed in the past thirteen years. The franchise's fifth iteration beams with a flawless sixty-frame per second delivery and exquisitely detailed character models. Seeing the game's sumptuous backgrounds is only outclassed by the game's traditional win pose, which has combatants facing the camera and speaking directly to players. Straddling the line between photorealism and caricature, the game's rooster is unswervingly captivating. Even special guest Ezio Auditore easily outclasses his Assassin's Creed model by exhibiting elegant cloth physics and lethal-looking animation routines.
For players looking to battle live opponents, Soul Calibur V's local and online fracases are indisputably stupendous. Teeming with vitality and vivacity, the title's fights finally surpass the high watermark established by the series' second iteration. For solitary players, V isn't as essential, delivering an uneven set of pursuits atypical for the franchise. As long as you're not picking up the title to slash away at AI bots, the Soul still burns- and routinely shines brightly.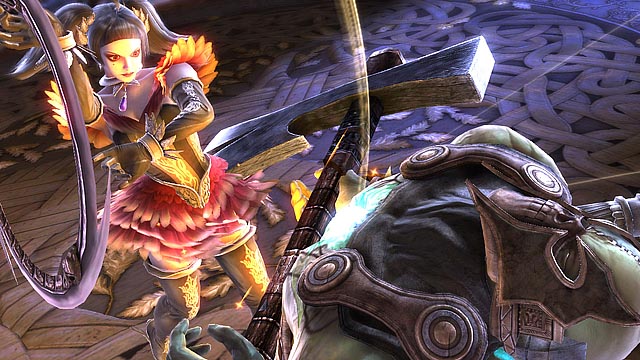 A copy of Soulcalibur V was provided by the publisher for review.