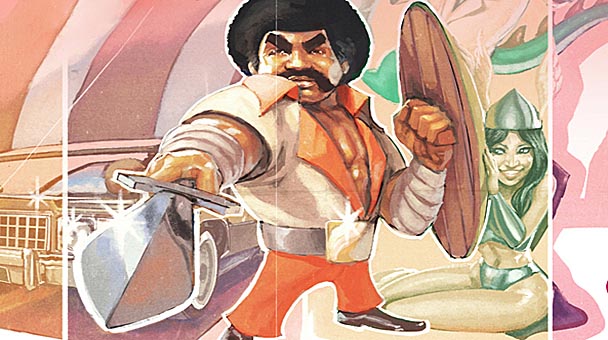 Mash-ups are hardly a new phenomenon for the game industry. NES titles such as Pinball Quest and River City Ransom shrewdly combined genres- while even earlier, coin-ops like Gorf and Tron attracted players by merging a variety of play modes. The recent release of Soul Fjord for the OUYA attempts a much more ambitious feat- uniting elements of the beat 'em up, rhythm game, and Rogue-like into a cohesive and engaging experience. Although the free-to-play title has a number of minor flaws and in its current state is prone to the sporadic crash, the game certainly deserves an audition by owners of the cubic console.
Soul Fjord's opening cinematic exposes protagonist Magnus Jones tragic ejection from a Valhallan discotheque, tasking the hero with scaling back up Yggdrasil and seeking retribution against the Nordic bouncer responsible for the snub. In execution, this entails guiding Jones through a succession of procedurally-generated levels, tapping out sequences of precisely timed combos, and managing an inventory of weapons, armor, and consumables.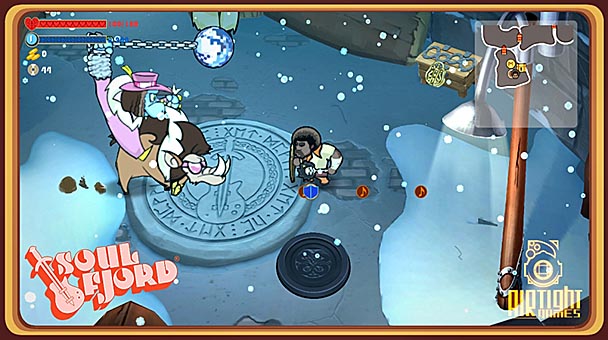 Traveling through networks of rooms, the indefatigable lead character is shadowed by a scrolling metronome. Pressing one of the two main attack button on beat invites players to tap out a chain of cadenced button presses. While matching the rhythm of the on-screen indicator issues a substantial amount of damage, flubbing a sequence isn't entirely futile- enemies will still lose a bit of health. Likewise, grooving to the tempo of the game is an important component of defense. Holding down one of the shoulder buttons to block is helpful to reduce the potency of incoming strikes, but deftly timing the hoist of your shield proves to be far more effective. Yet, the most efficient tactic is dodging attacks with the dash maneuver- which proves invaluable against the teleporting opponents and traps which emerge later in the game.
Pleasingly, the different weapons which Jones picks up provide different combo opportunities, endowing the game with a feint Patapon-like vibe. Yet, where combat in the Japan Studio-developed title was easy to follow thanks to a linear progression, occasionally Soul Fjord surrounds the protagonist with attacking adversaries, which makes staying on beat downright difficult. The other problem arises from players being forced to rely on the game's visual indicators rather than tapping buttons rhythmically due to the inclusion of half notes in some of the combos. Ideally, the game's action would have been better synchronized with the basslines of the Fjord's soundtrack.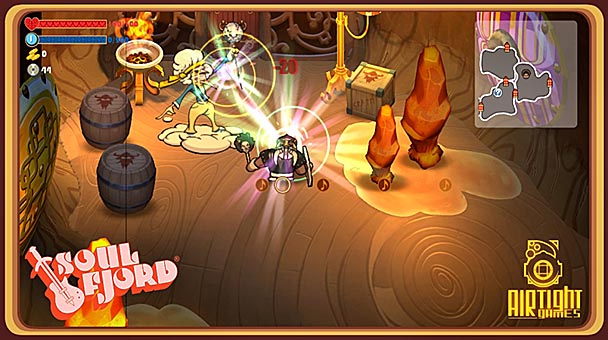 The title's Rogue-like heritage is evident across the game's loot system and its approach towards fatalities. Overcoming opponents and rupturing containers rewards players with a liberal supply of amusingly-named goods which help to augment Jones' stats. While these superior sundries help the hero confront an increasingly formidable procession of foes, they are lost when Jones dies. Mercifully, the game's collectables- records, permit players to "soulbind", allowing these artifacts to be kept for a future playthrough. Herein lies Soul Fjord's monetization methods- allowing gamers to purchase supplemental disks for real-world currency. Pleasingly, the game can be completed without expenditure- but be warned, the compulsion to retain effective or comical gear can be quite strong.
Soul Fjord's amalgam of genres is matched by its imaginative aesthetics. Blending Nordic lore, a funk soundtrack, and grindhouse film grain, the game's dissimilar influences congeal together agreeably, creating a context which feels enjoyably fresh. Certainly, the title's visual output is to be commended- detailed sprites and brightly hued backdrops help Soul Fjord become one of the OUYA's most attractive offerings. Unfortunately, the game's performance doesn't always match its graphical prowess- during ten hours of play, Fjord froze three times.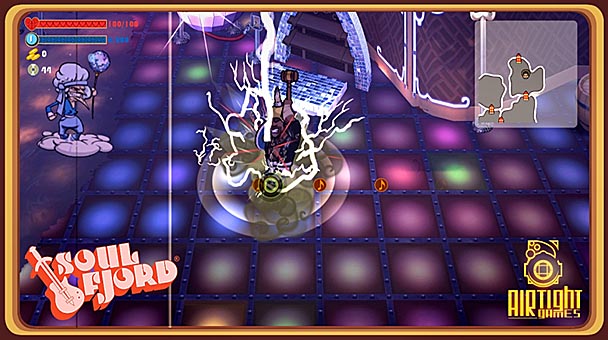 Save for a few issues, the game's seemingly incongruous combination of genres and influences succeeds – delivering an appealing and delightfully quirky game. If developer Airtight Games could smooth over some of Fjord's craggy marks, there's little doubt that Magnus Jones could ascend not only into Club Valhalla- but also into the hearts of the OUYA community.
Review Overview
Summary : Soul Fjord's unlikely concoction of brawler, rhythm game and Rogue-like largely works, thanks to pleasing gameplay and a micro-transaction model that's equitable.