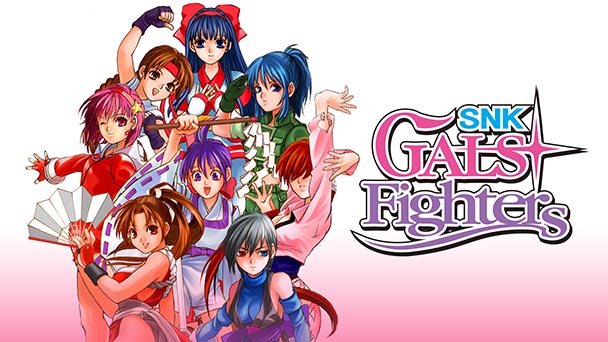 With the release of this Neo Geo Pocket Color, the Nintendo Switch emulates yet another retro system offering an affordable way to play this two-decade old, two-button fighter.
SNK Gals' Fighters
Platform:
Switch
Developer:
Yumekobo, Code Mystics
Publisher:
SNK
Release date:
April 29th, 2020
Price:
$7.99 via digital download
Availability:
Nintendo eShop
The Neo Geo Pocket Color has a tragically short-lived run in the Americas. Released in August 1999, SNK's $69.99 portable system sold briskly at retailers like Wal-Mart and Toys "R" Us, earning small profit. But SNK had been struggling financially for years and couldn't continue marketing the system, especially against stiff competition from the Game Boy Color. As such, parent company Universal Entertainment (creator of Lady Bug, Space Panic, and Mr. Do!) discontinued sales outside of Asia, asking stores to return all unsold stock ten months after launch1.
Twenty years on, prices for the Neo Geo Pocket Color system has remained affordable but costs for the library of thirty-one released games have generally skyrocketed. Averages for loose games hover around $45, while those accompanied by the original case exceed a $100. Players with a partiality for a complete set of fighters have it especially tough. Although Fatal Fury: First Contact and King of Fighters R-2 aren't prohibitively priced, an unboxed copy of 2000's SNK Gals' Fighters can fetch over $120. If you're hoping to witness a retro match between a chibi-fied Mai Shiranui and Nakoruru, this is an affluent proposition.
Yumekobo's Next to Last Game
In 2015, an infusion of cash from Hong Kong's Leyou and Beijing-based 37Games reinvigorated SNK. The result was a succession of revitalized properties, from the celebratory SNK 40th Anniversary Collection, the mediocre SNK Heroines: Tag Team Frenzy and even the appearance of Terry Bogard into Super Smash Bros. Ultimate. With the release of SNK Gals' Fighters, the company continues their resurrection of previous efforts. The reappearance offers an affordable and ethically appropriate way to play the Neo Geo Pocket Color fighter. But the game's age means this is an outing best suited for retro enthusiasts.  Two decade-old portable pugilism won't be appreciated by everyone.
But for those who grew up playing Art of Fighting, Fatal Fury, Samurai Shodown, and the King of Fighters might relish the game's amalgam of character culled from SNK properties. Don't expect the cast's detail, animation or color to be carried over. Instead, Gals Fighters' eight playable, two hidden, and boss are redrawn in a charming super deformed-style. The method preserves the general likeness for each character while contributing comical elements like Mai's giant foot that appears during kick animations or Yuri's confident pre-fight leg stretch.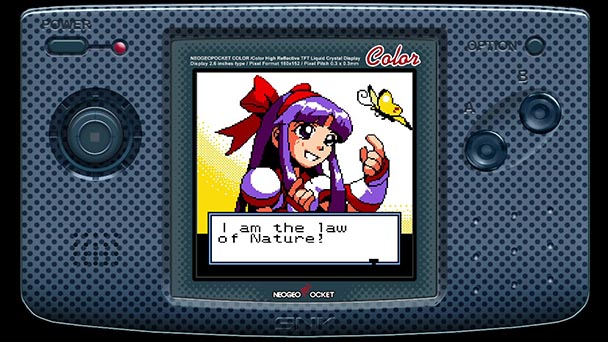 Simplified Fighting With a Few Nuances
Converting the movesets for the two-button Neo Geo Pocket Color must have been a challenge for developer Yumekobo. While there's obvious cutbacks in your fighting arsenal, SNK Gals' Fighters preserves many of the fundamentals of fighting. Launch an offensive without a guard at the ready and you'll find opponents ready to strike with a multi-hit combo. Pleasingly, the title doesn't discard many of the quarter-circles or half circles that are instinctive for fighting game fans, with each character having at least three specific attacks.
Skirmishes over the 4:3 ratio playfields are present, especially on the title' uppermost difficulties. Although many modern games offer to remap complex commands for beginners, you won't find that here. Each characters' two specials and Mighty Bops require directional pad contortionism. There's also variety rooted in the cast. So, whether you appreciate a combatant with lightning-fast attacks like Athena or the unpredictability of someone like Shermie, there's a gal for you.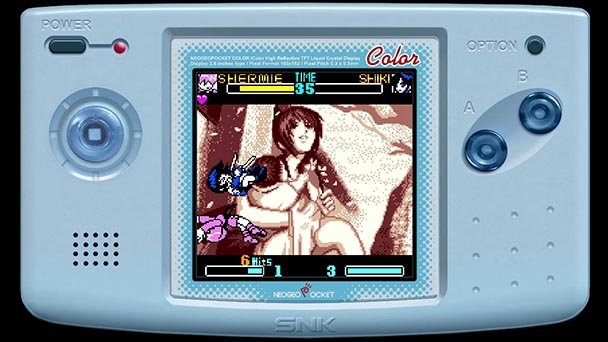 Items for The Mightiest Bop
Beyond a bare-bones training mode and the ability to accommodate local two-player matches, you can also test your skill in the title's Queen of Fighters tournament. Besides beating "Miss X", you'll also be tasked with collecting sixteen different items, that can be equipped to tilt the odds of a match. Thankfully, they're not all panaceas, and sporadically items provide no tangible benefit. Remember this was released when the internet was still young. Yumekobo obviously wanted players to explore.
Code Mystics' emulation does a competent job bringing the title to the modern age. Players can choose from a variety of different Neo Geo Pocket Color skins to frame the action and adjust the amount of zoom to make the playfield maximize the Switch's screen. Those who think playing a simulated console on another console is off-putting can also opt for a black backdrop. Here, the original hardware's 160×152 resolution can be upscaled without any unsightliness, and a filter can be applied to emulate the screen. Although Gals' Fighters' backgrounds are fairly simple, this release retains the vibrant hues. Although the original Texas Instruments sound chip in the device lacked power, the game's plucky tunes are on key, which isn't the case with all emulations. Interestingly, you can rewind the game if you feel that CPU opponents are being cheap. While the developers offer the original manual in a pause menu, navigation is a little awkward. A shortcut to see each fighter's movesets would have been a welcome addition.
Conclusion
For many, SNK Gals' Fighters will be an odd curio, lacking the fidelity and sophistication of contemporary fighters. But those who appreciate gaming's history will appreciate the reappearance of the title. I wouldn't want to pay over a hundred dollars to see the SNK ladies square off. But for eight dollars, revisiting an enjoyable title from this heartbreakingly short-lived system is quite reasonable.
SNK Gals' Fighters was played on Switch
with a review code provided by the publisher. 
1 In 2012, the Neo Geo X faced a similar fate, with production for the handheld ending less than a year after release.
Review Overview
Summary : Mai, Athena, Yuri, and a certain whip-brandishing warrior are back on a portable device, twenty years after their hurried retreat. SNK Gals' Fighters lacks contemporary sophistication but still manages to invoke plenty of early millennium charm.