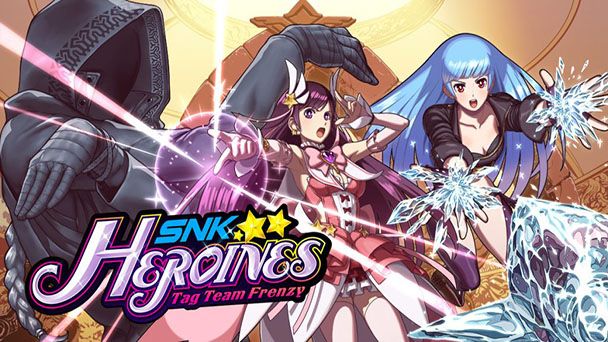 For the last two decades, fighting games have been climbing a foothill of complexity. Long-running series like Guilty Gear, BlazBlue, and Tekken are built to the tastes of hardcore fans, adding new intricacies to each successive iteration. As such, move lists inflate, subsystems swell, and frame counting becomes increasingly necessary, making the genre a bit prohibitive for newcomers. Even Super Smash Bros., which engineered conflict around a two-button input system, can be rather daunting for those who are haven't devoted themselves to the franchise.
For those who don't have the time or patience to painstakingly study miniate or commit quarter-circling to muscle memory, there's SNK Heroines: Tag Team Frenzy. While the recent PlayStation 4 and Switch release can feel barebones at times, it flaunts accessibility along with muted amount of fan-service. While it won't appeal the fighting game elite and has an infinitesimal chance of making it to EVO, its rather refreshing to be able to hold your own in a match without having to commit to hours of practice.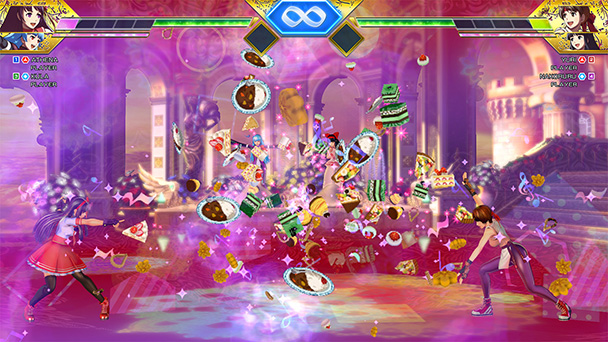 Make your way through the game's inelegant menu system and into the tutorial and you'll encounter many of the essentials of the fighting genre. Light and heavy attacks are mapped to face buttons, permitting players to favor speed or strength for their strikes. Throws are an essential part of SNK Heroines and are easily executed with another button. As with many fighters, they're especially useful against encroaching foes, providing a bit of breathing room for your combatant. Blocking is button based, rather that initiated by pushing away from your rival, making defensive play trouble-free.
Even casual fighting fans might notice some of the games curious omissions. Most noticeable is the lack of crouching, which shrinks your moveset. For players with a foot sweep always at the ready, adjustment will be necessary. The game's rooster of fourteen combatants share a common command list for basic combos, with distinction rooted in their special moves that are tied to a Spirit Gauge. On the upside, that means there's no need to practice your quarter circles, z-motions, or charges, but it also means that the cast feels a bit homogenous.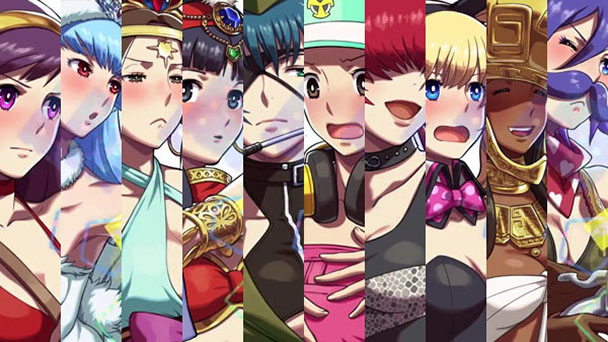 Of course, there are also a few interesting incorporations and deviations. As the subtitle implies, Tag Team Frenzy focuses on two-on-two fights, with players able to freely swap combatants. But instead of the inactive character restoring health, she's actively refilling her Spirit Gauge. Beyond pulling off special moves, this meter is used to pull off one of the match-ending Dream Finishers. These are special moves that are a bit like Mortal Kombat's fatalities, only with character specific items like candies, jewels, or flowers erupting from disgraced opponents. Performing one of these is the only way to win a match, adding of tension to the end of each round.
In the background of each arena there are items that can be picked up and used by your support character. Ranging from bombs, banana peels, and even wooden standees, each is deployed with the right stick, contributing some variation to the conventional trading of blows. And while they don't fundamentally influence the outcome of the match, they are a good way to keep opponents on their toes, while incentivizing fighter movement.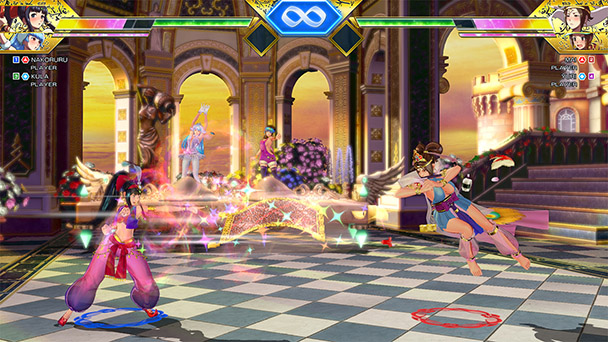 But being noob-friendly as means that SNK doesn't have a lot of staying power. Character mastery took hours, not days or even weeks, and scrapping became boring far faster than more complex fighters. Ideally, Tag Team Frenzy would have taken the a BlazBlue approach, permitting new players to dole out a few combos with simple button presses, while also allowing for a larger, more complex moveset from seasoned pros.
Sure, there's light fun to be had. Success gradually unlocks sound and video files, as well as gives players a bit of currency. These in-game dividends can be used to purchase two additional costumes for each fighter, as well as accessories or poses for the game's obligatory photo suite. Given that the game's story mode has a rather nonsensical plotline and at launch, the online servers were fairly vacant, the encouragement to keep playing is welcome.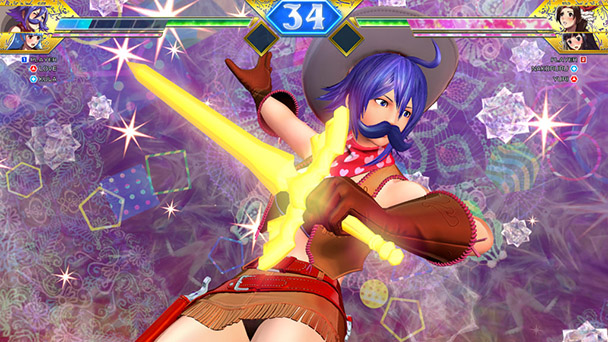 In both dock and handheld mode, SNK Heroines: Tag Team Frenzy runs at a constant thirty frame-per-second on the Switch. Having briefly played the PlayStation 4 version at E3 (which ran at 60 fps), the halved output made control feel noticeably less sinuous. Additionally, it was slightly more difficult to see the items that were pouring out Dream Finishers. But given enough time and you'll acclimate, or at the very least tolerate the game's framerate.
And for those approaching the game expecting gratuitous amount of curvaceousness, you might want to temper your expectations. Compared to almost anything in the Senran Kagura franchise, SNK Heroines feels rather modest. Sure, Mai Shiranui in rendered in characteristic form, and Terry Bogard's female version is a treat, but SNK Heroines doesn't linger on lasciviousness. Sensual is present, but the its obvious that the developers didn't spend months perfecting 'boob physics' or any similar type of element. Each of the fourteen girls are competently rendered but you'll hardly marvel at the in-game models.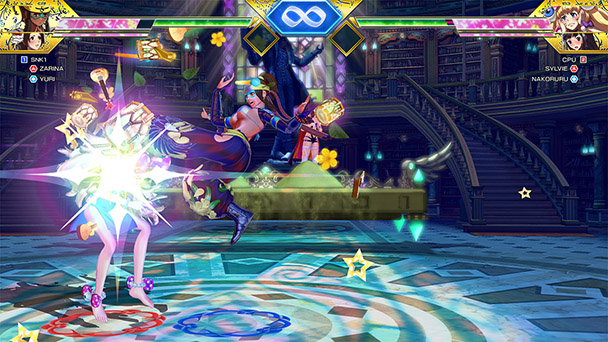 With constrained movesets and mundane number of combatants, SNK Heroines: Tag Team Frenzy suffers from some of the issues of many fighting upstarts. As such, it's enjoyable is short bursts, but won't hold your attention for the long haul. Here's hoping that SNK gets a chance to craft a follow-up with additional depth and breadth.
SNK Heroines: Tag Team Frenzy was played on Switch
with review code provided by the publisher. 
Review Overview
Summary : SNK Heroines: Tag Team Frenzy is a competent inaugural offering but is fated to leave fighting fans wanting more. That said, it's gratifying to see a developer cater to a group that's often ignored by the genre.