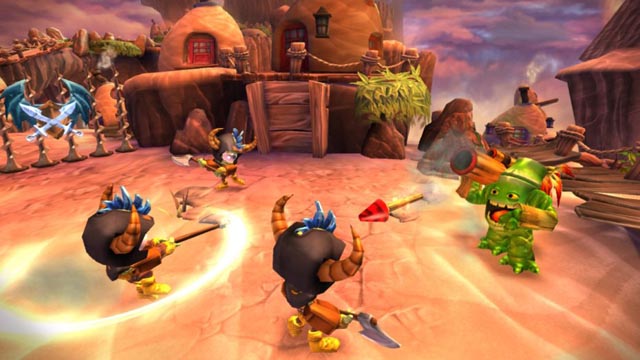 Predictably, a number of critics were dismissive of 2011's Skylanders: Spyro's Adventures. Built around the concept of purchasing real-world figurines that were capable of transforming into in-game characters, the title was depicted as little more than a brazen money-grab by a handful of detractors. However, history is apt to offer a divergent interpretation. As one of the more popular inaugural entries launched amidst a dispirited economy, Skylanders succeeded by providing a polished family-friendly game that could be enjoyed by children and adults. Both audiences discovered collection revolved around more than just the simple assessment of statuettes; game mechanics prodded players along, with the temptation of a new reward constantly within reach.
Although sequel Skylanders Giants drops the plucky purple dragon from its designator, players can be assured that developers Toys for Bob haven't radically tampered with their winning formula. Placing a figurine on the starter pack's Portal of Power remains captivating, with the USB-connected peripheral quickly recognizing any of the game's new standard-sized statues, series two revisions (exhibiting augmented abilities), or massive Giants. Smartly, Sypro's Adventures figures are compatible with the sequel, carrying over their stats from the original game while offering an elevated level cap. Series Two Skylanders such as Zook, Whirlwind, Terrafin, Slam Bam, Trigger Happy and Ignitor can even be imported into the original title.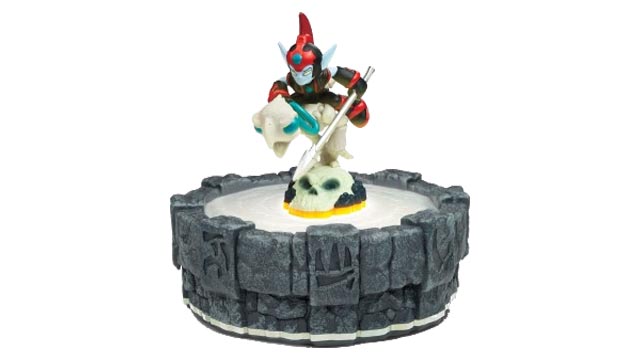 As the moniker indicates, Giants are the significant supplement to Skylanders, with each starter pack shipping with Tree Rex- a lumbering, but devastating, flora reminiscent of the Ents from The Lord of the Rings. With roughly twice the hit points and offensive output of conventional characters, each of the new Giants offers an ideal point of entry for younger, less dexterous players- particularly for some of the game's more daunting bosses. For Skylanders vets, these hulking protagonists provide a number of new gameplay mechanics, transforming obstructive boulders into weapons of mass destruction or crashing through floors- surrendering an entrance to subterranean territories.
Much like its predecessor, Skylanders Giants shrewdly regulates access. Elemental classes act as gatekeepers, allowing fire-based characters like Eruptor to explore lava-filled alcoves teaming with treasure. Uncovering a Soul Gem in a stage allows a Skylander to purchase an additional upgrade. If it's linked to a creature you don't own, gamers are presented with a short gameplay video parading the new power. Occasionally, players might get the feeling that they're a participant in Toys for Bob's clandestine research study in consumer behavior. The game's ability to pique curiosity without ever becoming domineering is meticulously balanced, resulting in a few impromptu retail runs for this Skylander-fixated reviewer.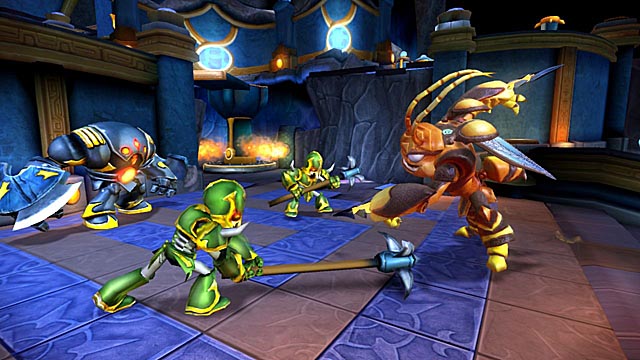 Although additional figures aren't required to complete Giants' main campaign, there are undoubtedly helpful. Near the end of the game's sixteen level quest, the level of challenge ramps up significantly. Since each statuette bestows its own allocation of hit points, having additional characters helps to temper the upsurge in difficulty. Of course, dogged perseverance is proves beneficial, with exploration boasting the abilities of each Skylander, as well as leading to the possible discovery of a stat-boosting hat.
Essentially, Skylanders Giants core play mechanics remains unchanged.  The title's levels are still teeming with destructible objects, each holding a bit of in-game currency, much like the game's collection of foes. Breezy puzzles complement the combat, tasking players with locating keys to open gates or pushing animals to create makeshift walkways. Although jump pads allow characters to access elevated areas, Skylanders still lack the ability to leap, which may seem a bit limiting for fans of action role-playing games like Champions of Norrath and Baldur's Gate: Dark Alliance. The upside is that unlike the LEGO franchise, Skylanders Giants is free of the conundrums than often bewilder younger participants.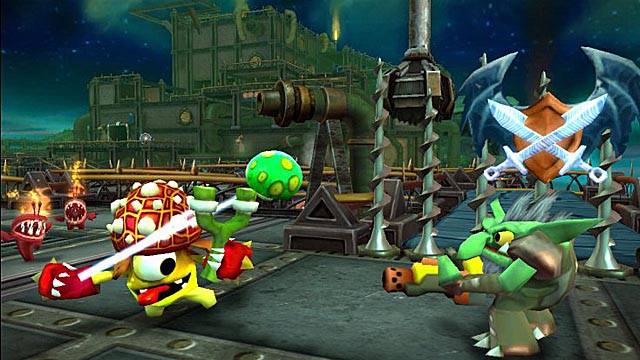 Beyond the opportunity to play the title's campaign co-operatively, Giants brings back the Battle Mode, offering an alternative method to building a bankroll or building experience. Here, two local participants can initiate engaging skirmishes between their Skylanders, although the lack on an online complement or four-player matches feel like a missed opportunity. The game's other transgression is the length of its campaign, which is roughly 25% shorter than Spyro's Adventures.
Since family-oriented fare often gravitates toward slipshod licensed titles, it's gratifying to see an engaging and entertaining title such as Skylanders Giants. With the ability to beguile both children and adults, the starter pack represents an ideal (albeit, a bit pricey at $75 USD) catalyst to bring divergent audiences together during the upcoming holidays.