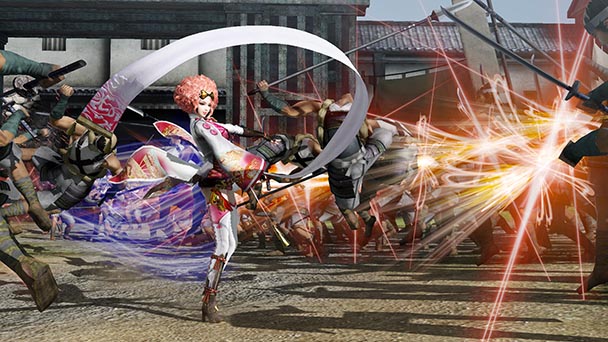 Omega Force's musou games have a contentious reputation, with critics and consumers often finding fault in the repetition of combat, a rigid adherence to formula, and the excessive frequency of release. While the latter culpability shows no sign of relief- with main entries, spin-offs, and licensed tie-ins like One Piece: Pirate Warriors and Hyrule Warriors arriving at an unremitting pace, the first two accusations were challenged by last year's release of Samurai Warriors 4.
Fundamentally, the inclusion of the Hyper Attack changed the pace and play of the franchise, with a succession of button taps transforming the protagonist into a whirling dervish of destruction. No longer did players have to leisurely hack through legions of peons, with the offensive maneuver bowling over lesser foes, while traversing distances with unprecedented speed. To keep Samurai Warriors 4 from being a single-button trail to triumph, the move was judiciously tempered, with elevated enemies like officers and mid-ranked soldiers immune to the tactic.
Wisely, Hyper Attacks remain at the forefront for the release of Samurai Warriors 4-II, a game that revises its predecessor's expositional methods, while retaining the engaging play mechanics that elevated Warriors 4 to musou merit. As the moniker implies, this might not be an incremental advancement over last year's title, but Samurai Warriors 4-II offers enough development and divergence to warrant a purchase from franchise fans.
Jumping into story mode immediately divulges the storytelling deviation of 4-II. Players select from one of twelve scenarios set on the sunset of Japan's Sengoku period- a rich era that marked the transition from a feudal age to the Tokugawa Shogunate's unification the country. It was a time when military strength determined governance, and provided exceptionally fertile soil for accounts of heroic, turncoat, and villainous daimyo. While the Samurai Warriors series have typically rooted gameplay in geographical contexts and core conflicts, 4-II takes a character-driven approach.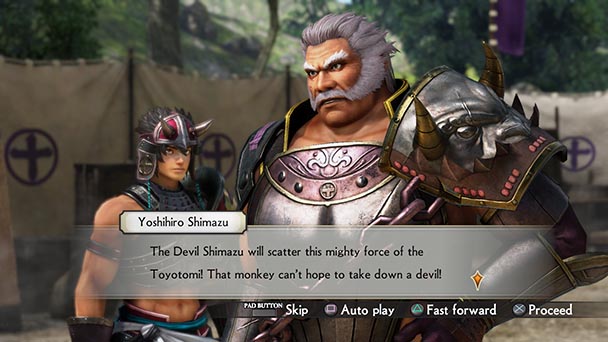 Here, players are privy to a more personal retelling of Samurai Warriors lore, with cutscenes that center on the conversations and intrigue that spurred historical conflict. While 4-II still takes quite a few liberties with events and encounters, it also should be commended for underscoring the contributions of secondaries. The title's first campaign follows Naomasa Ii, a devoted vassal of Ieyasu Tokugawa, who has usually been a generic general for most of the franchise. Here, we learn of his family's role in the larger context before taking control of the valiant hero who's outfitted with distinctive crimson-colored armor, endowing the character with visual as well as historical distinction.
While the shift in perspective might seem small, the change helps humanize Samurai Warriors historical figures. Now, they seem less like contrivances used set up large-scale battles and more like filmic characters with hopes and ambitions. Credit should also be given to Omega Force's visual improvements which will also help players to empathize. Cinematics have improved their ability to express facial emotion while damaged castles remind of the bitter skirmishes that were pervasive during the Warring States era. Although Samurai Warriors 4-II still has a lengthy road to travel before its matches the expository component of other games, it's a large stride in the right direction for the developers.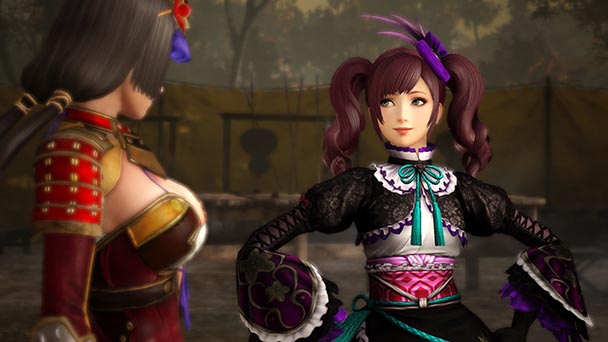 Elsewhere, changes help to enhance the development of characters. With Samurai Warriors 4, superior weapons could only be augmented with certain types of gemstones, while lesser quality arms were ubiquitously given out during missions. Combined, these factors made having anything above an above-average armory a bit of a chore. Now, players can fuse similar weapons together, removing much of the frustration from upgrades. Likewise, character abilities have been improved, allowing for a more intuitive method of development. Now, Strategy Tomes found during battle are used to unlock capabilities on a hulking, hexagonal skill tree. Smartly, Warriors 4-II plays it prudent with its tomes, furnishing several of most missions, but splitting the spending pool between all of its cast members.
Undoubtedly, Warriors loyalists will be disheartened by the removal of Chronicle Mode, which offered a robust RPG-like component where players could cleave their own fate through the era. It's now replaced with Survival Mode, a diversion that's fun, but lacks the longevity of its precursor. Entering into a castle, players are given arbitrary missions of each floor- such as tromping a specific number of units or defeating a boss. After accomplishing the given task, players may either ascend another floor where more exotic rewards await or bail out with their current inventory on dividends. While Survival lacks story, the mode does feel divergent. The narrow halls of the castle stand in sharp contrast to Warriors' typical wide-open battlefields, which the gameplay cycle loops at a reinvigorating rate.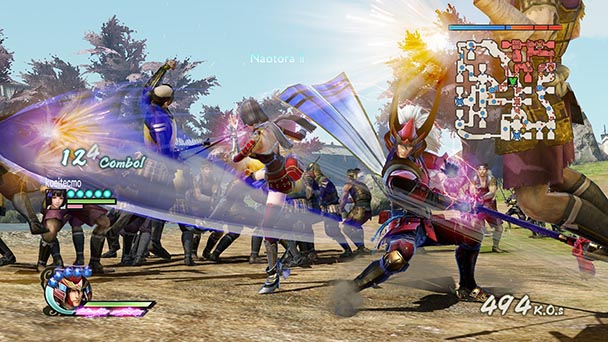 Undeniably, Samurai Warriors 4-II demonstrates Omega Force's mastery of PlayStation 4. Although individual character models can look a bit synthetic, 4-II habitually fills the screen with enough combatants to create a sense of spectacle. Remarkably, the title can do this while still maintaining a solid sixty frame-per-second framerate. Nearly as notable are the game's environments, which extend stately castles, groves of sakura, and a myriad of other majestic details. Sonically, Warriors 4-II's melodies might be anachronistic but they provide a driving score that's fitting for the action, while purists won't miss the lack of English dub.
Much like Omega Force's Xteme Legends and Empire variants, Samurai Warriors 4-II is an intriguing remix, exhibiting the events of the Sengoku era in a new way. Although the absence of Chronicle Mode is upsetting, there's enough amendment and adjustment to recommend a full priced purchase. Like any contemporary entry from the developer, there's an encyclopedic amount of content awaiting for pugnacious-minded players, making 4-II ideal if you haven't enjoyed a now-gen entry in the Samurai Warriors series.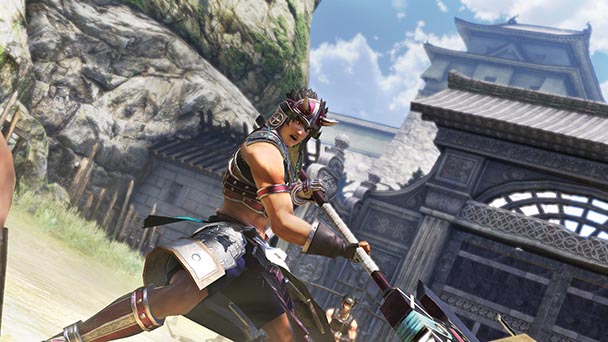 Samurai Warriors 4-II was played on the PlayStation 4 with review code provided by the publisher.
Samurai Warriors 4-II
Platform: PlayStation 4, also on PlayStation 3, PS Vita, and PC
Developer: Omega Force
Publisher: Koei Tecmo America
Release date: September 29th, 2015
Price: $49.99 PlayStation 4 and PC, $39.99 PlayStation 3 and PS Vita
Review Overview
Summary : Samurai Warriors 4-II builds on the impressive blueprint of last year's game, mending character augmentation and adding a fresh perspective on plotline. Like the game's signature Hyper Attack, the franchise shows no sign of a reduction in speed or intensity.