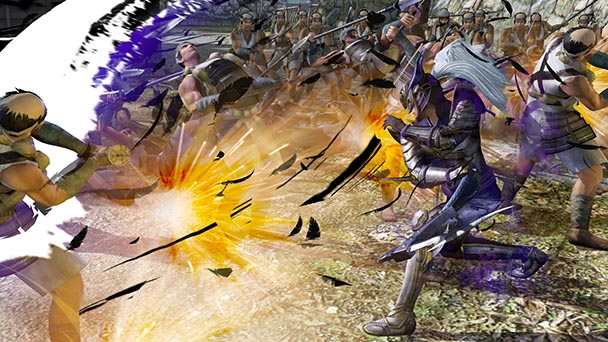 Toyko-based Omega Force has always been a remarkably industrious studio, persistently juggling a multiplicity of musuo-minded franchises. In the last eight months alone, Hyrule Warriors, One Piece: Unlimited World Red, Warriors Orochi 3 Ultimate, Dynasty Warriors 8: Xtreme Legends Complete Edition, Toukiden: The Age of Demons were all given stateside releases, while the studio labored on a yet another blitzkrieg of console and portable-based battlers. Given this exceeding prolific output, players might expect that the recent release of Samurai Warriors 4 is of dubious quality- at the very least a homogenous effort that slothfully swaps out Dynasty Warriors' Three Kingdoms context for Sengoku-era Japan. After all, the collective consensus of the Omega Force's output seems to be that each game offers only a slight variation on a deep-rooted theme.
At first glance, those suspicions seem to be confirmed. Given Orochi 3 Ultimate's cornucopia of content and approaches to gameplay, Warriors 4's two main modes seem like the type of cutback Electronic Arts performs when they port one of their sports franchises to a new generation of hardware. But spend a bit of time with the title and you'll understand Omega Force's design decision. Despite the Warriors' series departure from reality, where combatants routinely plow through thousands of foes, the developers want players to appreciate the collection of 55 historical figures in the game, providing a pleasing new angle for the franchise.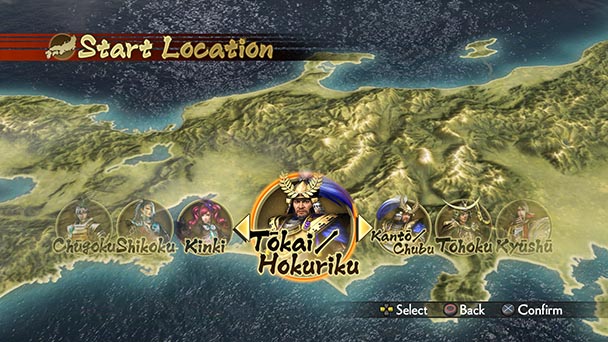 Adeptly, distinction transcends the fighting style devoted to each personality. Sure, a certain amount of the enjoyment and longevity of Samurai Warriors 4 stems from the singularity afforded to each character. Unique weapons, movesets, ensure that players will want to try out each protagonist, while persisting with and leveling up their favorites. Special Moves further stress the diversity, with characters able to lay traps or employ ninjutsu to clear out packs of peons.
But fully voiced dialog during and after each battle help to bring each Warrior to life, revealing the ambitions and allegiances of each personality with writing that easily outshines Omega Force's past efforts. In the past, secondaries have habitually been given a short shrift; here, their interactions have been more seamlessly woven into Samurai Warriors 4's rich tapestry of tales. What's more, the game's roster includes notables like Goemon Ishikawa, Kojirō Sasaki, and Musashi Miyamoto that were left on the cutting room floor for the series' third iteration.
Story mode is split into multiple Legends, each revealing a view of the territorial conflict from the perspective of different daimyo and their respective clans. Collectively, this assembly of eleven multi-stage scenarios provides an impressive time sink, as players follow the tangled trajectories of the families like the Shikoku, Kantō, Sanada. Finish the Oda and Takeda Legends and the game unlocks a lengthy Land United Scenario, which offers a comprehensive campaign that follows the unification efforts of the era.
On Samurai Warriors 4's easiest level, victory is a largely linear trek, with thousands of peons, a few commanders, and an end boss defiantly standing on the path to victory. Increase the difficulty setting and players will have to be a bit more strategic, using the game's character switching mechanic to swap between two protagonists, with the unselected character autonomously roaming and ravishing the battlefield. Alternatively, a second online or local player can assist players in their pursuits.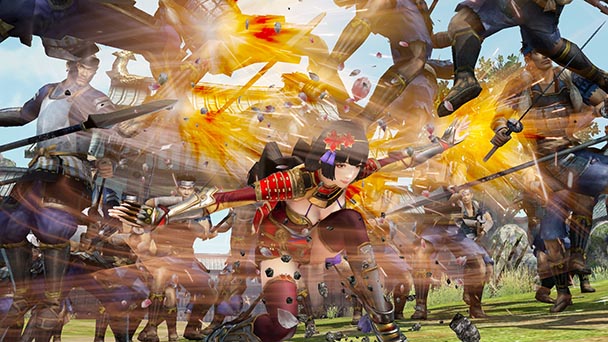 In execution, the standardized structure of each stage remains a disadvantage for the Warriors franchise. Although character variety produces a bit of variability, essentially environments push players through labyrinthine layouts, which can diminish Story Mode's long-term appeal. Fortunately, Chronicle Mode offers a bit of variation, extending smaller-scale missions for participants.
Here, players begin their rise through the ranks in a robust character creation suite, building their avatar from an impressive collections of body parts, costumes, and weapons. From the initial position as a lowly foot soldier, each subsequent mission helps to build your reputation, offering a multitude of choices to help realize your ambitions. Nicely, branching dialog tress extend this independence, allowing players to opt of missions, or help to build their army. Like Story Mode, there's an astonishingly amount of content to be found, capable of preserving a player's attention for upwards of forty hours.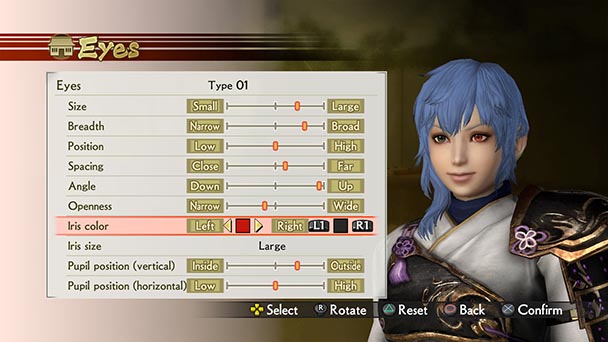 A number of key changes to gameplay are bound to please longtime musuo maniacs. Most noticeable is the inclusion of hyper attacks, which allow to use the heavy strike button to lunge at opponents, effectively knocking down dozens of foes at once. Although Warriors combat has always favored the hyperreal, with a single character overpowering scores of simultaneous adversaries, here it's pure spectacle. Now, a rapid tap of the triangle button turns players into a whirling dervish of destruction, with players darting between each throng. On the PlayStation 4, it's a startling visual effect, advanced by the game's high framerate, impressive physics modeling, and detailed texturing.
But while hyper attacks are effective against lesser opponents, they're largely useless against elevated foes. In these instances, players are prodded into using a well-timed block, disrupting their opponent's cadence, and giving the opportunity for upset. While a seemingly small element, this decision helps to distinguish these duals from the countless instances of peon overpowering which drives more stages. Likewise a finishing move, called a Tate offering a highlight, delivering a unique kill animation if gamers can accomplish a certain prerequisite.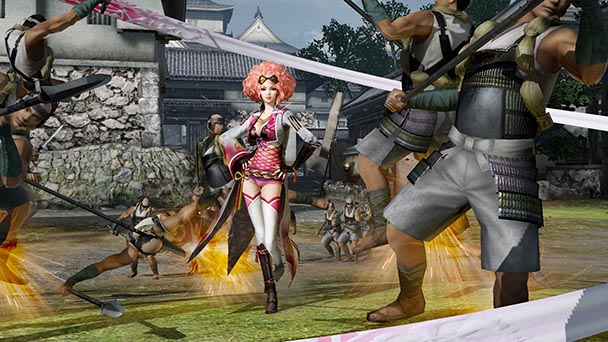 Although Omega Force could have rested on their laurels and offered a tepid contextualization for Samurai Warriors 4, the developers really went all out for the title. From the integration of a new engine which harnesses the power of the PS4, reworking the plotline to give players a better perspective of the intrigue, this is a major step forward for the team. For those that have sat on the sidesides and contemplated giving the franchise a try, Warriors 4 is an ideal starting point. Unquestionably, musuo veterans will want to add this game to their library.
Samurai Warriors 4  was played on the PlayStation 4 with review code provided by the publisher.
Samurai Warriors 4
Platform: PlayStation 3, PlayStation 4, PS Vita
Developer: Omega Force
Publisher: Koei Tecmo America
Release date: October 21st, 2014
Price: $49.99 (PS3), $59.99 (PS4), $39.99 (Vita)
Languages: Japanese voice, English subtitles
ESRB: Teen

Samurai Warriors 4 review
Review Overview
Gameplay - 85%
Story - 80%
Aesthetics - 90%
Content - 90%
Accessibility - 85%
86
86%
Very Good
Summary : The inclusion of the Hyper Attack separates Samurai Warriors 4 from its brethren, accelerating the pace and power of the game. Improvements to the story mode are certain to be welcome as well.

User Rating:

4.36 ( 4 votes)