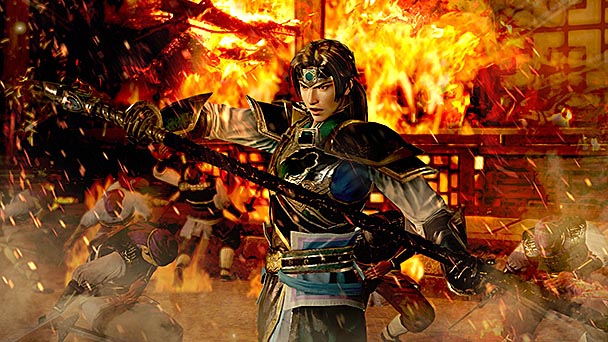 "It is a general truism of this world that anything long divided will surely unite, and anything long united will surely divide."
The opening lines of Luo Guanzhong's Romance of the Three Kingdoms encapsulate not only the cyclical destiny of a post-Han Dynasty China, but also the trajectory of the Dynasty Warriors franchise. A sprawling series which has spawned eight main iterations, a variety of spin-offs and tactically-rooted variants, as well as offshoots situated in the worlds of Gundam, One Piece, and Fist of the North Star, the Tecmo-Koei property has splintered into a mini-industry. Concurrently, the recent release of Dynasty Warriors 8: Xtreme Legends Complete Edition for the PlayStation 4 and PS Vita demonstrates unification- appending mislaid characters such as Chen Gong, Lü Lingqi into Dynasty Warriors 8's already profuse cornucopia of content.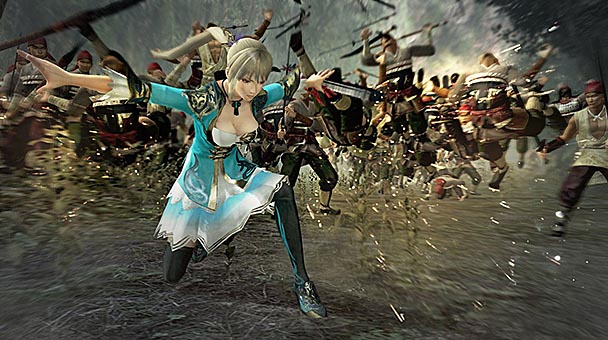 Since the franchise's musou-driven mechanics were first established in 2000's Dynasty Warriors 2, developer Omega Force has offered increasingly loose interpretations of the source material. While each games' overarching battles are drawn from literary context, the more personal undertaking of guiding a single character to dispose of hundreds of oft-inactive foes is pure power-fantasy. More recent Dynasty Warriors entries have enlarged the number "what if" scenarios, extended imagined challenges between the Wei, Wu, Shu and Jin clans. Xtreme Legends Complete Edition weaves even more of these into its plotlines, unlocking hypothetical scenarios when players complete certain actions during each kingdom's story- as well as a concluding side-story mission that's assured to amuse fans.
The infamous 'invincible warrior, Lü Bu receives his own storyline- providing a bit of redemption for the formidable, pheasant tail-donned boss character. Although Lü Bu's campaign might be short, his capability on the battlefield is unmatched- allowing players to use his legendary Sky Piercer to wreak havoc on encroaching opponents. Even more enjoyable is the incorporation of Chen Gong, one of the Complete Edition's five additional characters. Armed with a scroll, the protagonist can summon phantom soldiers which lash out an enemies. In summary, the inclusion adds 52 additional missions to Dynasty Warriors 8's already impressive collection of 88 assignments and 78 "Free Mode" scenarios, forging one of gaming largest time sinks.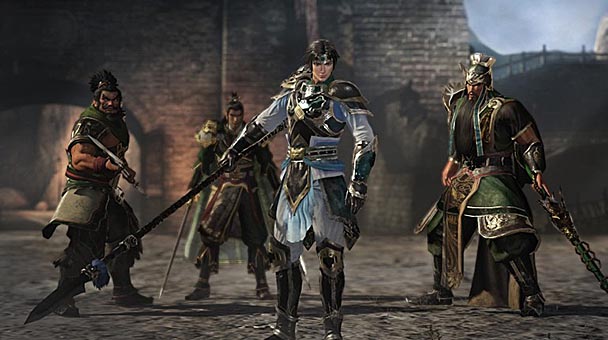 Ambition Mode was Dynasty Warriors 8's attempt at incorporating some of the elements of the Empire titles. Players were tasked with building the Tongquetai Tower in an effort to convince the Emperor to visit their province. Here, the goal is extended, as gamers attempt to reunite the land by conquering wayward territories. New parameters are revealed- from the integration of a countdown timer for each mission to the ability to cultivate and command up to three bodyguards. Despite the changes, Ambition Mode's attempt to incorporate role-playing-like elements into the franchise fall a bit short.
Although the accumulation of allies, materials, and fame might be enough of impetus to justify the frequent trips to the battlefield, the narrative-based rewards are a bit disappointing- with generic NPC's providing perfunctory text-based praise and bland bits of exposition. The upside is that Ambition Mode bequeaths gems- the currency that grants gamers access to Weapon Fusion. Borrowed from the Warriors Orochi series, Fusion allows players to forge awe-inspiring arms by combining the abilities of owned weapons. In execution, players can craft offensive devices which regenerate heath or intensify damage with poison, fire, or lightning-based strikes.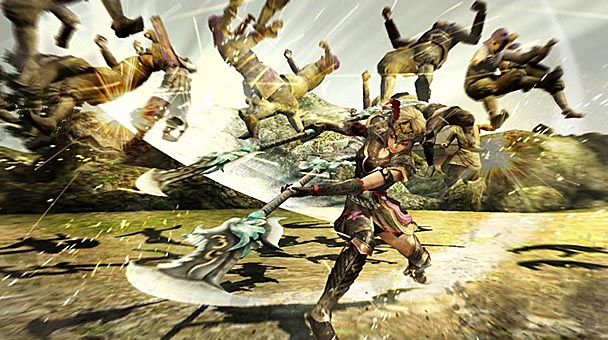 More than most games, Dynasty Warriors is a game best enjoyed at higher challenge levels. Drop the difficulty setting down, and the game functions as a cathartic, mindless brawler, allowing players to button mash their way through docile crowds. But raise the level of adversity, and the game changes drastically- not just altering the amount of damage the protagonist issues and incurs, but changing the way the game is played. Here, the game becomes far more strategic, requiring players to monitor and manage ally progress, to avoid a demoralizing defeat.
For score chasers, Challenge Mode makes a reappearance after an absence in Dynasty Warriors 8. This collection of five different tests present a collection of time-based challenges such as attempting to knock foes off a network of bridges or racing through a stage as quickly as possible. Beyond the posting of high scores to an online leaderboard, Challenge also spurs success with a collection of five exclusive weapons. The one blemish on this component is that trials only accommodate a single player. While the game's other components support online play, these fleeting, often frantic deviations would have certainly been elevated by the presence of a partner.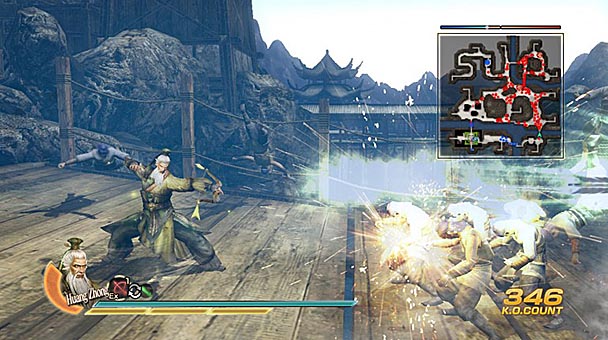 Visually, the PlayStation 4 version of Xtreme Legends Complete offers a substantial graphical enhancement over its predecessors. Beyond extended draw distances, improved lighting models and a framerate which habitually strives to stay in the thirty to sixty range, textures are often improved- with skin exhibiting an organic suppleness. Small curios such as interactive Twitch support and voice-work issued from the DualShock 4 offer a few superfluous incentives, as well. Naturally, the abilities of the PlayStation 3 and PS Vita can't quite measure up- while these versions attempt a fluid framerate, heated battles can slow things down drastically. Regardless of platform, the game's searing guitar licks will serenade every battle. While the inclusion is strikingly anachronistic- at this point Omega Force is unlikely to change tradition.
Nearly as labyrinthine as the tangled network of loyalties in the Three Kingdoms is the pricing structure for the three iterations. PlayStation 3 owners can purchase Xtreme Legends as a standalone disk which allow players to access to DW8's Story and Free Mode content through a verification system which sporadically confirms ownership of either the original disk or the downloadable version. The upside is disk swapping- a common practice in previous Xtreme entries has been eliminated. Unfortunately, the version's $39.99 price tag is a bit exorbitant. As PlayStation 4 and PS Vita owners didn't receive DW8, Tecmo-Koei bundled all of the content in the Xtreme Legends Complete Edition, which costs $59.99 for the console version and $39.99 for the portable iteration. Although cross-save and cross-play functionality are a welcome addition in the West, loyal fans might bemoan the lack of any savings when both games are purchased.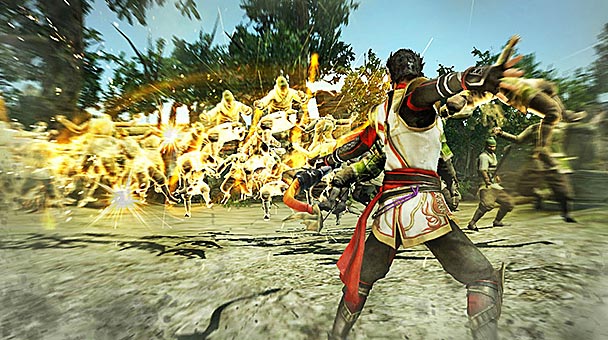 Dynasty Warriors 8: Xtreme Legends Complete Edition was played on the PlayStation 4 and PS Vita with review code provided by the publisher. Scoring reflects the PlayStation 4 version.
Review Overview
Summary : Elevated by a substantial amount of content, Xtreme Legends Complete is the consummate musuo experience, building on Dynasty Warrior 8's amended combat and weapons systems.