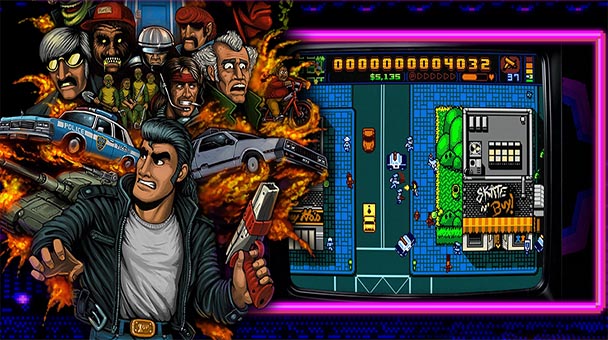 Seemingly, Retro City Rampage developer Brian Provinciano is a hexadecimal-chanting sorcerer. After alchemizing a provisional NES development kit back in 2002, he went on code Grand Theftendo– a game which miraculously adapted Rockstar's urban sandbox onto eight-bit hardware. Comprehending the commercial capability of the build, the auteur later transformed the title into a whirlwind amalgam of smile-inducing humor, pop culture references, and mechanics inspired by a handful of beloved games, porting this successor across a variety of platforms. Not content with that effort, Provinciano's now has given Retro City Rampage an additional revision, mending many of the game's blemishes and taking advantage of the 3DS functionality- all while shrinking the product into an impossibly small 124-block download.
Despite the diminutive download size, Retro City Rampage DX packs a plethora of content. At the forefront is the game's six-hour campaign. Initially, gamers are ushered through a brief tutorial which explains the basics of navigation and movement before setting the protagonist (puckishly named 'Player') loose on the streets of Theftropolois City. Naturally, all the fundamentals of open-world action are accessible, allowing players to hijack and drive vehicles or take cover behind obstructions before eradicating enemies with an efficient lock-on system. Additional skills- such as the ability to pounce on foes Mario-style, demonstrate Provinciano's pleasing design philosophy: giving gamers a sense of freedom.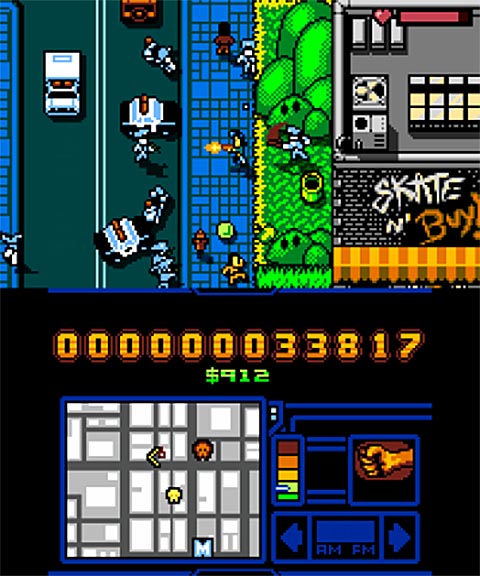 The sandbox genre offers sprawling worlds intended for exploration, experimentation, and player autonomy. Yet, the campaign missions of most games habitually shun the model – compelling players to use a specific toolset to succeed on each stage. Retro City Rampage takes a much more gratifying approach, typically allowing gamers to complete levels using a variety of methods. Although individual levels lean toward methodical movement or frantic firefights- players are largely able to play Rampage as they like. Even when they butt heads against one of the thornier sections of the campaign, they are always free to scour the city, potentially uncovering a challenge-softening cheat code. This sense of freedom runs through Retro City Rampage. Try to break game logic by shooting hostages in the game's bank- heist prologue and Provinciano is ready with a quick quip.
In fact, the game's non-stop barrage of humor is just as pervasive as the action. Seemingly, every interaction in the game has a pun, punch line, or pop reference. Whether it's the Rampage dialog poking fun at the game industry, conversations which skewer game clichés, or the persistent procession of pixel-art appearances by characters ranging from the Teenage Mutant Ninja Turtles, The A-Team, Duck Hunt, Bomberman, and the Destructoid team. And just when you to think the game couldn't possibly squeeze in another allusion- the developer pays homage to Super Meat Boy, Bit.Trip.Runner, or Smash T.V. Certainly, the entirety of Retro City Rampage's humor won't resonate with every gamer, but it's hard not to appreciate the industriousness writing effort.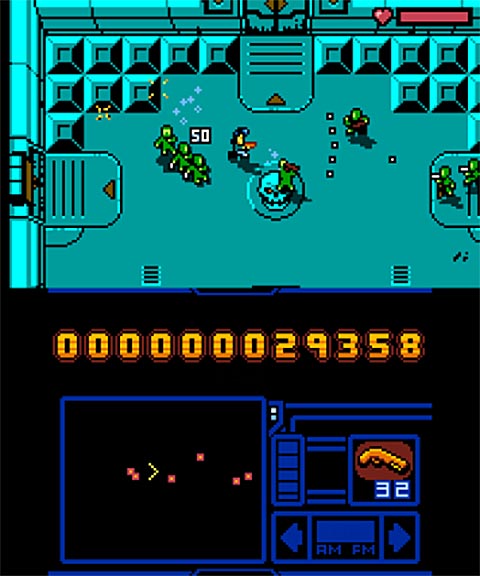 Complementing the game's campaign are a Free Roaming mode an array of Arcade Challenge missions. The former removes the mission structure from Theftropolois, providing unlockable characters a fertile playground for mischief making. Alternatively, the game's forty-plus Challenges extend an assortment of time-based objectives- from using a steamroller to squash fifty pedestrians to hopping in a tank to reduce the city to rubble. Although Rampage's campaign missions are short, these supplemental diversions are perfect for handheld play, providing frenzied, minute-long, score-chasing sessions.
One of our qualms with the PS Vita/PlayStation 3 versions of Retro City Rampage was the game's occasional difficulty spikes. A number of thorny sections required an elevated level of technical precision, with a small miscalculation forcing a replay from players. DX is a kinder, gentler revision, removing much of the aggravation by increasing the number of mission checkpoints and giving the protagonist more maneuverability when using a weapon. Additionally, your wanted level can now be reset by killing all the officers and the area and picking up a token.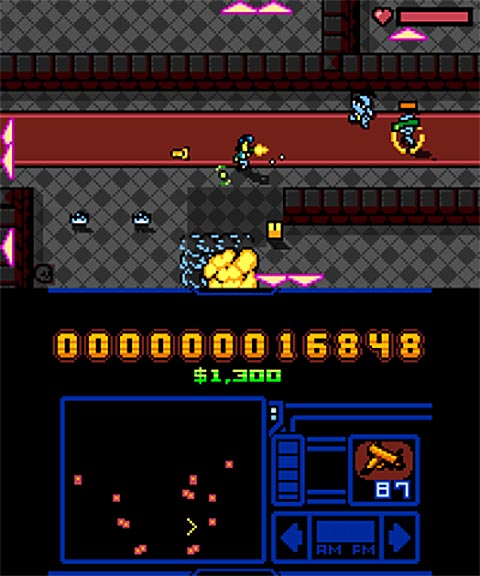 Pleasingly, Retro City Rampage's conversion to the 3DS ushers in a number of amenities. The touch screen now displays a city map- which is invaluable when navigating across the city. The one downside is that diverting your eyes from the top display while driving can prove hazardous. Beyond offering optional weapon and radio station selection, the touch screen also exhibits the player score, freeing up valuable real estate on the top display. Additionally, the game camera is a bit more dynamic, deftly framing the on-screen action.
With only LEGO City Undercover and the DS iteration of Grand Theft Auto: Chinatown Wars providing outlets for sandbox-based 3DS mayhem, an unequivocal recommendation of Retro City Rampage DX is easy. Benefiting from prodigious programming, a perpetually amusing script, and an economical ten dollar price tag, open-world aficionados should find at least ten hours of enjoyment in the title. Even for those who own a copy of the game on another platform, the portability and proficiently of this version may compel Rampage veterans to double-dip.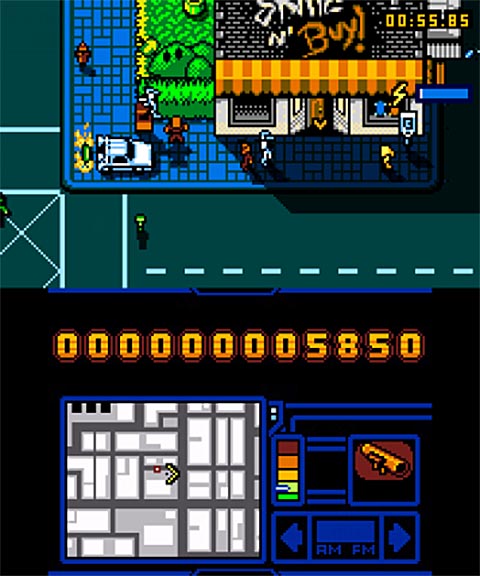 Retro City Rampage was played on the Nintendo 3DS with review code provided by the publisher.
Review Overview
Summary : Polished, persistently playable, and packed with parody, Retro City Rampage DX deserves a permanent place on your 3DS memory card.