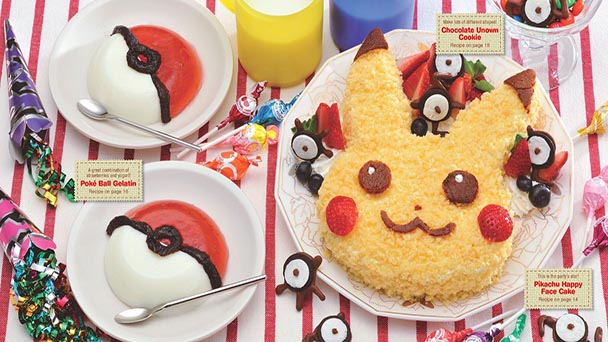 Game Freak's Pokémon franchise can be the interactive equivalent of comfort food. For many, cultivating a team of powerhouse pocket monsters stokes the embers of nostalgia, evoking the same sense of satisfaction we might get from gobbling down one of our grandmother's beloved recipes. Imaginatively, author Maki Kudo has bridged the connection between Eevee and edible with The Pokémon Cookbook: Easy & Fun Recipes, a handbound collection of thirty-eight dishes inspired by the cherished series.
Unsurprisingly, most dishes are distinctly Japanese, with instructions for creating delectables like a Cherrim Cherry Blossom Box Lunch, Pikachu and Bellossom Chirashi Sushi, and Slowpoke Strawberry Mochi Balls. Given the emphasis on recreating pocket monsters with food ingredients, it's not completely unexpected to learn that the eighty-page text focuses less on actual cooking and more on the art of presentation. But if you have even a passing familiarity with kyaraben (creating character art bento lunches) or are charmed by the intersection of visual artistry and appetizing cuisine, then you may want to seek out the collection. After all, the fifteen-dollar book is quite a bit cheaper than a trip to the Pokémon Café in Shibuya's Parco Mall, an eatery known for their Poké-plates.
Those interested in recreating some of the recipes in the book won't want to overlook Kudo's introductory guidance, which lays out common-scene rules like gathering necessary materials and tools as well and considering the preparation order. As someone that's botched a fair share of bento by not having all the essential ingredients, I can attest to the importance of these principals. Additionally, there's a succinct list of safety rules, just in case any budding pre-teen chef want to tackle any of the gastronomic gratifications.
The recipes are broken up into four categories: Let's Have a Party, Exciting Lunchtime, Summertime Fun, and Pokémon All-Stars. Generally, each category begins with some of the simpler dishes before moving onto more challenging recipes. While instructions are largely comprehensive and there's the sporadic Pokémon factoid, some might to see a bit more information. A complexity rating and a typical preparation duration would have been welcome additions. On the upside, the book indexes recipes by both category and character, which is ideal if you want to make a dessert or just create a meal based on your favorite grass, fire, or water-type creatures.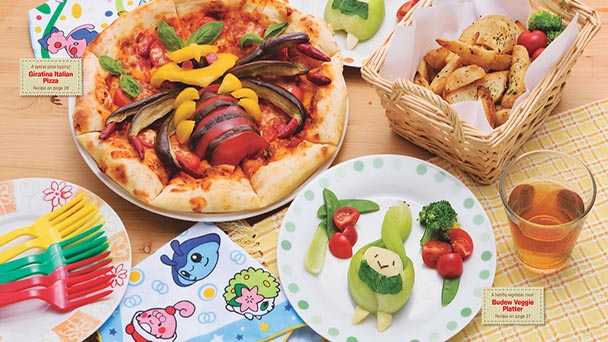 One aspect that can't be critiqued is the healthiness of the collection. Given the book's Japanese origin, it's hardly surprising to find that almost every recipe calls for a collection of wholesome ingredients, shirking the bulky amounts of meats and fats common in American diets. Kudo, who writes about cooking, food, and nutrition should be commended for producing a compilation that makes a fruit, vegetable, and grain-rich recipes look so appealing.
To test the quality of the instructions, I used the book to create two recipes: the Poké Ball Sushi Roll and the Budew Veggie Platter, with the decision influenced by the ingredients I had on hand. The first involved making a maki roll, which when sliced, recalled the signature red and white coloring of a Poké Ball all wrapped around a kamaboko stick (fish cake). The final product vaguely resembled the picture, although I couldn't quite get the interior of the Poké Ball exact. Meanwhile, the Veggie Platter was definitely a more difficult task. Preparing the potato and meat filling were easy enough, but wrapping the bok choy around the ingredient to simulate the rosebud-like Pokémon was quite an undertaking, since my over-powered microwave the Chinese cabbage into a floppy, uncooperative muddle.  Fortunately, both recipes tasted better than they looked.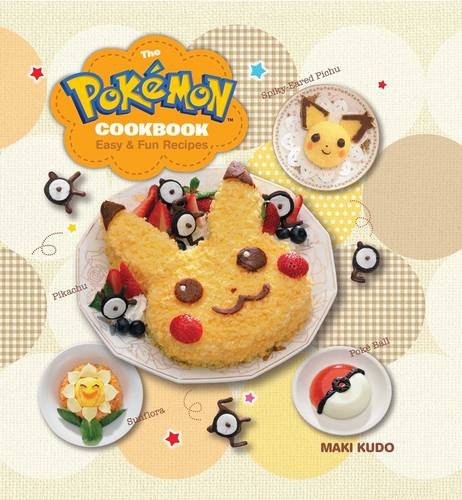 Pocket monster aficionados who don't want to get their hands dirty can still enjoy the cookbook without undertaking the recipes. Pleasingly, each page flaunts glossy photos that flaunt that experts can create, making The Pokémon Cookbook an art book that shows what can be accomplished by professionals. Despite my inability to channel my inner shufu, I plan to nurture my skills and confront adversity once more, much like those gym leader battles that characterize Pokémon.
Title: The Pokémon Cookbook: Easy & Fun Recipes
Author: Maki Kudo
Length: 80 pages
Dimensions: 8 x 0.4 x 8 inches
Availability: Amazon (current price: $11.07)