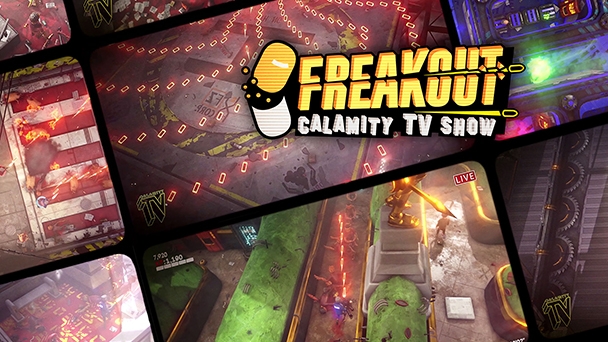 Freakout: Calamity TV Show is every bit as disjointed as in irrational title implies. Even if you're a die-hard twin-stick shooter fanatic, tedious gameplay and frustrating bugs make this a title to evade.
Freakout: Calamity TV Show
Platform:
Switch, PlayStation 4, Xbox One, Switch, and PC
Developer:
Immaterial Studio
Publisher:
JanduSoft
Release date:
April 17th, 2020
Price:
$9.99 via digital download, launch price of $8.48
Availability:
eShop
,
PlayStation Store
,
Microsoft Store
,
Steam
Although the twin-stick shooter genre is filled with illustrious entries like Robotron: 2048, Geometry Wars: Retro Evolved 2, Iron Crypticle, and Neon Chrome, it's 1990's Smash TV that often dominates discussions. Although each of the aforementioned titles delivers enthralling action, it's Williams' arcade title that paired conflict with a stimulating context. Riffing on 1987's The Running Man, players starred in a dystopian game show, where competition meant gunning down hundreds of enemies and collecting gift-wrapped prizes for points.
Thirty years on, Smash TV is an obvious inspiration for Freakout: Calamity TV Show. Released on PlayStation 4, Xbox One, Switch, and PC, France-based developer Immaterial Studio undoubtedly has some interesting ideas. But all too quickly these concepts are underutilized and overcome by lengthy stages that test patience and persistence more than your reflexes. There are some interesting ideas buried deep down in Freakout, but they certainly deserve a better showcase.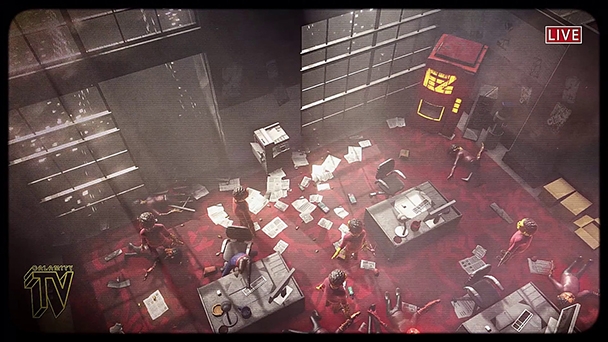 A Promising Premise Quickly Wanes
The game's setup also casts players in the role of a contestant on a reality show that seems like a post-apocalyptic gladiatorial arena. A brief tutorial is framed as condescending instruction from one of the program's hosts. Here, you'll have to defend yourself from a few dozen mutants who make a beeline for your position. But just as the show is about to start, a strange new voice emerges from your earpiece. A group named Antifis has hacked the communication device and is determined to liberate you from the show. Exit, Stage Right; it's time to fight.
Undeniably, it's an interesting setup that could have players wondering who they should actually trust. But oddly, Freakout periodically drops the premise. As you're wonder through the show's backstage, the same television-style used to broadcast new enemy times still appear. Players can also expect extended periods with scant exposition, making it feel the developers lost interest in the storytelling and tried to fall back on game's shooting. Unfortunately, that isn't always appealing.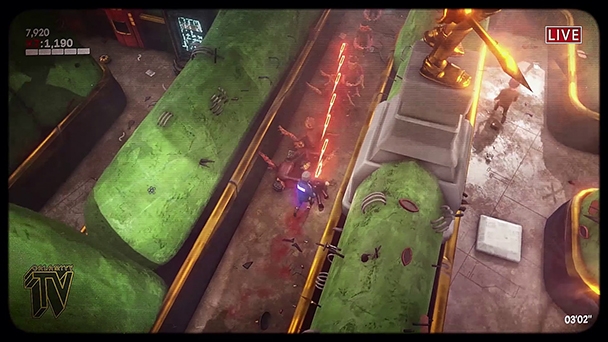 Good Ideas, Deficient Execution 
Like the plotline, Freakout has some interesting ideas that fully exploited. Early on, charging room layout provide positions of partial cover. Position yourself behind these, and you'll be able to fire across them. While enemy fire also flies over them, they don't cross these barriers, creating some advantageous firing opportunities. Similarly, there's a bit of leeway when you collide with basic enemies, with a split-second before they knock you out. You character can even edge across the corners of pits on the battlefield, avoiding an embarrassing death.
But there's also an inventory of problems with plague combat. AI is rather inconsistent, and it's not uncommon to see newly spawned adversaries run toward corners or even right off the side of the stage. Freakout tries to integrate variety in its campaign. As such you'll face a side-scrolling stage where a giant metal grinder fills the left side of the screen, mincing everything that falls into metal blades. Sure, it's a novelty at first, but after fighting a multitude of enemy waves, you'll be ready to move on long before the concluding boss battle. Likewise, an homage to Pac-Man and a pinball-themed level should bring delight. Instead they just felt monotonous. This is a common issue with Freakout but it's not nearly bad as being unable to advance after you killed the last enemy in an area. This happened enough that finding an interesting way to kill my character almost felt like a game within a game.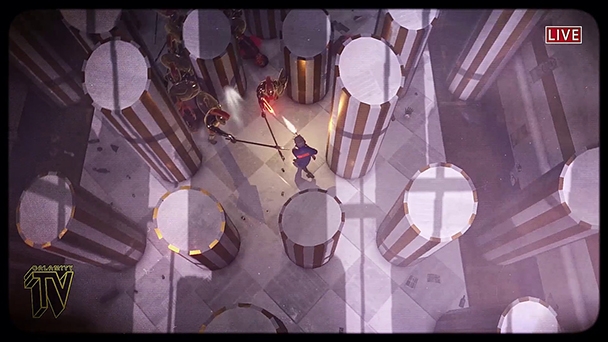 Disappointing Performance
Perhaps these bugs could be forgiven if Freakout: Calamity TV Show was an accomplished performer. On Switch, you face regular bouts of concentration-breaking slowdown in both docked and handheld mode. Often, the game will chug along with a second or two, which can be devastating when you're trying to evade the bullet sprays produced by enemies. Given the game's plain visuals, embodied by low-poly character model and drab colors, it's perplexing to understand why the game struggles. While the game's soundtrack isn't atrocious, the glitch-dominated tracks sound like last decade's leftover FL Studio projects.
Conclusion
It's evident that Freakout: Calamity TV Show has some interesting ideas. But any contributions to the twin-stick genre are misplaced across increasingly tiresome stages. Merely throwing more enemies at players doesn't automatically makes things fun. While Freakout provides new weapons and abilities, none of them help offset a slow tide of tedium and frustration.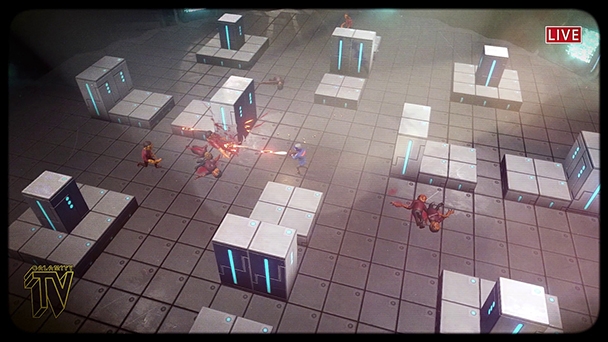 Freakout: Calamity TV Show was played on Switch
with review code provided by the publisher. 
Review Overview
Summary : With exasperating bugs and gameplay that's often monotonous, Freakout: Calamity TV Show is a twin-stick shooter to avoid. There's plenty of better genre entries out there, regardless of your preferred platform.