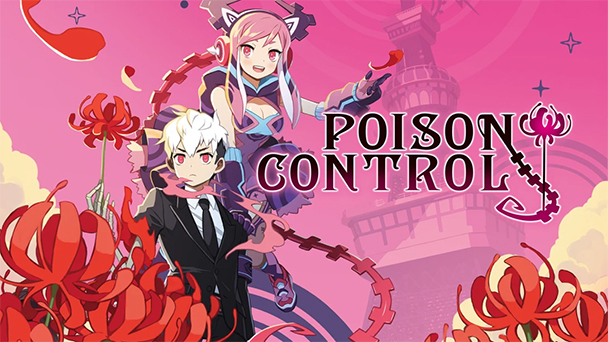 Nippon Ichi Software's latest is a delightfully oddball mix of the comic and tragic, with action rooted in a pair of complementary play mechanics. It doesn't always work, but when it does, Poison Control is the respectable antidote for lackluster game concepts.
Poison Control
Platform:
Switch, also on PlayStation 4
Developer:
Nippon Ichi Software
Publisher:
NIS America
Release date:
April 13th, 2021
Price:
$39.99 via physical media or digital download
Availability:
Nintendo eShop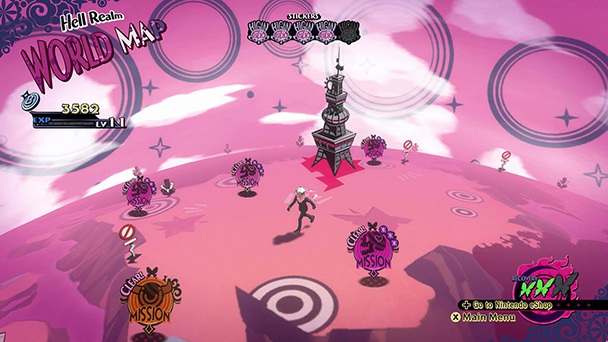 Although Nippon Ichi Software is best known for strategy role-playing franchise, Disgaea, the Gifu-based publisher/developer has been passionately trying to diversify their output. From melancholic roguelike void tRrLM(); //Void Terrarium to cutesy survival-horror in Yomawari: Night Alone and Yomawari: Midnight Shadows, their efforts haven't always been completely successful. But each has at least been interesting, with stimulating storylines about machines feeling guilty about triggering armageddon or explorations of cities that are abandoned by all but wondering yōkai. I don't know about you, but I'd rather play a slightly problematic game that possesses creativity than a polished triple-A title with absolutely nothing to say.
Crafted by the same development team who worked on Penny-Punching Princess and The Princess Guide, Poison Control is another action-driven title from NIS that doesn't quite live up to its lofty ambitions. Sure, the storytelling can be impressive, taking players on a whirlwind tour that can sway from light lasciviousness to the morose. Gameplay merges a multitude of pursuits, and while it comes together satisfyingly, there's just enough variety to maintain interest across the game's duration. And that's a shame because Poison Control has quite an interesting premise.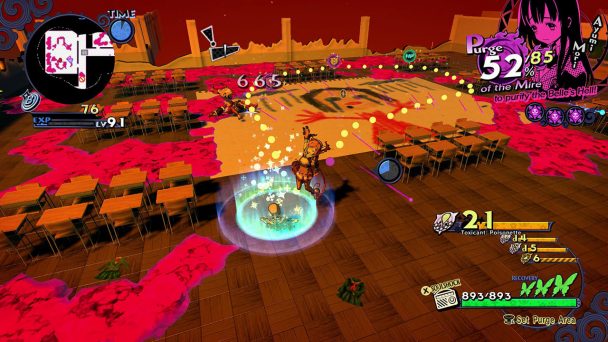 Finding Your Soul Mate
After selecting a gender and voice for your character, Poison Control's protagonist is assaulted by a creature known as a Klesha. While most Klesha are bloodthirsty killers, this particular one is especially interested in your physical form. As such, Poisonette becomes your 'soul mate', co-habitating inside your body and transforming your arm into a cannon-like object that can fire venous projectiles. For better or worse, the madcap exposition arrives at a rapid-fire pace, simulating the disorientation of the amnesiac lead who awakens in an unknown place.
Each stage in Poison Control is called a Belle's Hell, created when a young woman has fallen into the deepest state of despair. It's a setup that delivers episodic play that's well suited for a portable system like the Switch. While the PlayStation 4 iteration of the game might a flaunt higher fidelity and smoother framerates, tackling a single Belle's Hell can be accomplished while commuting on public transit.
Pick Your Poison
Much like Psychonauts or even Persona 5's palaces, each level feels like wandering through a person's troubled mind. From the creepy pollens that plague an allergy sufferer, the skeletal remains of decreased pets, even one stage where swagged-out Prinnys (called Pynrin) loiter, the hells are always curious and avoid being perpetually pessimistic. When contrasted against Western envisioning of Hell, there are more dreamlike and curious, with bloom effects in lieu of immense flame and shadowy alcoves.
Sadly, each Belle provides scant expositional substance, mostly in the form of a letter read through the game's Higan Radio segments. Here, interstitial broadcasts from hosts Kikiri and Midori deliver the kind of spirited comradery found in Splatoon. The technique provides Poison Control with a bit of commentary and offers a reprieve from some of the more somber material, and you'll probably wish the game leaned on more of the visual novel-style storytelling.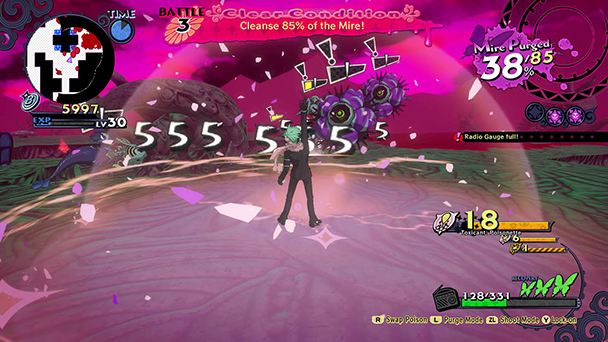 While the pulpy plotlines and observations are undoubtedly entertaining, you might wish there was a bit more depth. Instead, the main theme pits the protagonist's hope for escape with Poisonette's longing for a physical body. It's a premise that has potential, but often played for laughs during the game's Heart-to-Heart sections. These interludes influence the ending as well as shape the development of your character, rewarding stat boosts based on conversational choices. But they're more amusing than insightful, typically offering the best rewards for suggestive responses.
Cleaning and Carnage
Pleasingly, the game's action helps complement the storytelling. Within Belle Hells you'll tackle two tasks. The first sends Poisonette out into the environment, purifying puddles of toxicity spilled across each floor. This plays like Splatoon in reverse, as the character evades roving Klesha, while attempting to soak up pools of poison. The protagonist offers his own form of clean-up, using different types of poison bullets to stun and shoot down foes.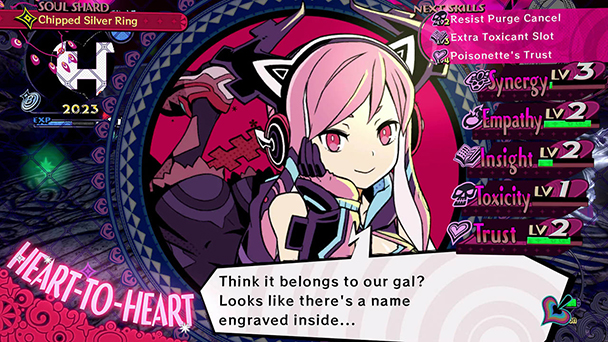 What's most interesting about Poison Control's action is how these two distinctive mechanics fit together. Poisonette's duties not only revitalize your health and restore ammo types, but also clear away material that can siphon away your health, opening up areas for the lead character to move around. If you're able to encircle a dazed enemy, you can cause additional damage. Meanwhile, the protagonist's shooting can help clear zones of foes, assisting Poisonette's attempt at clearing an area. Taking aim and firing at chests, provides a bountiful supply of dividends, as well.
The sole downside is that the game's different ammo types aren't very distinctive. Sure, you're outfitted with basic poison shots that will gradually refill when exhausted as well as finite ammunition. But generally, the elemental-type advantages offered by different bullets isn't very robust. Often, it's possible to ignore ammo types, which feels like a missed opportunity. Also aiming isn't quite as exact as a dedicated shooter. Although there are multiple level of aim assist, it's possible to inexplicably miss easy targets.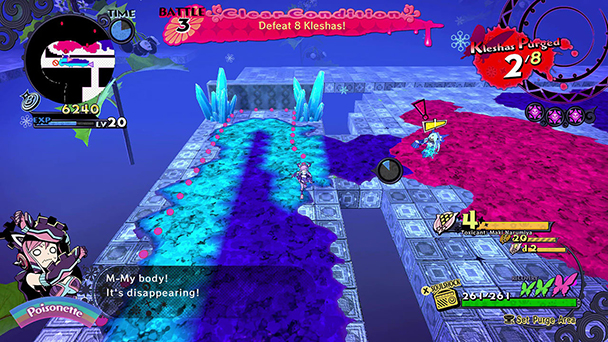 Conclusion
Poison Control's cornucopia of creativity is held together by a charming visual style. Menus and the user interface are especially well-done, with small flourishes in the corners of the screen, attractive manga-style artwork, and a color palette that's particularly vibrant without being obnoxious. Environments are often adorned with satisfying little details, like images that appear when poison puddles have been cleared. The title's soundtrack is delightful varied, communicating everything from apprehension with minor-key melodies to rousing synth power-tracks. Beyond the occasional framerate drop, loading times last a little too long.
Despite Poison Control's blemishes, there's a lot to like about the title. The game's action feels rewarding, with a nice balance between the shooting and poison scrubbing. The game's storyline is consistently stimulating, even if it shirks seriousness a bit too often. This is an ambitious title that attempts to juggle a multitude of different elements. While it's not always successful in that pursuit, it does demonstrate a wealth of creativity. If that's important to you, a potential soulmate awaits.
Poison Control was played on Switch with review code provided by the publisher. 
Review Overview
Summary : There's more imaginative ideas in Poison Control than a half-dozen releases from major publishers. The game doesn't succeed on all of them, but the ratio is positive enough to recommend the title on sale.