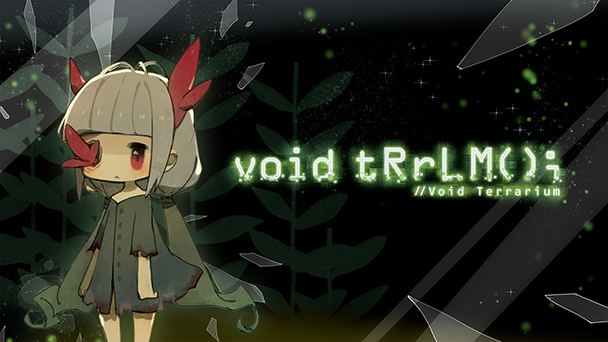 Look past the cryptic moniker, and you'll discover several familiar mechanics merged together in void tRrLM(); //Void Terrarium. You'll work doggedly to save what might me the world's last human, which feels crucial and at times, taxing.
void tRrLM(); //Void Terrarium
Platform:
Switch, PlayStation 4
Developer:
Nippon Ichi Software
Publisher:
NIS America
Release date:
July 14th, 2020
Price:
$59.99 physical, $24.99 via digital download
Availability:
Nintendo eShop
, PlayStation Store
Once a developer who helped with the production of Disgaea D2: A Brighter Darkness, Masayuki Furuya emerged as a lead designer. His first two efforts, 2105's htoL#NiQ: The Firefly Diary and 2017's A Rose in the Twilight demonstrated potential. Both plumbed dreary territories where hope was almost completely extinguished and the world was unflinchingly hostile. As puzzle-platformers they delivered a solid cerebral workout. But play in each often felt lethargic and a bit clunky.
With the release of void tRrLM(); //Void Terrarium for the PlayStation 4 and Switch, Furuya revisits a setting brimming with melancholic isolation. A toxic fungus has overrun the world, pushing the populace to tunnel into the earth for safety. But the migration was short-lived and eventually wiped out almost the entirety of the human race. Seemingly, the sole survivor is Toriko, a girl whose comatose body is covered with mushrooms, who rests in a broken terrarium.  The result is the designer's best effort, but there are a few design decisions that might test the patience of players.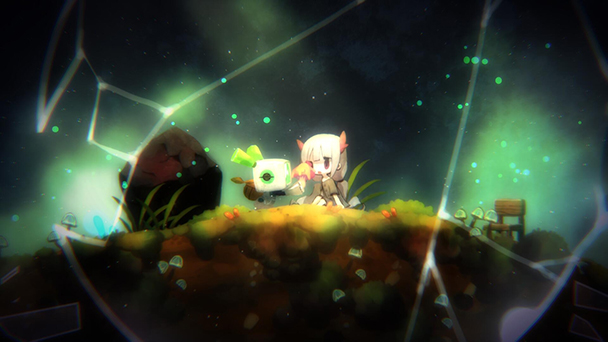 A Tragedy Starring an Eclectic Cast
Once again, Furuya endows the context with unexpected facilitators of hope. factoryAI is a sentient entity built by humans to assist with an underground expansion program. Little more than a CRT buried int the ground, she's also immobilized by the guilt that she might have played a role in the extinction of the species. Yearning for redemption, she's Void Terrarium's quest supplier and provider of information. Then, there's Robbie, a taciturn janitor robot accidently reactivated by a wandering mouse. He's the character you'll control when Void Terrarium has your scouring dungeons for items that can assist Toriko.
Void Terrarium's gloomy subject matter is counterbalanced by bits of light humor. Both factoryAI and Robbie are robots, with little understanding of the human condition. Often their banter centers on explaining actions or behavior, albeit in a machinelike manner than overlooks any emotional component. Another element that prohibits the game from growing too dark is a palette dominated by vivid greens and blues. We may be deep underground, but Terrarium resists signaling sorrow with drab browns and greys. Plus, the protagonist is a cute little 'bot.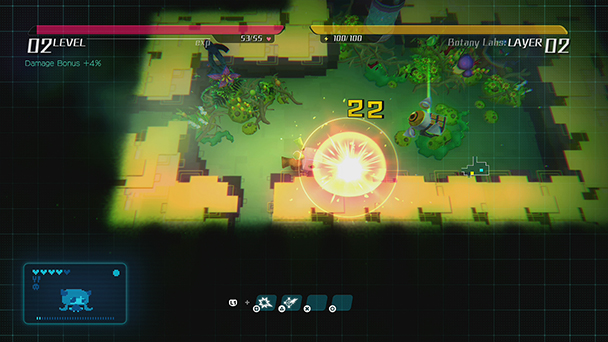 Landmines, Warp Tiles, and Other Disruptions
When Robbie is sent on a collection consignment, play mirrors the mechanics found in the Mystery Dungeon franchise. Your expeditions are lively, with the action only showing it's turn-based underpinnings when enemies appear. When combat does break out, survival involves learning to limit risks. You'll adopt tactics like retreating to narrow tunnels to avoid losing all your health to several adjacent foes or maintaining enough energy to dish out more potent attacks.
Fortunately, it's not a complete retread, though. Status effects play heavily into Terrarium's treks, and merely using a corrupted battery to replenish some of your energy will often afflict Robbie. Weather can also impact your quest for food, supplies, and medicine, with conditions like rain making foes more resilient and increasing the contamination of found objects.  And yes, you'll have to monitor the level of corruption in the items you're carrying, as they can produce unwanted effects. Stockpiling masses of food for Toriko can't be easily accomplished, as provisions have an expiration date. While you can feed her rotten food, expect repercussions and the possibility of guilt.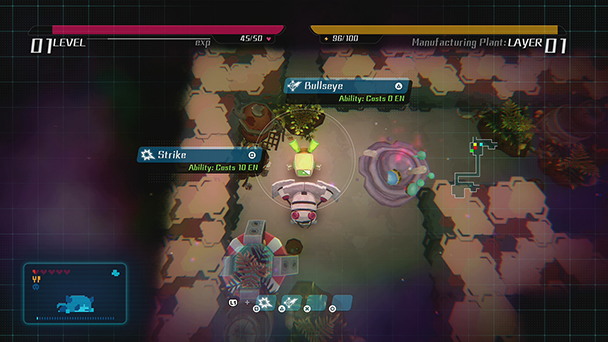 Terrariums and Tamagotchi
Explorational discoveries also provide Toriko with a much-need morale boost. Adding things like furniture and a stuffed animal help to counteract the loneliness of being the last human on earth. In return, Robbie receives much-needed new inventory slots and different types of stat boosts, incentivizing play. And you'll need motivation, as Toriko is extremely fragile. Let her spirits drop and she'll fall ill, requiring a journey to seek medicinal items.
Soon, factoryAI will create a Pet Nanny, that assists with the care of Toriko. Recalling a Tamagotchi, she'll give insight into the human's mental and physical condition. All too often, it's a bit easy to get involved in other pursuits, while poor Toriko slips into zombification or is attacked by insects. While Furuya warning of human vulnerability is welcome, I'm afraid that Toriko's need for near-constant observation might cause player irritation.
Of course, it's a precarious balance and I wish Terrarium used the sporadic dialog to really cultivate those maternal/paternal instincts. But having to kill yourself during a perfectly good dungeon run just to play caregiver isn't going to sit well with some. Expectedly, there's emotional compensation for your sacrifices but you'll have to stick out for the long haul.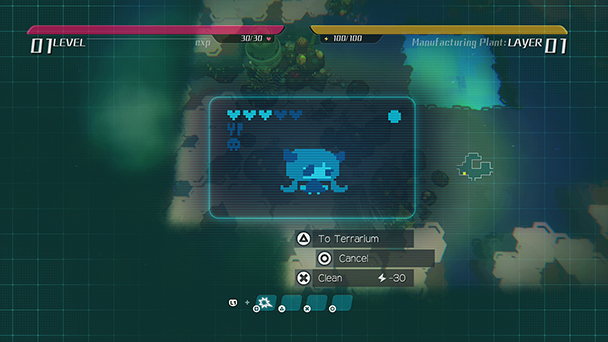 Oh, Scrap!
As with any respectable dungeon-crawl, the specter of death is never too far. Much of this urgency stems from Robbie's habit of resetting after exiting the dungeon. Pleasingly, dying in the dungeon isn't a total controller-toss, all the items you are carrying are broken down into resources to help with your crafting. And that's an activity you'll want to pursue, as it leads to permanent augmentation. Another agreeable aspect of resetting is being able to try different perks every time Robbie levels up.
In many ways, void tRrLM(); //Void Terrarium feels like an elaborate test of empathy. Care for Toriko is often patience testing, especially when subsequent dungeon crawls fail to find the material she desperately needs. As an absorbing measure of compassion, the combination of mechanics largely work. As a diverting recreation, Void Terrarium isn't quite as effective.
void tRrLM(); //Void Terrarium was played on
Switch with review code provided by the publisher. 
Review Overview
Summary : A bit too often, Mystery Dungeon games lack a compelling impetus. void tRrLM(); //Void Terrarium provides one, put requires a bit of persistence from players.