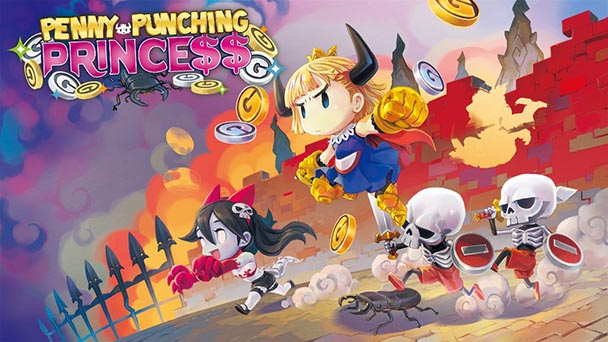 While 1987's Double Dragon wasn't the first beat 'em up game (Irem's Kung Fu Master arrived two years earlier), it did help to push the genre forward. Instead of feeling like a stiff side-scroller, Double Dragon's fraternal protagonists, Billy and Jimmy Lee freely moved around the screen, delivering elbow strikes, throws, disarms- and using any dropped weapons against enemies. Across the ensuing decades, Technōs Japan's title became a template for brawlers, spurring not only a succession of sequels, but a slew of clones. But advancement was largely confined to visuals, with even contemporary titles like Dragon's Crown unmistakably exhibiting Double Dragon's influence.
As such, heading into Penny Punching Princess for the Switch and Vita feels familiar at first. Taking control of the game's raucous royal, you'll use your gloved hand to pummel an assortment of anthropomorphic onions (intermittently spelled "onioon"), sword and shield carrying skeletons, and fire-belching dragons. Like any respectable brawler, you have light and heavy attacks at the ready. The former offers basic combos, throwing a flurry of rapid-fire blows which rival Edmond Honda's Hundred-Hand Slap. The latter deliver a chargeable wallop that can injure a cluster of antagonists, leaving players vulnerable during they build up power. So far, so safe, with Princess tendering the rudiments of combat.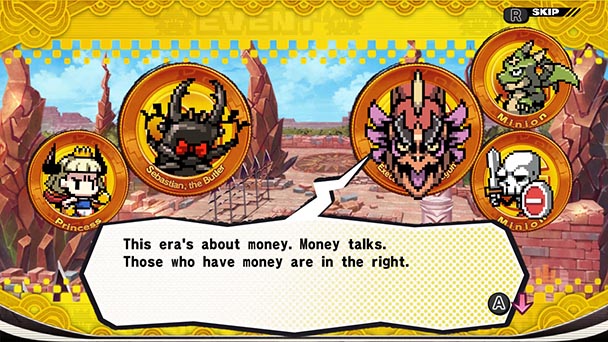 As you knock out foes, spinning the right Joy-Con stick in a circle performs an alchemical wonder, turning their agony into an eruption of coins. And it's here that Penny Punching Princess reveals its foundational hook, with players able to use currency to invert opposition. Once you've accumulated a bit of cash, a trigger press pulls up an on-screen calculator. By pressing the other trigger, you'll see the prices required to bribe many on-screen elements. But regardless of whether you opt for touch controls when playing on your television, or physical controls in either docked or undocked mode, inputting numbers is an inelegant affair. Woefully, Penny Punching Princess doesn't stop or even slow down the action, making it feel like you are you're tasked with bookkeeping during the middle of a battle royale.
But opt to automatically pay the asking price with a few finger-based contortions, and Princess' uncovers its signature mechanic. Paying off a monster has two benefits. First, the beast is eliminated from the throng of aggressors who chase you around the screen. Second, each creature will on command, fight for the player. The inexpensively extorted, might shamble on screen for a few second, taking pot shots in a straight line. But Princess more powerful and costly foes, can whittle down a throng of pursuers.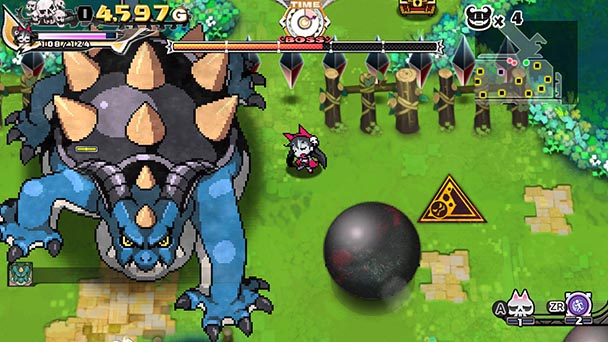 But cleverly, that's not the only defection of display, with players able to seize control of environmental elements. See those whirling sawblades that shifting across the gated battlefield? With a pit of coin, you can change their loyalty. While once enemies passed through them unscathed, once you commandeer control, you can lure foes right onto their destructive pathways. After years of playing games where environmental objects were unwaveringly hostile, it's satisfying to turn the tables for a change. And while bosses can't be bought, money can be used in an assortment of different ways, even repealing a dreaded 'game over' scenario.
Bribing also has another important function, with corrupted creatures used to construct new armors for the princess. By combining different varieties of traitorous adversaries, you're able to craft new types of protective clothing, with each contributing their own assistive skill. Similarly, but you can honor Zenigami (literally "Money God") by building statues, with each monument providing points you can invest to augment the Princess' stats and abilities.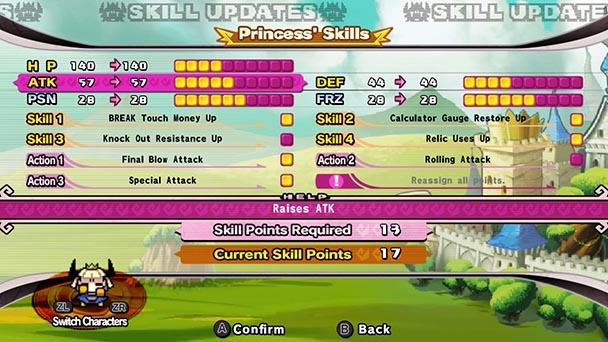 But as most Buddhists will tell you, there's a downside to the excessive pursuit of wealth. With, Penny Punching Princess that means you'll probably be doing a disproportionate amount of grinding. Progress through the game's succession of stages gets challenging early on, compelling players to build armors and increase their skillsets. Sure, there are strategies to be gleaned, such as persuading those stumbling heart monsters to help restore any lost health or unlocking restorative zones. But for most, the level of adversity will push players toward augmentation, and some of the more beneficial enhancements requite an exorbitant number of defectors.
For some, that design decision will syphon some of the enjoyment away, pushing the Princess and later, her zombified relative Isabella, back into same levels a bit too often. For others, this won't be too much of an issue. While the layout of stages is straightforward and there's an on-screen arrow guiding you along the way, revisits becoming easier once you learn how to maximize the effectiveness of your abilities, memorize the location of treasure chests in alcoves, and identify the attack patterns of opponents.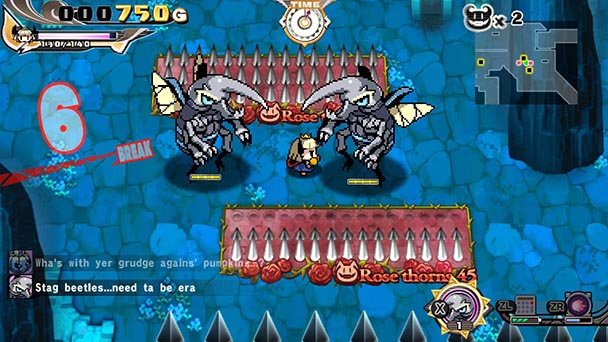 In between stages, there are the obligatory conversations between characters which convey the conflict between the Princess' father and the Dragoloan family, a mob of crooked money lenders. In execution, it's hardly the acerbic critique of capitalism that the marketing infers, but players probably aren't looking for exploration of neo-Marxist theory amidst a flurry of punch throwing. Expectantly, it's mildly comical and creates enough of an impetus to get us to root for the young royal. Conveniently, it's skippable for those who want to get back to the fisticuffs.
The plot might not be profound and there's an emphasis on grinding, but Penny Punching Princess works because of it's inventive hook. Being able to buy off enemies and traps adds a light puzzle-like quality to an otherwise straightforward brawler. Discovering the best techniques for each stage proves absorbing, making the game feel like a watered-down version of ClaDun. While that might seem like a grievance, it's actual a bit of praise, and for that reason some will want to enthusiastically hand over their forty dollars to the Princess.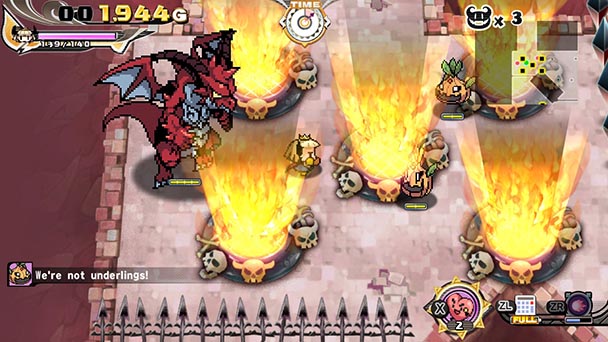 Penny Punching Princess was played on the Switch with review code provided by the publisher. 
Penny Punching Princess
Platform: Switch, PS Vita
Developer: Nippon Ichi Software
Publisher: NIS America
Release date: April 3rd, 2018
Price: $39.99 via physical or digital, Limited Edition available for Switch
ESRB: Teen
Review Overview
Summary : Penny Punching Princess succeeds because of a single, clever mechanic. The ability to use money to seize control of enemies, traps, and make meteors rain from the sky is enjoyable enough to help overlook a need for grinding.