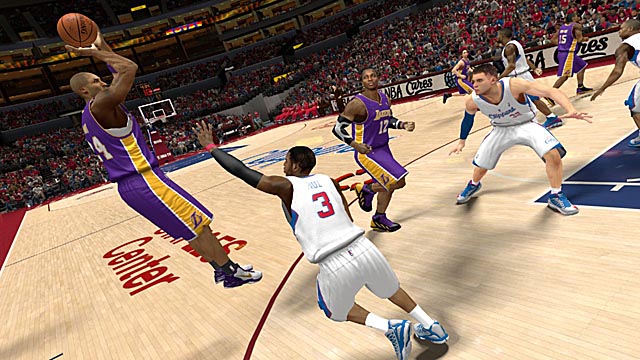 Although feature creep is a frequent phenomenon for long-running sport franchises, the preseason prognosis for NBA 2k13 seemed slightly distressing. From the addition of a celebrity team driven by the abnormally proportioned likenesses of Justin Bieber and Sean Kingston to the signing of Jay Z as the title's executive producer, I was worried that fame-driven superfluities were going to take precedence over fundamental gameplay improvements. Mercifully, Visual Concepts' latest iteration offers a competent balance, delivering additional indulgences while providing the requisite evolutionary enhancements.
Hitting the hardwood, 2K13's control method has received a radical revision with the inclusion of the Control Stick. While players still determine the direction of their selected athlete with the left thumbstick, dribbling moves have been mapped to the right stick. From performing a crossover by tapping the stick away from the ball handler's dominant hand to executing a stutter step by pressing toward the hoop, the new input method becomes gratifyingly intuitive after a few practice games. To accommodate the addition of the Control Stick, shooting now involves holding down the left trigger, which also serves as a modifier- allowing players to initiate bounce passes and lay ups. While purists can revert to the old Isomotion input method, unless players lack perseverance (look in the Training Cam to learn the game's multiplicity of dribbling moves) they'll want to transition over to the new control system.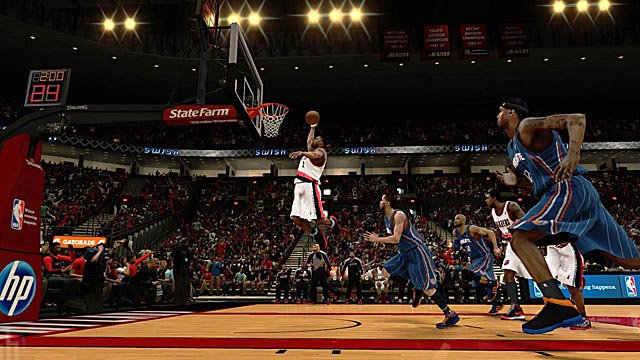 While comprehensive Control Stick lessons are a boon to newcomers,  the game's lowered difficulty levels means the title isn't as frustrating as past iterations. For series stalwarts, shooting sixty to seventy percent from the field isn't uncommon, since defenders put up a marginal effort. Thankfully, players with a bit of franchise experience can ratchet up the level of adversity- allowing opponents to become formidable rivals that force players to toil for every bucket and defensive rebound. Regardless of challenge level, the game's Dynamic Shot Generator ensures that every scoring attempt is unique. Examining variables such as momentum, contact, player size and strength, the component allows 2K13 to abandon its inventory of pre-canned shooting animations, endowing every game with a satisfying, organic feel. Likewise, the passing game has been revamped to remove the pre-calculated catches, endowing hot-handed defenders with additional chances to poach any errant throws.
Gamers fascinated by cultivating their own basketball luminary should enjoy 2K13's MyCareer component, although returning participants may be disappointed by the lack of any major improvements. The trajectory of playing a rookie showcase game, team interviews, and getting drafted into the NBA remains, although this year- athletes have a few additional off-court diversions. From requesting a meeting the general manager to receiving a Twitter-esque social media, communication is given a larger role. Unfortunately, Visual Concept didn't improve any of the mode's aesthetics, meaning virtual athletes use the same, strained voice and exhibit crude lip synching while off-court venues flaunt the same low-resolution textures. The low polygon renderings used to depict David Stern and the two reporter models are especially shameful. Alternatively, effort was poured 2K13's shoe creation suite, which allows virtual luminaries to build their own set of Nikes. Sneaker heads can even have their custom creations manufactured, which is bound to bewitch affluent fans.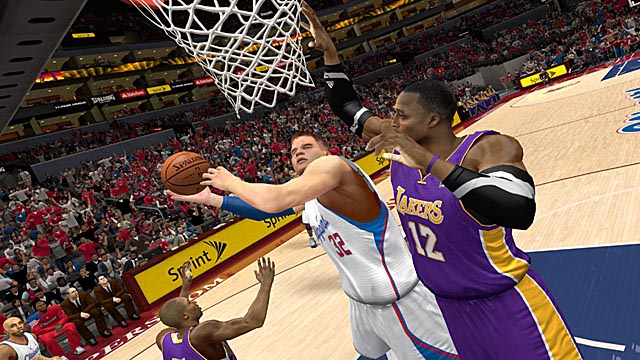 Alternatively, players can drop coin on 2K13's MyTeam mode, which echoes the card collecting pursuit found in EA's Madden, NHL, and FIFA franchises. Tasking players with acquiring an insurmountable collection of players, the twist here is that player prices fluctuate in accordance to their real-world performance. As such, frugal gamers are urged to wait until their desired luminaries hit a cold streak before making a purchase. Potentially, this buy low/sell high approach urges competitive players to faithfully follow the league and also contemplate their long-term strategies. For participants unwilling to open their wallets, 2K13 does reward virtual currency with almost every successful action, although the incentives are a bit on the parsimonious side.  Just be aware that transactions are dependent upon an incessant internet connection, since your coffers are stores on 2K's servers.
Complementing the inclusion of NBA Legend lineups like the Magic-era Lakers and Jordon-lead Bulls are the 1992 and 2012 Olympic basketball teams. Having habitual hold-outs like Scotty Pippen and Sir Charles is certainly a small coup for the game, allowing the ultimate match-up between Dream Teams for exhibition and online matchups. Less interesting is the presence of 2K13's celeb team, unless players are amused by seeing the exaggerated dunking abilities of Pauly D and JB Smoove.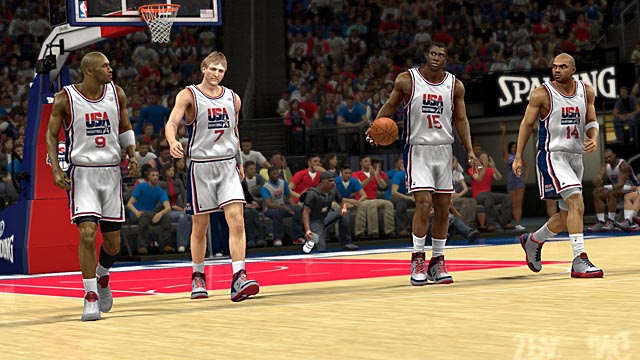 While the title's main menu is alluring, complete with a throbbing music visualizer and a showcase for your created character, 2K13's submenus are still a ragged jumble and a perfect candidate for optimization. The majority of Jay Z's music selection is inspired, seamlessly blending old school and contemporary hip hop. However, a few selections seem more motivated by personal alliances rather than artistic choices- such as the inclusion of Coldplay's drab "Viva La Vida" or Kayne West's languid  "Amazing", which was recycled from NBA 2K10. Few criticisms could be leveled at the game's commentary; Kevin Harlan, Steve Kerr and Clark Kellogg's interplay is nearly natural enough to fool eavesdroppers into thinking you're watching at actual broadcast. Likewise, the game's replays and graphics are remarkable, revealing Visual Concept's effort to reduce the number of abrupt, contrived player animations.
Although it's regrettable that flashy embellishments such as modeling a celebrity team and an intricate show creation component were favored over giving the game's MyPlayer mode a much-needed visual makeover, these failings don't affect 2K13's brilliant on-court play. While the title's new control option requires a bit of devoted study, it ultimately provides players with powerful toolset- elevating Visual Concept's superlative simulation. For next year's inevitable iteration, let's hope the developers have their eyes focused on the courts rather than toward the stars.