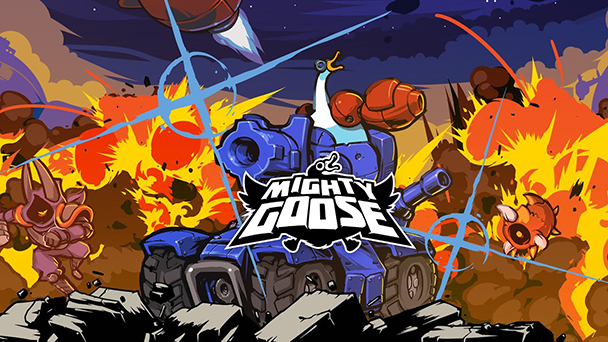 With plenty of tense action and a multitude of systems that counterbalance the intensity, Mighty Goose offers run-and-gun fans a honking good time.
Mighty Goose
Platform:
PC, also on PlayStation 4, Xbox One, and Switch
Developer:
Blastmode, MP2 Games
Publisher:
PLAYISM
Release date:
June 5th, 2021
Price:
$19.99
Digital availability:
Steam
 and other digital storefronts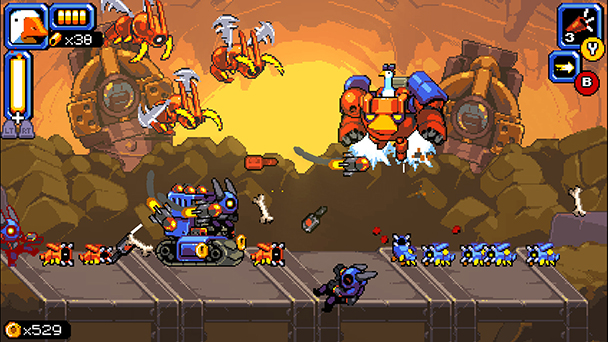 A quarter-century after Metal Slug was released, the game remains immensely enjoyable. Most of the satisfaction is rooted in thoroughly polished run-and-gun style action. Decades later, gunning down the minions and machines of General Donald Morde's army still feels satisfying. But at least a portion of the game's success is rooted in its whimsical take on warfare. From corpulent, cartoonish vehicles, like the eponymous super vehicle (or SV-001), to amusing animations of foes furiously pumping water from sinking tugboats, the game's sprite work is nothing short of captivating.
The recent release of Might Goose channels much of the charm of Metal Slug, while increasing the eccentricity. Instead of guiding human members of the Peregrine Falcon Squad, you'll seize control of a fighting mad, firearm-toting fowl. The eponymous lead is a bounty hunter who can carry an array of weaponry under his wing. Like Nazca Corporation's NeoGeo hit, you'll begin the game with a lowly pistol. But periodically, icons provide access to superior weaponry like powerful machine guns, shotguns, and rocket launchers. However, each of these advanced arms has a limited number of bullets. You'll drop back to your pistol once the ammo dries up.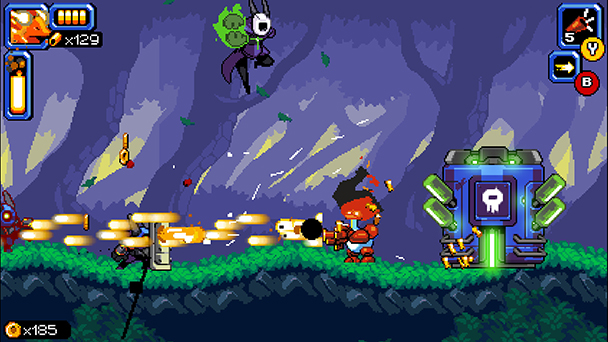 The Gauge of Waterfowl Rage
But Mighty Goose has a few more abilities than Marco Rossi and Tarma Roving ever had. He's got an invaluable dodge roll that grants temporary invulnerability. Racking up combos feeds your Mighty Mode Meter, and when full, you can let the Goose loose, dishing out additional damage and enjoying immunity from enemies. Pleasingly, the amount of mayhem caused during Mighty Mode affects the depletion of the gauge, and it's possible to prolong your frenzy by going completely wild. Shifting from hanging on to the last pip of your health bar to transforming into a hell storm of full-auto annihilation during boss battles feels immensely rewarding.
Much like a mech, Mighty Goose is upgradable, and you're able to freely insert chips to augment his abilities back at your headquarters. But there's a hard limit on energy use, so you'll have to make the tough decision between a double jump and increased ammo thresholds. Given the game's exacting platforming sections and offenses where the screen stops scrolling and adversaries pile on, both are indispensable.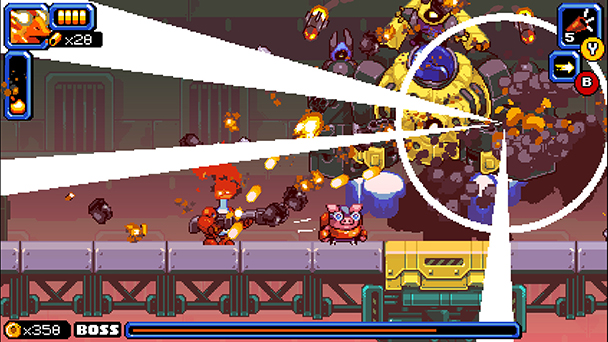 A Honk-core Set of Skills  
Amusingly, Goose is armed with a honk, which emits the recognizable exclamation but does little to deter enemies. In keeping with the playful spirit, the game won't tell you can map other, more useful skills, all regulated by a cooldown timer. Nor does it let you know that money collected in each of the game's nine stages can be spent immediately for new munitions or even vehicles. However, the game is forthright about companions, which are assistive animals who will follow you around. They do things like drop ammo or launch rockets at foes, frequently coming through when help is needed most.
Collectively, these quirks help soften the default difficulty setting. Mighty Goose is rather moderate with unlimited lives and sporadic checkpointing. Yes, you'll be routed by stage bosses but there's enough aids to ensure frustration doesn't put a damper on the destruction. At least on the game's initial run-through. A mirrored trek opens up after completion and you'll find fewer health icons scattered about.
Why Goose-step When There Are Vehicles?
Across nine stages, Might Goose demonstrates a satisfying amount of variety. Naturally, there's the traditional set pieces. Early on, you'll scurry across an elevator platform as enemies descend around you. Later, you'll race across a moving train, and balance fighting flying enemies as you bound across canyon crags. Additional variability arrives with ride-on vehicles that confirm the game's influences. Whether you're riding a mechanized unicycle with a mounted machine gun or a stout little tank, having a secondary healthy gauge and intensified firearms is a pleasing perk.
Seeing your companion ride atop your vehicle is just one of the game's visual treats. Visually, Richard "Rilem" Lem's channels the 16-bit era, filling screens with vibrant, well-animated pixel art. Naturally, there's a few contemporary concessions, with empty shell casings, coins, and particle effects filling the screen. At times, Mighty Goose can even be a bit too busy, making it all too easy to miss a projectile among the chaos of combat. and occasionally, adjacent enemies can cause damage without any foreshadowing. As such, you'll probably learn to keep your distance. Undoubtedly, Dominic Ninmark's soundtrack is another winning attribute, with composition that range from upbeat synth melodies to swinging jazzy tunes.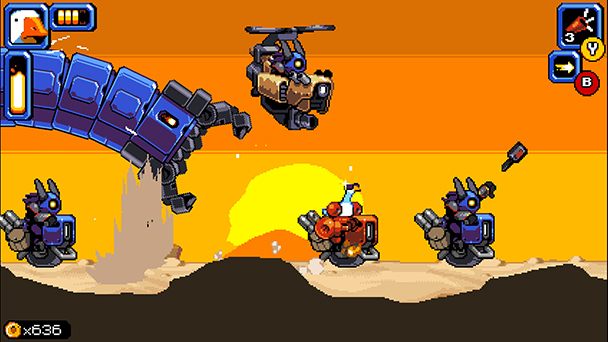 Conclusion
Whether you play individually or flock together with a local partner (Sonic and Tails-style) Mighty Goose is one of the better contemporary run-and-gun offers. It's aptly intense, constantly attempting to undermine a player's efforts with legions of opponents. While visual bewilderment keeps this from joining the genre's top tier of efforts, this Goose and his companions are a worthwhile second-string alternative.
Mighty Goose was played on PC with
review code provided by the publisher. 
Review Overview
Summary : With a bit more weapon balancing and level tweaking, Mighty Goose could be a fine-feathered experience. As it stands, it's no slouch, with plenty of blistering ballistic exchanges and slow-motion explosions.