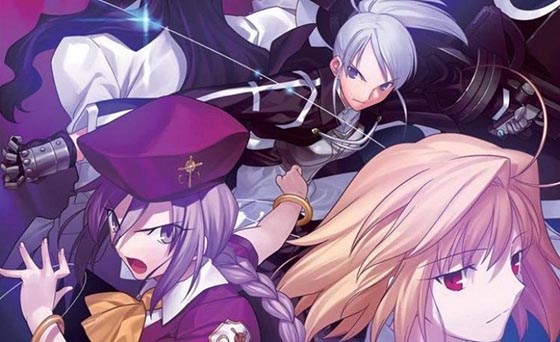 Intellectual properties are vigilantly defended in the United States. Try to make your own Star Wars fighting game and you'll likely receive a cease and desist letter as soon as Disney discovers your aspirations. But in Japan, dōjin circles have traditionally been granted a little more leeway- with enthusiast-led teams producing homegrown titles that are regularly cast with visual novel characters.
Such was the case with Melty Blood, a fighting game that showcased the cast of Tsukihime, an eroge novel which was originally released in 2000 by Type-Moon (Kara no Kyoukai -the Garden of sinners-, Fate/stay night). Since the game's premiere at the December 2002 Comiket, the title was an immediate success, spurring a succession of iterations. It even helped to catapult developer French-Bread toward mainstream status- a position that was solidified by the studio's collaboration with SEGA for the release of Dengeki Bunko: Fighting Climax.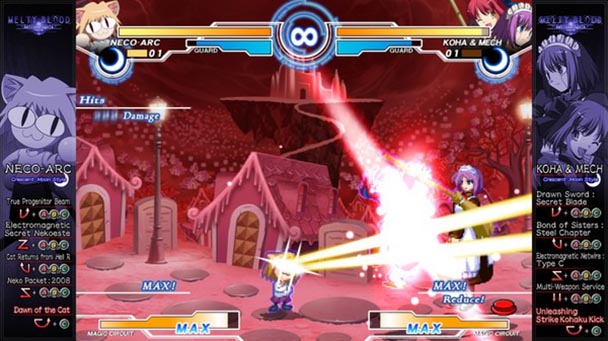 Following an expansion, a subsequent re-tuning, an arcade cabinet, and a console port overseas, Melty Blood finally makes an officially sanctioned stateside appearance with the release of Melty Blood Actress Again Current Code on Steam. Like Dengeki Bunko, the title was dexterous enough to draw the attention of a powerhouse publisher, with Guilty Gear and BlazBlue creator Arc System Works helping with digital distribution on this side of the Pacific.
Although a familiarity with Tsukihime or its manga and anime adaptations would undoubtedly amplify appreciation for Current Code, it's not a requisite. After the release of 2004's Re-ACT, the developers stripped away the extended VN-style exposition. In its place are the sporadic inter-match musings delivered by the game's collection of thirty-one combatants across Arcade Mode. Make your way through the roster of robotic maids, attractive vampires, and pint sized, tsundere cats, and you'll discover that Current Code's source material is distressingly dense. Filled with clandestine organizations and scientists who go mad knowing that the world is preordained for destruction, the Tsukihime universe is recursive, with each constituent filled their own container of enigmas, like a collection of Matryoshka Dolls.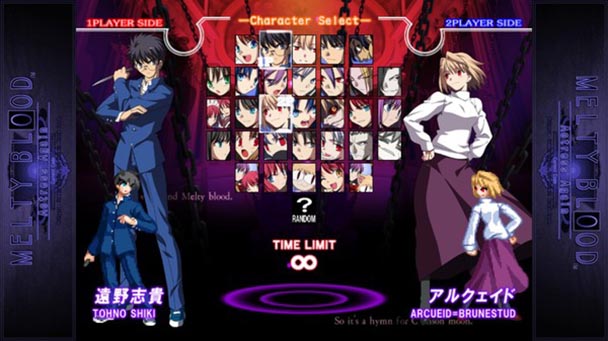 Conversely, fighting game prowess is essential to enjoyment, since Melty Blood is one of the genre's more complex efforts. After selecting your fighter and a color preference, players can select from one of three Moon styles, which act like the 'Isms' of Street Fighter Alpha 3. Crescent Moon represents a balanced option, extending an evenhanded blend of speed, power, and combo length. Closest to Melty Blood play tradition, players can charge their character's Magic Circuit Gauge up to 300%, allowing for a mode that can recover health, reduce the cost of elevated strikes, and even increase your strength and defensive capabilities.
Meanwhile, Half Moon Mode extends the span of combos, ideal for players who take sadistic pleasure in waiting for the right opening, before countering and unleashing a hellstorm of health-depleting assaults. Those seeking the potential for raw power will likely gravitate toward Full Moon Mode, which forsakes the ability to dodge and air dodge and lessens the length of combos, but provides a devastating amount of strength with every strike. Taken collectively, the combination of the Moon systems and the game's sizable cast allows for a multiplicity of play styles. This is a fighter you can play for months and still uncover new stratagems, especially when movesets and specials can vary across each Moon type.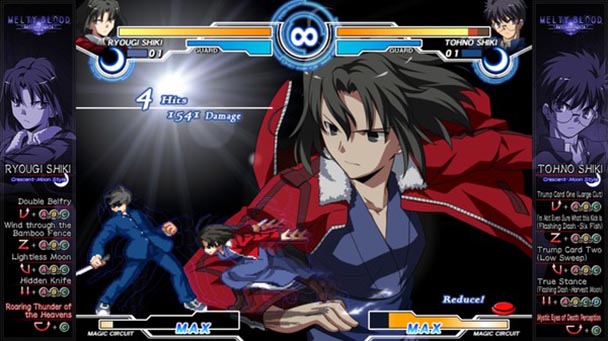 As its core, combat uses a four button system, allowing for easy acclimatization for BlazBlue fans. Beyond the fundamental options for light, medium, and heavy attacks, there's also a shield button. Its function widely differs depending on what Moon type you use, with Crescent and Full variety allowing for extending protection, while Half Moon permitting only tapping. Another remarkable feature in Melty Blood is the ability to control duos. Here, one character can be hit, while the other combatant follows closely, ready to unleash any specials. It seems that these pairs might break the game's balance, affecting reach and control over area. But it execution the system offer no significant advantages or disadvantages, mainly influencing your on-screen focus.
While Melty Blood has been able to excise many of its blemishes across an extensive history, Current Code's PC port shows a number of problems. On some of our mid-range PCs, the fighter ran fabulously, with nary a drop from the sixty frame-per-second. On other comparably powered systems, the game run horribly, with the frame counter veering between high 50s and mid-20s, making an offline game feel like an atrocious amount of net-lag was affecting the match. What's most puzzling is the cause of this slowdown, with drops just as likely to occur with a simple air dash as with a flashy special.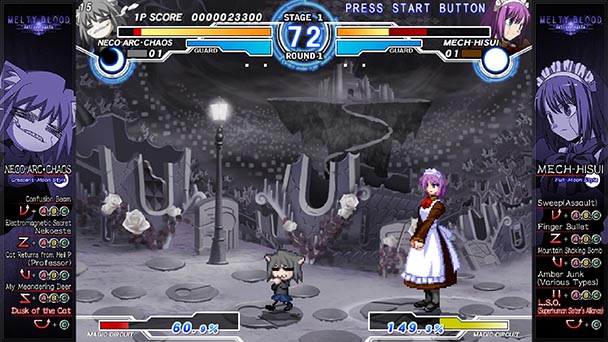 Certainly, the issue isn't rooted in the game's visual fidelity, as Current Code's pixelated pugilists exhibit the blocky style of early King of Fighters titles. Although there's a nice range of available resolutions, we suggest turning off the character filter, which weakens from art style. And if you're approaching Melty Blood for its online component, you might want to wait a bit. Although there have been improvements with the netcode, too often the amount of lag in fight can be debilitating.
Players looking for complexity and depth will find much to enjoy in Melty Blood Actress Again Current Code. You can easily invest weeks learning the movesets for each character across each desperate Moon mode. If the game cultivates in interest in the source material, then there's the visual novel, manga, and anime to delve into, deepening the rabbit hole even further. The only real caveat stems from performance issues; you'll want to purchase the game on Steam to take advantage of their refund policy in case Melty Blood coagulates on your rig.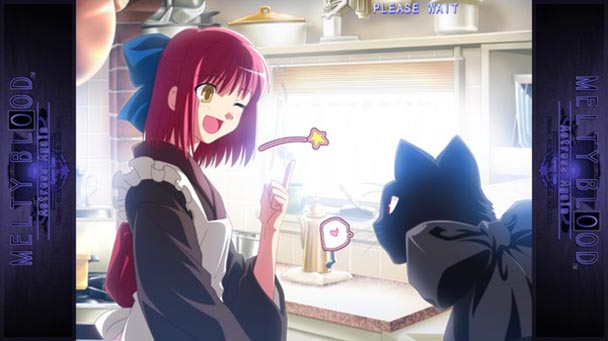 Melty Blood Actress Again Current Code was played on the PC with review code provided by the publisher.
Melty Blood Actress Again Current Code
Platform:
 PC
Developer:
 French-Bread
Publisher:
 Arc System Works
Release Date:
 April 19th, 2016
Price:
$24.99 via
Steam
Review Overview
Summary : Yearning for a complex fighter worthy of investing your time into? Melty Blood might be a consideration if you appreciate early 2000-era titles. Unfortunately, the functionality of online play feels from the same period.