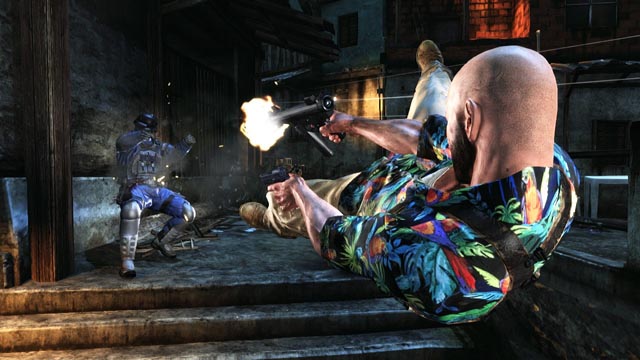 As mediums go, video game narratives are sporadically lackluster, often dependent on elements such as rousing action or tactical analysis to engage players. One of the more popular defenses for this phenomenon explains that the industry is still in its infancy. Unlike books or film, games haven't had the time to cultivate a grammar of their own; a method to effectively articulate an engaging storyline. Nine years ago, Max Payne 2: The Fall of Max Payne relied on comic book panels to express the conspiracy-fueled tale of a sardonic NYPD detective. The recent release of Max Payne 3 reveals Rockstar Vancouver masterfully combining a variety of stylistic storytelling devices to well-crafted set-pieces, effectively demonstrating the burgeoning maturity of interactive media.
Cinemaphiles will quickly recognize the source of some the developer's unabashed cribbing. From a palette which contrasts smog-tinted oranges against serene blues as well as camera perspective that is persistently fluid, it's clear that the team studied the oeuvre of a pre-Transformers Michael Bay. Frame flutter as well as cherry-picked bits of dialog that emerge on-screen are the mark of Tony Scott's Man on Fire– which used similar techniques to transmit an uneasiness on the verge of bursting right through the confines of the medium.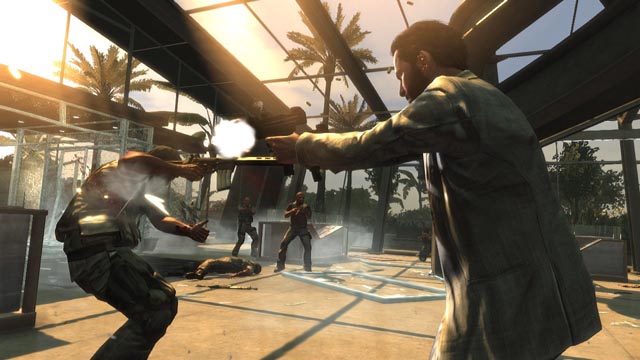 Similarly, Max Payne 3 contextualizes Man on Fire's storyline of physical and emotional deterioration, as well as a growing isolation in the midst of an over-crowded and increasingly volatile city. As the game opens, we find our protagonist holed up in a utilitarian apartment, swigging scotch insatiably as he overlooks the skyline of São Paulo. Like Fire's lead character, Payne's drinking interferes with his contracted guarding duties, allowing members of a socialite family to be kidnapped by ruthless criminals. Smartly, two elements elevate Max Payne above typical melodramatic impetus: the protagonist's wry monologue and deft characterization.
Payne's internal dialog doesn't just add sardonic flavor to the game. Although he expresses his disdain for the people he's working for as well as the location itself, the narration serves as a method to articulate the elements too delicate to be expressed with in-game cinematics- allowing player's to peer into Payne's tortured psyche.  Smartly, dialog isn't all pre-canned- stumble across a small clue or remain in an area too long, and the protagonist will offer remark on your actions. While the effect isn't as organic at Bastion's narrator, Max Payne's writing is impressively written and expertly delivered. Throughout the single-player campaign, several of the game's characters reveal a subtle emotional arc, cast with a refinement uncommon for gaming. Impressively, the title rarely stoops for comic relief, maintaining its hard-boiled tone through the storyline's twelve-hour duration.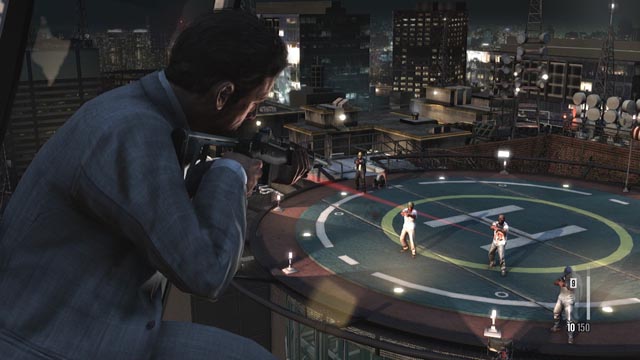 Of course, the extensive character development does have its cost. The game's cinematics can be lengthy and since they are often unskippable, they conceivably serve to mask the game's load times. Regardless, the title's whirlwind of locations is staggering, with players proceeding through immaculately rendered discos, restaurants, soccer stadiums, and shanty towns and well as flashbacks which revisit the snow-covered urban setting of the north-eastern United States.
Smartly, Rockstar Vancouver recreated much of Max's previous repertoire of retribution, while adding a few key moves into his arsenal of assassination. Bullet Time still permits Payne to have a temporal advantage over his foes, with every aspect of the game slowing except the player's aiming and firing ability. Shoot dodges send the protagonist bounding through the air, although they aren't the crutch they were in the first two titles; now players often end the leap with Max on the ground vulnerable to enemy fire. A Grand Theft Auto IV-like cover system allows gamers to keep intruding enemies at bay, even granting players the ability to blind-fire. Elegantly, this defense mechanic meshes with Max Payne's pre-existing moveset, allowing the character to build up his Bullet Time gauge as he thins out the antagonistic crowds.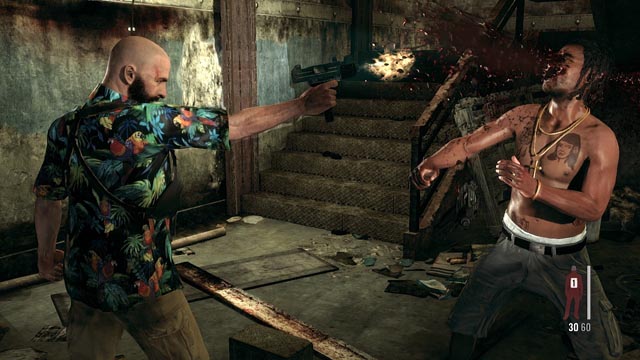 Each ballistic battle is elevated by satisfying AI, which continually tries to flank the player. Coupled with destructible cover, Max is continually pressured to remain improvisational and react to increasingly more challenging situations. Near the conclusion of the game, body-armored, helmet-wearing foes put up a considerable degree of resistance. Max Payne's most adrenaline-agitating moments are slow-motion set-pieces which send the protagonist sniping foes while hanging from a helicopter or smashing an enemy through a glass window, shooting combatants as the two tumble toward the ground. While some might take issue with the ability to instantly fail at these sequences, such as mechanic helps sustain the game's controller-clenching intensity. Conveniently, the title provides three different levels of aiming assistance, from trigger pulls which snap to antagonists to a free aim mode which offers no aid to players.
Whereas Max Payne 3's storyline is unflinchingly solemn, an aura of cheerful rivalry permeates through the title's multiplayer component. Using an unlockable set of loadouts as motivation a generous set of variations await competitive-minded players. From the five round, team-based matches of Gang Wars, which present a selection of randomized objectives to Payne Killer- where players earn points for keeping the game's nemesis and partner Passos alive, the title's oppositions draw from popular deathmatch and team deathmatch game types. Shooting dodging and Bullet Time are even incorporated into the multiplayer areas; although engaging the later only slows those who are in the player's line of sight. Finalizing the game's avenues of action are an arcade mode and the return of New York Minute- which challenges Max to work against a persistently dwindling timer.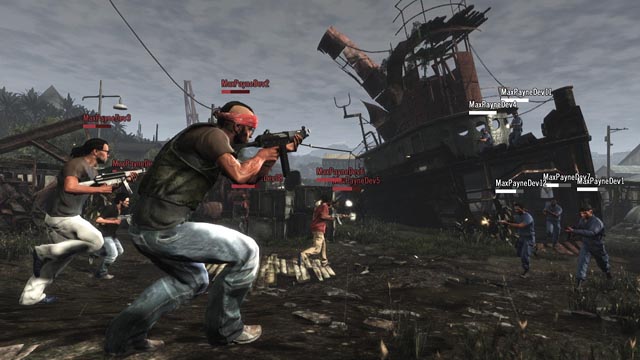 In much the same way that Grand Theft Auto IV and Red Dead Redemption outshined the contemporary gangster and western film, Max Payne 3 reminds players of the potential of the action film. Before cinema became enamored with the PG-13, CGI-driven spectacle, hyperviolent features like John Woo's The Killer and Hard Boiled delivered staggering set-pieces which quickened the heart rates of viewers. With a taut storyline and enthralling action sequences, Rockstar's latest not only delivers a mesmeric experience, but also demonstrates the advancement of interactive storytelling.