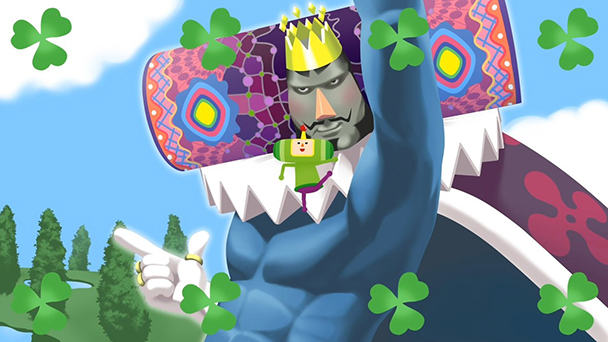 Katamari Damacy REROLL is a skillful remake of Takahashi's 2004 quirky classic. Expect a weird and wonderful experience as you wander through suburban environments, gathering all kinds of everyday objects.
Katamari Damacy REROLL
Platform:
Xbox One and PlayStation 4, previously released on Switch, PC
Developer:
Monkey Craft
Publisher:
Bandai Namco Entertainment
Release date:
November 19th, 2020
Availability:
$29.99 via digital download from the
Microsoft Store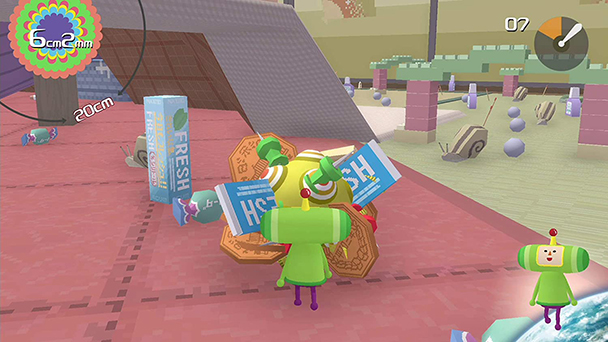 According to psychologist Mihaly Csikszentmihalyi, 'flow' is the mental state a person reaches when they are fully immersed in a task. Commonly known as being 'in the zone', Csikszentmihalyi isolated nine elements that occur when people 'flow'. Among them were a distorted sense of time, a sense of reward, and clear-cut goals.
Each stage in Katamari Damacy REROLL, a remake of the 2004 release, lasts between two and twenty-five minutes. But consistently, tackling each level seems to last about half as long. Original director Keita Takahashi wasn't accelerating the in-game clock either. Instead, the sensation is caused by a demand for your complete attention as you scan environments filled with a plethora of miscellaneous items. While stage memorization is valuable, improvisational thinking is crucial. Habitually, minutes melt into seconds with Damacy demonstrating how mesmerizing games can be.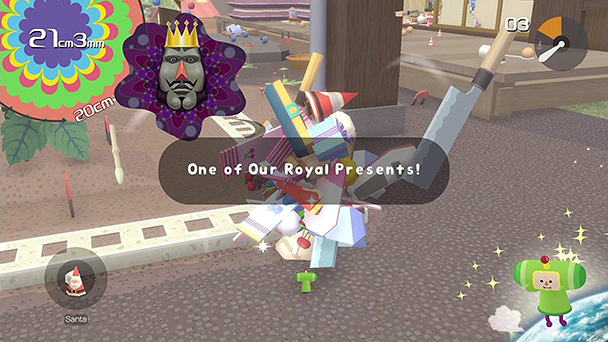 Know Your Roll
Katamari hinges on a wonderfully simple premise. Roll over items smaller than you, and each will stick to you orb, making it grow larger. But run into objects bigger than you and you'll be thrust backwards. When this happens, a few acquired objects will fall off your orb, undoing your hard-fought progress. There's the occasional irritation when an item that appears smaller can't be rolled up. But at least these objects don't fling you away like a pinball bumper, causing momentary disorientation.
The game's input method recalls the type of control scheme used by tank games, giving those who played the original Battlezone or Cyber Troopers Virtual-On as edge. Largely, it's functional but expect a bit of frustration when your katamari gets stuck in a gutter, as precious seconds tick away. Experts can make use of advanced maneuvers that allow your ball to reverse direction or boost forward, but these methods aren't mandatory during the game's campaign ten main stages, and thirteen ancillary ones.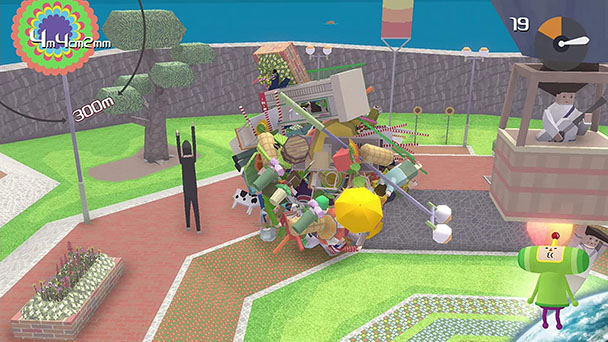 Sweet Satisfaction
Despite any minor blemishes with navigation, Katamari Damacy provides layers of rewards. The most common occurs when you collect enough objects to trigger a change in scale. Whenever you reach one of these thresholds, the screen blurs for a second, as all environmental objects effectively shrink in size. Had the game tried to adjust the size of the world on the fly, progression might have not felt as noticeable. But here, every new stage of growth is a jubilant experience, since you can pick up many of the irksome objects that resisted rolling up before.
The title's other incentive comes from advancement through stages. Each takes place in an amusingly quint setting, which takes the inattentiveness of people amusing. Most are unaware of the Prince's pursuits until a giant ball is threatening to swallow them up.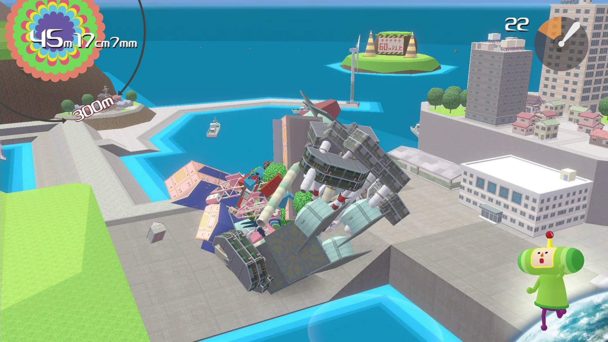 Often, you'll start in a cluttered bedroom, rolling up erasers and game cartridges before venturing outside to add garden tools and even children. When Damacy first released in 2004, some of the game's objects like takoyaki or hina-ningyō might have been unfamiliar. But now, the collection of rollable objects should be familiar to even causal anime watchers or anyone who has pursued the aisles of a Daiso store. Rolling new items adds them to the in-game database. Filling out the catalog delivers the same kind of fulfillment as adding new creatures to your Pokédex.
"In the Name of the Moon…."
Katamari Damacy REROLL is economical with story. Although exposition is brief, it provides motivation for your madcap pursuits. The plotline hinges on the The King of All Cosmos accidently demolishes the stars during a night of wild drinking. The burden of restoration falls squarely on his thankless son, who must roll up earth objects into masses which can replace the ruined celestial objects. With a voice that sounds like record scratching and a personality that shifts from caring to callous, he's a fascinating character who epitomizes some of the tensions of parent/child relationships. As such, expect a few harsh reprimands when you fail to meet his standards. But his motivations seem laudable; The King doesn't want his son accustomed to princely privilege.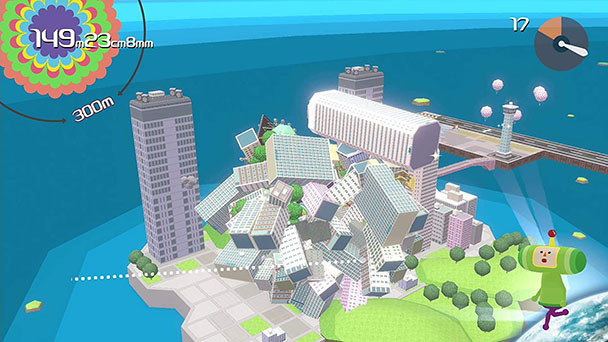 Damacy contrasts this family against the Hoshino (literally "star field") clan. Cutscenes reveal a human family who are becoming increasingly aware of the loss of stars, and it effects their lives in oblique ways. Mirroring the eccentric tone on the game, the family's vignettes demonstrate the game's theme of interconnectedness. So even if we're obvious to things, Takahashi reminds us that we're all part of the same biosphere. Occasionally, the game even offers a few in-game gags. Across each environment you'll find little peculiarities like a pair of crabs have a showdown with water guns.
Minor Differences
Besides a shift from 4:3 to 16:9 widescreen output, you'll find few differences between REROLL and the original game. While the game output resolutions might be higher, the remake delivers the same low-poly charms, drenching Damacy in geometric charm. Sure, the remake is a bit more lenient with time requirements, which might vex purists. But this decision underscores the feeling of blissful play every time you go rolling, without constant worry about the game clock.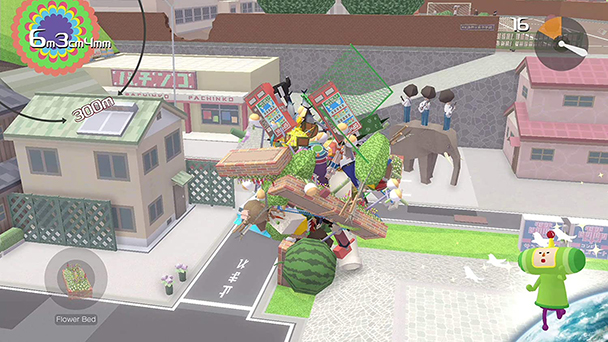 Beyond the ten main level, you'll find constellation stages with a specific goal, such as the Corona Borealis stages where you are tasks with rolling up and many crowns as possible. Accompanying every stage is a wonderfully diverse set-list. From the buoyant swing on "Gin & Tonic & Red Red Roses" to composer Yuu Miyake's humming on title track, "Katamari Nah-Nah", the game's soundtrack remains iconic all these years later.
Conclusion
Few games convey a sense of playfulness as well as Katamari Damacy. While there are size goals, you dictate the path that's used to meet those objectives. As such, it's easy to fall into the 'just one more game' trap with the title, as your brain shouts, "give me another chance. I know I can do better". For most game, the feeling of 'flow' fades away, assailed by the specter of tedium. But sixteen years on, Katamari Damacy REROLL feels fresh, it's time distorting abilities resistant of age.
Katamari Damacy REROLL was played on Xbox One
with review code provided by the publisher. 
Review Overview
Summary : The Katamari Damacy franchise feels like nothing else, expertly balancing simplicity and long-term appeal. As a remake of the original game, REROLL belongs in the library of any player who values ingenuity or eccentricity.