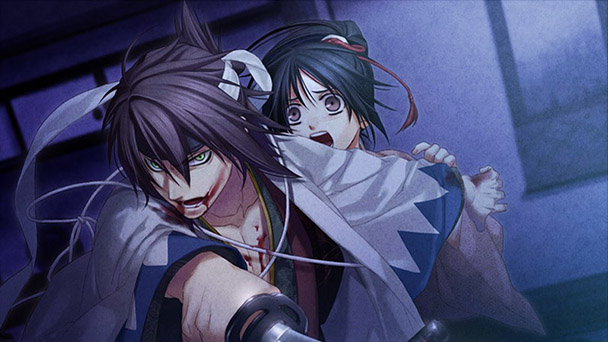 2012's Hakuoki: Demon of the Fleeting Bloom was released at an unfortunate time, just as the PSP's user base was beginning to erode. But those who did get an opportunity to play the Aksys-published title encountered an effort that established an elevated water mark for visual novels. As an otome, Hakuoki supplied a storyline teaming with historically-grounded intrigue and absorbing characterization, as well as lush visuals and evocative sound effects. Five years later, Hakuoki returns on the similarly situated PS Vita, with enough additions to warrant a double dip by genre fans.
As the story opens, the novel's heroine, Chizuru Yukimura, journeys to Edo-era Kyoto to reunite with her father who has recently gone missing. Cautiously dressed as a male to avoid unnecessary attention in the brutish city, Chizuru comes under attack by multiple bands of assailants- one group with pallid hair and crimson-colored eyes. Help arrives in the form of the Shinsengumi, a team of ruthless ronin tasked with the protection of the shogun. While initially distrustful of the young woman, they ultimately succumb to her goodwill and virtue, and agree to assist the stranger as they are also on the search for her father.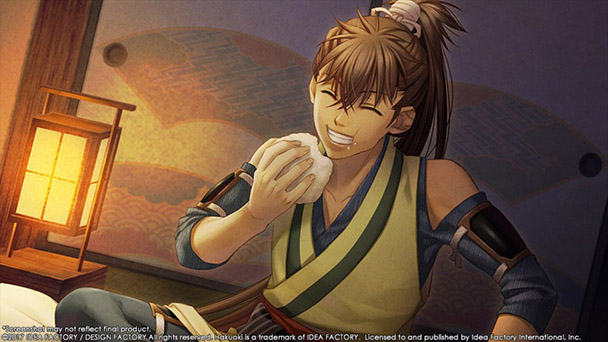 For some, the term 'otome' (literally translated as a "maiden game") might bring to mind a mere inversion of the male-driven romance- where a protagonist traditionally courts a harem of enraptured women. While those kinds of visual novels exist, Hakuoki: Kyoto Winds is certainly not one of them. Instead, the focus is on chivalrous action and an attempt to transport readers back to Japan's Bakumatsu era. While there are characters that you'll develop bond with, Kyoto Winds sidesteps the mawkishness which might have cheapened the experience.
Credit should be given to Hakuoki's writers. Often the lead in these type of context is a cypher, with interaction with other characters one of the few insights into the protagonist's personality. Deftly, that's not the case here, as Chizuru's adventures exploits establish a gratifying character arc. Remarkably, different in-game decisions reveal divergent facets. Cultivate rapport with one character and she'll engage in playful banter, while a more serious swordsman will expose her contemplative side.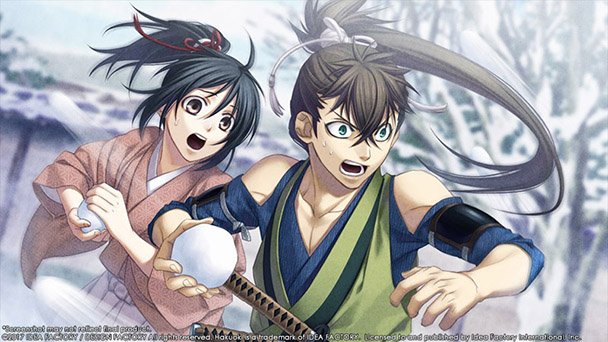 Seeing each of the qualities might be a chore if players had to plod through the entire plotline multiple times. Mercifully, Kyoto Winds permits players pick up from previous checkpoints, allowing for a comfortable way to see all of the title's content. Pleasingly, a component called the Warrior Record tracks your bond with the novel's characters, now quantifying your affinity with each. While I chided Demon of the Fleeting Bloom's localization for not completely capturing the formality present in Japanese conversation, this new iteration does a much better job. Another small success is that the size of the font makes protracted reading sessions possible without eye strain.
Hakuoki: Kyoto Winds offers a magnificent recreation of the closing days of the Tokugawa shogunate. From period authentic attire and weaponry to the occasional blossom falling from a sakura tree, the title is visually sumptuous. When conflict happens, the novel extends detailed description and the occasional splash of blood, but never dwells on the explicit. While the Vita's diminutive speakers do their best, you'll probably want a set of headphones for Hakuoki, as the game's sound effects are a crucial part of the storytelling- whether it's the clank of clashing sword or a hollow thud of lifeless body hitting the ground. While a few might bemoan the lack of a dub, hearing English spoken by the main characters would have produced cognitive dissonance.  Instead, you'll be treated to a top-tier voice overs in Japanese, with performances which help to define each character.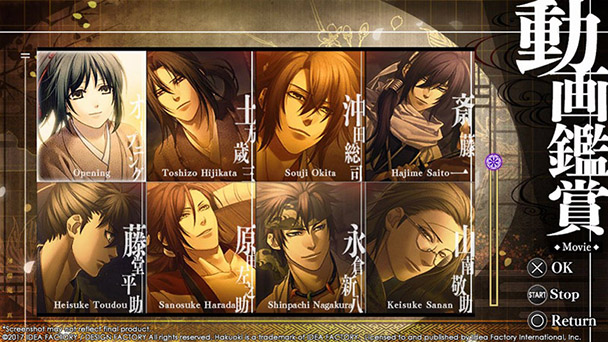 Those who already ventured through Demon of the Fleeting Bloom will find that Kyoto Winds adds a substantial amount of new content. There are six new routes, three new characters, added scenes, and a multitude of subplots to be found. Masterfully, it's all interwoven seamlessly without the typical telltale variation in expositional quality or art. Pleasingly, developer Otomate made the new characters a little more difficult to bond with, providing a welcome challenge to returning players.
Those seeking a historically rich, engaging narrative would be hard-pressed to do better than Hakuoki: Kyoto Winds. Whereas there are a plethora of visual novels which feel pulpy, this title exudes artistic splendor across word, image, and sound. While the Vita might be enjoying its twilight hours, additional Hakuōki titles across a variety of platforms would be pleasing to see.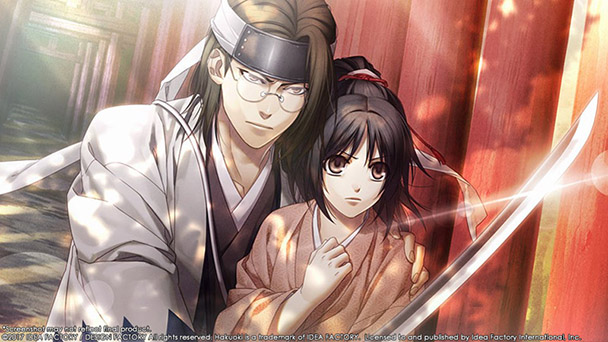 Hakuoki: Kyoto Winds was played on the PS Vita with review code provided by the publisher.
Hakuoki: Kyoto Winds
Platform: PS Vita
Developer: Otomate
Publisher: Idea Factory International
Release date: May 16th, 2017
Launch Price: $39.99 via retail or PSN
Review Overview
Summary : Don't let the term "otome" chase you away from Hakuoki: Kyoto Winds' fulfilling plotlines. While the title was recommended before, the contribution of new content, makes for an enhanced experience that visual novel fans shouldn't overlook.