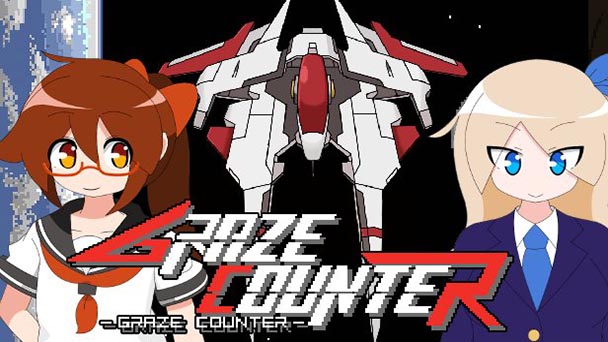 Decades of shoot-'em-up games have imparted a crucial message to players: the enemy projectile should be avoided at all costs. But that enduring adage get challenged in Graze Counter, Hyogo-based Henteko Doujin's absorbing sophomore PC release. As the game's moniker implies, players are encouraged to fly uncomfortably close to bullets, allowing bullets to graze the player's ship. Not only does that feat exponentially escalate a player's score, but it also fills the game's graze gauge- permitting players to retaliate with potent counterattack.
In execution, that means Graze Counter had to tweak a shooter tenet. Immediately notable is the speed of your ship. When firing your vessel moves rather slowly, permitting players to dart through converging fields of fire. However, when opponents are bombard an entire section of the screen, laying off the fire button can provide a burst of speed, as you navigate through the storm of shells, exchanging your oppositional output for an obligatory escape.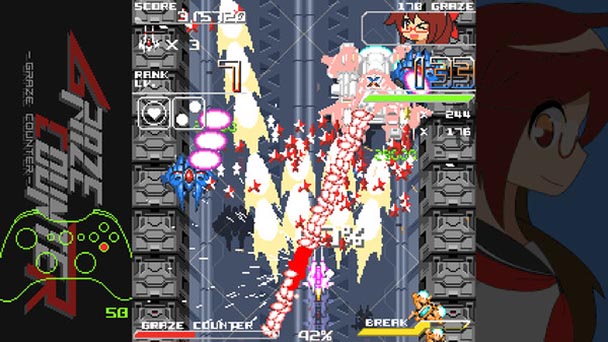 Yet that's only one of Graze Counter's numerous risk/reward systems. As mentioned, coming dangerously close to adversaries can send the game's multiplier hurtling toward a quartet of digits. But as soon as you play it safe and move away from fields of fire, the score multiplier begins rapidly deescalating, pushing score-chasers toward a persistent state of peril.
Activating the game's Graze Counter does more that augment your arsenal, converting most forms of offensive bullets into gold stars. When collected, these icon gradually fill up your Break Gauge, an even more devastating attack that when launched, fills the screen with your munitions and red stars with lofty point values. While the Break Attack is a great last-ditch response, it can also be employed during less hectic moments, where you'll have the ability to collect all those crimson-colored stars in effort to earn a place on the game's leaderboards.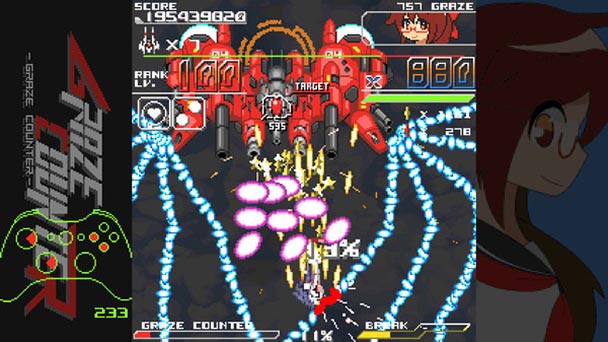 In assessment, Graze Counter's multitude of mechanics might seem confusing. But between an optional pre-game tutorial and actual play experience, the systems soon become second nature. Pleasingly, a practice mode as well as a trio of difficulty levels allows players to acclimate and practice, before ratcheting up the level of challenge to demigod levels. And while the game's quintet of stages are on the shorter side, the balance brevity with intensity. In short, you'll need a brief breather after the punctuating boss battle.
Pleasingly, Graze Counter feels like a robust experience thanks to a wealth of play options. Beyond six unlockable ships that extend different aptitudes, there are also selectable skills- from auto-shields, guards that protect your ship during counterattacks, and even over-graze, where you ship absorbs nearby enemy bullets. Players can try the exceedingly demanding Pacifist mode, where your only offensive measure is the Counter Attack. Other options like an omake mode which extends a boss rush.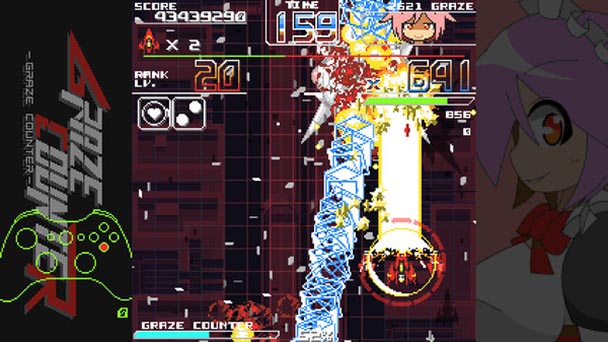 Aesthetically, Graze Counter channels the look of the 16-bit era, albeit without the flicker and shortage of sprites. To supplement the space theme, the game's storyline bring in a several pixelated female pilots, providing a bit of moe to the proceedings. While a storyline about escaping from a virtual network is welcome, some of the dialog that can interrupt the flow of the game isn't. Ideally, conversations would bookend levels, not interrupt them. But largely, for a title that weaves several systems together so seamlessly, the transgression is forgivable. Sonically, the game's soundtrack extends the type of perpetually upbeat and harmonious melodies that fans of the genre expect.
Danmaku disciples take note- Graze Counter lacks a notable publisher or marketing push. But these particulars should stop you from seeking out an enjoyable STG build around an enjoyable play mechanic. Elevated by a healthy amount of polish and a localization that's remarkably well done, Graze Counter is a title you shouldn't let pass you by. If you're still on the fence, there's a single-stage demo on Steam.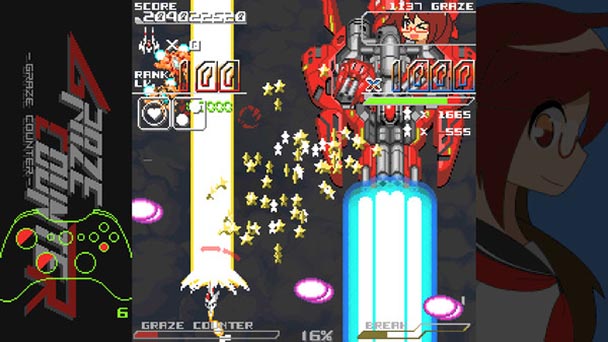 Graze Counter was played on PC with review code provided by the publisher.
Graze Counter
Platform:
  PC
Developer:
Henteko Doujin
Publisher:
Bikkuri Software
Release date:
July 28th, 2017
Price:
$9.99 via 
Steam
Languages:
English, Japanese, Spanish, Chinese, Thai
Review Overview
Summary : With solid play mechanics, plenty of options, and an ample amount of polish, Graze Counter is certainly worth scoping out. We're eager to see what Henteko Doujin has in mind for a follow-up.