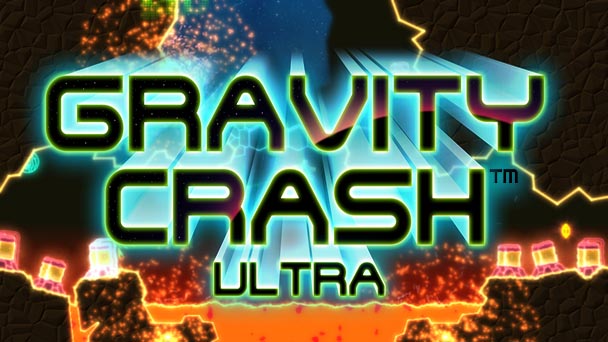 Sean's Take: It's surprising to me that there aren't more twin stick shooters on the Vita. It seems like the system was designed specifically for Robotron's great-grandchildren. It took 5 years, but Gravity Crash finally made its way off the big screen and into my hands. I was a fan of the Gravity Crash on the PS3. The Solar Jetman-style gameplay mixed well with the vector-inspired graphics that were so in-vogue at the time. Gravity Crash Ultra has been streamlined for Vita, adding additional control schemes and options to improve the handheld experience.
For the uninitiated, Gravity Crash is a multi-directional shooter with lunar gravity with faux-vector-style graphics, similar to Geometry Wars or Super Stardust. Your ship is constantly being pulled toward the ground, but you are able to stay afloat by engaging your thrusters, but abusing your inertia will result in a deadly crash more often than not. Each stage tasks you with collecting a small number of crystals, destroying a number of enemy bases or rescuing stranded spacemen. The control-scheme is just challenging enough that navigating your delicate ship through the craggy depths stays tense as you try to keep your score up and your time down.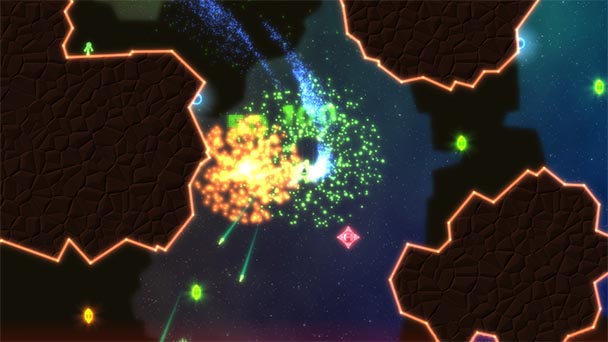 Gravity Crash is an ideal handheld game. Each mission is relatively short – each lasting about two-and-a-half minutes – and recovery from failure happens instantaneously, so there is absolutely no down-time while you're waiting for the bus to arrive. Unlike many traditionally-styled games for handheld consoles, the stark contrast between the black background and the bright shapes that make up the player, enemies, and landscape in Gravity Crash makes the action easy to follow, even in harsh light.
The port to Vita does come with a few caveats. The short throw of the Vita's analog sticks means that the visceral feel of punching the throttle that I enjoyed on the PS3 is significantly neutered. Also, in spite of the game's fast pace and respect for your time in-game, it will occasionally spend lengthy periods checking for a network connection to update the leaderboards in between levels, and when you're on a bus, this leads to long wait-times and even occasional crashing out to the main Vita menu.
5 years later, Gravity Crash is still a fun game. It keeps lofty company on the Vita, next to PixelJunk Shooter and Super Stardust, but it definitely holds its own. Expect Gravity Crush Ultra to keep a permanent spot on my Vita.
Jeremy's Take: The execution of a good video game is always a balancing act of form and function, and it's often easy to take this for granted until a simple but stylish game like Gravity Crash Ultra comes along. Although the game has already been ported from its original PS3 (2009) incarnation to the PSP (2010), the Vita version retains the appeal of its predecessors and succeeds at improving the experience for veteran players while welcoming first-timers too.
As far as titles go as content descriptors, Gravity Crash is pretty on-the-nose. Imagine a neon-themed version of Atari's Lunar Lander as a twin-stick cave exploration game, and you've got the idea. Hazards and targets of opportunity are peppered throughout, while environmental hazards, Choplifter-style rescues, boss fights, and the pull of gravity* constantly add a dimension of peril to the process.
In the interest of full disclosure, I am not good at Gravity Crash Ultra. I find the idea of resetting my score for "continues" so repellent that I have never seen the final levels of the game. However, the way Ultra is set up, it's not entirely damning.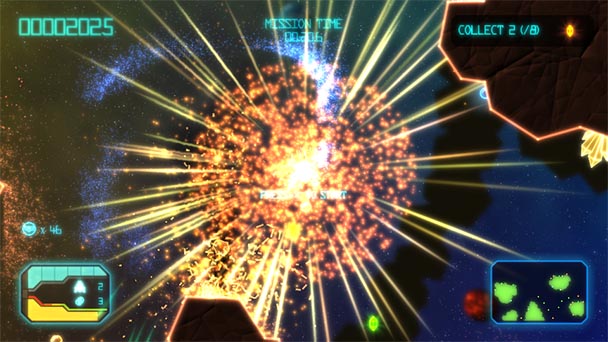 Gravity Crash Ultra embraces the idea of mastery and memorization, but also constantly keeps the player moving forward. Campaign mode does not allow replay (or even restarting) of levels until the player has reached his or her ultimate end. Whether pursuing highest score, fastest time, or simply survival, the game does not penalize any particular play style. But it's still damn frustrating to lose, as you must then decide to post what you've got to the leaderboards, or forfeit it all and press on. It can be a tough choice.
The original Gravity Crash was well-received, but the improvements in Ultra are pretty apparent under scrutiny: Firing rate is nearly tripled, adding a better feel of action; ground-landings are far more forgiving; and a number of interface changes have transformed some frustrations of the first game into user-friendly features. For example, objectives are clearer, the radar is more useful, and even an anti-gravity ship is available for a slightly-less-stressful experience. It also works an acceptable "practice" ship. (*I prefer the no-gravity option, but I'll still go with the standard spacecraft after I've gained confidence. DEagle can shut his face.)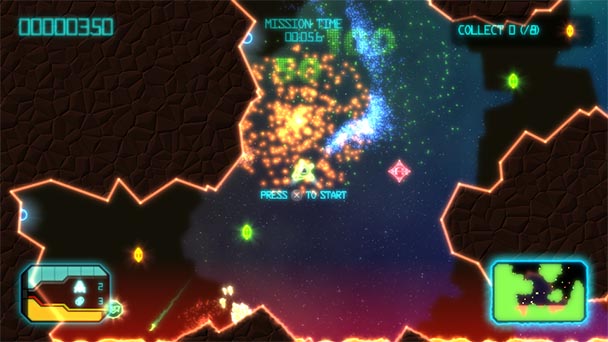 Ultra has received an audiovisual upgrade too: Whereas the old PS3 particle effects were "competent," the Vita version has enhanced its jet exhaust and exploding detritus effects. Jetting through particles feels like dragging a finger through neon sand on a glass table. It's quite fun to look at and to toy around with. Musically, I recommend turning the sound effects down a bit to emphasize the new music and really soak it in.
Ultimately, PS3 Gravity Crash was an exercise in anger management for me, but I have warmed to Gravity Crash Ultra. I don't think I could ever have been convinced to return to the console version, but the Vita version has stepped up its presentation and usability, and stepped down to my level of accessibility and fun without sacrificing its core idea. I think that's good for players of all skill levels.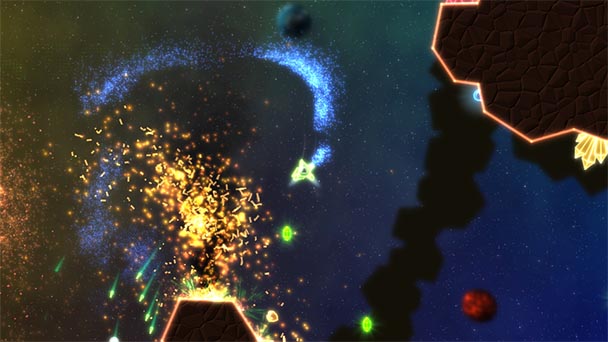 Gravity Crash Plus was played on the PS Vita with review code provided by the publisher.
Gravity Crash Ultra
Platform:
 PS Vita
Developer:
Just Add Water
Publisher:
 Just Add Water
Release date:
 August 12th(US), August 13th, 2014 (EU)
Price:
 $8.99, 
€6.99, £5.49
Language(s):
 English text
Review Overview
Summary : With seven new levels, an expanded ship selection, and the ability to import your custom levels for the PS3 iteration, Gravity Crash Ultra for the Vita is a top-tier port.