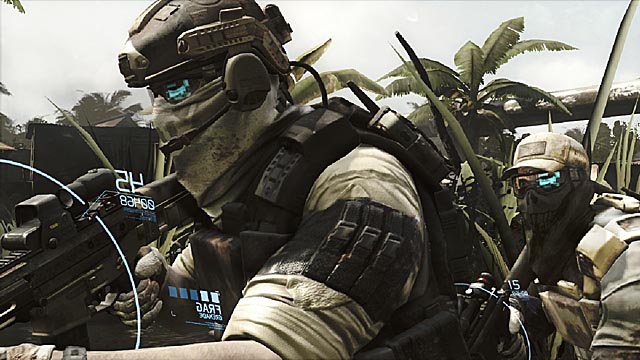 Over its decade long legacy, the Ghost Recon franchise has endured a succession of substantial changes. Once a taut, tactics-heavy simulation tasking players with managing multiple teams across vast battlefields, more recent entries in the series have gradually gravitated toward visceral action, echoing the more intimate firefights popularized by other consoles shooters. The recent release of Tom Clancy's Ghost Recon: Future Soldier for the Xbox 360 and PlayStation 3 finds the title emulating the trajectory of sister series Splinter Cell. Much like Conviction, the operators from Delta Company bring in only the swiftest of strategic options in order to sustain a break-neck pace.
One of the virtues of the Ghost Recon series has been its collection of high-tech weaponry, all modeled after purported military prototype. Here Future Solider excels, bestowing everything from sensor grenades capable of discerning foes to magnetic vision that is used to identify armed personnel amidst situations of limited visibility. Although optical camouflage may sound like preposterous science-fiction, as it provides Ghosts with a fluctuating chameleon-like appearance- the device is depicted with a convincing set of limitations. Moving too fast, too close, or instigating a muzzle flash will quickly alert any enemies to your position. From performing drone-enabled recon to overpowering combatants with a massive, cover-creating mech, Future Solider understands that having the technological upper-hand is unswervingly mesmerizing.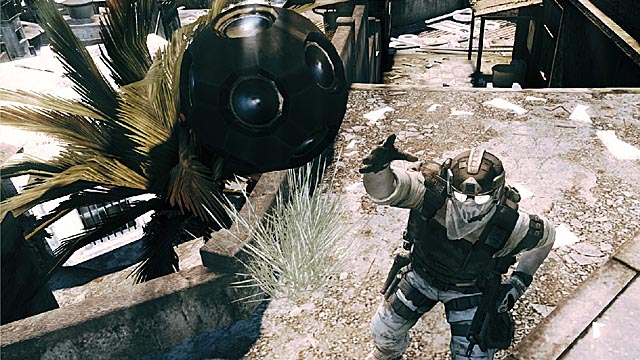 While skulking about clandestinely and exploiting the weaknesses of outmatched enemies of fun, the game rarely conveys the sensation that players are behind the battlefield brainstorming. Habitually, Future Soldier's restricted pathways and automatic fail conditions force gamers to play by the title's prescribed set of tactics, instead of providing an open-ended sandbox of variable strategies. Ideally, Ghost Recon wouldn't abruptly end the game for a triggered alarm- instead forcing players into a formidable firefight against an empowered enemy.
Despite this fault, the game's core campaign has a number of notable potencies. Future Soldier's ally AI is a step above its peers, with teammates acting autonomously, by healing downed Ghosts and gunning down aggressors. Alternatively, CPU-controlled players know how to restrain their trigger finger, generally acting like well-trained soldiers instead of fresh out of boot camp rookies. When the opportunity to engage multiple hostiles presents itself, players are able to mark multiple targets, triggering a breathtaking display of coordination, as all four Ghosts send a quartet of foes slumping lifelessly to the ground, recalling Conviction's invigorating Mark and Execute mechanic. Playing the game's campaign cooperatively with a group of online participants, Future Soldier's ambiance is radically changed, with the game cultivating a nice sense of camaraderie as players creep along, dispatching antagonists like a coldly efficient killing machine.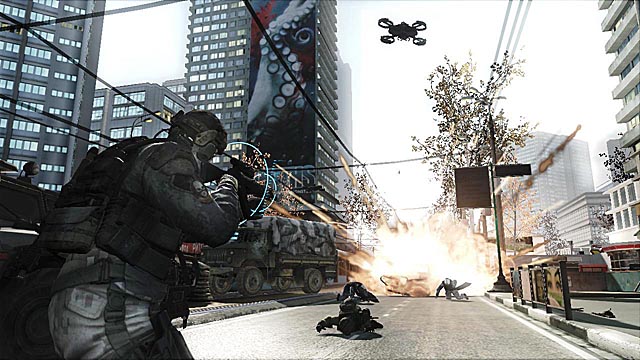 Although Tom Clancy titles traditionally shuttle players across the obligatory geo-political hotshots, Future Soldier is especially fluid. Flinging players across the globe into divergent locales like arid Nigerian deserts, Russian forests, and Norwegian tundra, each of the game's twelve stages offer engaging set-pieces such as a fierce engagement in the middle on an obscuring dust storm. Woefully, the game's finale delivers a firefight which overstays its welcome, abandoning Ghost Recon's more strategic and signature concepts for far too long.
Beyond the title's eleven hour campaign are two additional time sinks: the cooperative wave-based Guerilla Mode as well as a robust multiplayer component. The former is Future Soldier's version of Modern Warfare 3's Spec Ops supplement, challenging group of players to withstand an onslaught of increasingly abundant and powerful enemies. While playable by a single participant, success beyond a handful of stages requires a team, as the mode typically requires players to defend an area against a throng of flanking foes. Building on the recent beta, Ghost Recon's multiplayer nicely carves its own niche, offering a selection of well-scrutinized maps filled brimming with cover. Coupled with the fragility of soldiers, victory on the online battlefield demands precision and patience, endowing the online arenas with a district vibe. The spoils of war are quite pleasing; triumph rewards the players with the ability to modify their arsenal in the game's compelling enchanting Gunsmith module. With options for a variety of optics, magazines, stocks, muzzles, grips, and side rail devices, playing virtual armorer is undeniably engaging.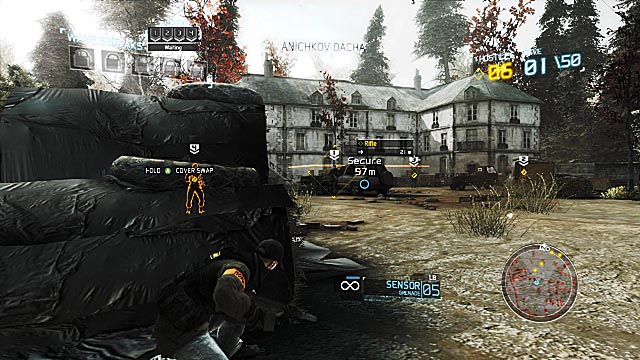 The evolution of the Ghost Recon franchise from uncompromising simulation to a widely accessible shooter was enviable. Following the disbandment of Zipper Interactive as well as Codemaster's Operation Flashpoint team, the audience for hardnosed military verisimilitude seems to have all but disappeared. Pleasingly, Ubisoft's Red Storm, Paris, and Romania teams have streamlined just enough tactical elements into Ghost Recon: Future Solider to distinguish the game from its action-oriented contemporaries. As with most Tom Clancy titles, the ability to toy with tomorrow's tech will prove to be an irresistible temptation and one that's ultimately worth a full-price purchase for those with a fetish for firearms and associated gear.