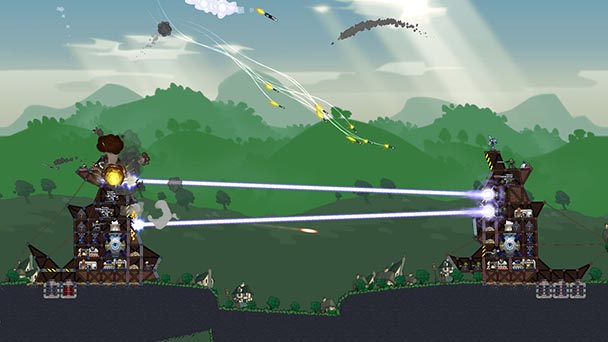 Forts is a game built around a myriad of fiddly parts- where the game's eponymous strongholds sway in a state of persistent peril. While that might sound like light criticism, it's anything but. In fact, players fascinated by measured amounts of complexity will most likely find enjoyment in the game's skillful blend of the real-time strategy and artillery genres.
Delve into Forts' campaign, and you'll be provided with a brief cinematic that provides the game's context through a satirical news clip. Employing a style that resembles South Park's cut-out animation system, Facts News anchor "Sal Vaux" explains how a scarcity of crude oil has resulted in fortifications being built around the planet's remaining reserves. Escalating the tensions even further is the rumor of a field that has enough petroleum to keep monster truck rallies continuing for a decade. As such, the factions of the Eagle, Bear, and Dragon are in a heightened state of contention.  While the scene isn't exceptionally humorous, it offers far more wit than most indie efforts, and thankfully moves along at a quick clip.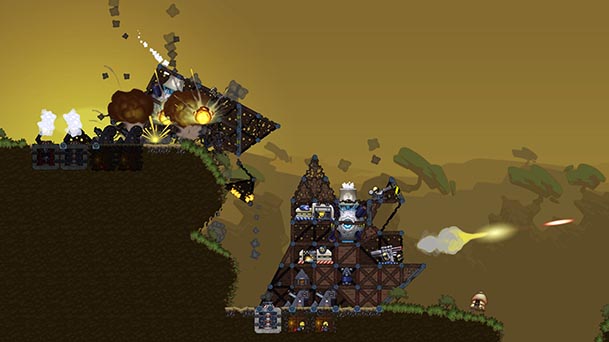 Subsequently, players are ushers into a hand-on tutorial that explains the basics of the game. Initially, gamers are taught how to build additional protection to their wooden fort. Recalling the mechanics of the ubiquitous Bridge Constructor sims, gamers can either drag the highlighted edges on preexisting boxes or even easier, grab the middle of a wall, pull, and expand the structure. But players just can't build their forts haphazardly. The title employ physics modeling to structures have to be carefully balanced or at the very least, reinforced. Like an RTS, production happens quickly, with icons conveniently displaying the duration of construction.
Fortifying- and later, putting out blazes and repairing any incurred damage in only a small part of the equation. To build and keep your defenses up, you're need both raw materials and energy, which come from mines placed on the ground and wind turbines that cap your citadel. Naturally, you'll want to reinforce the zone around your reaction- because if that explodes, your only comfort will a brief demonstration of particle effects and a mushroom cloud.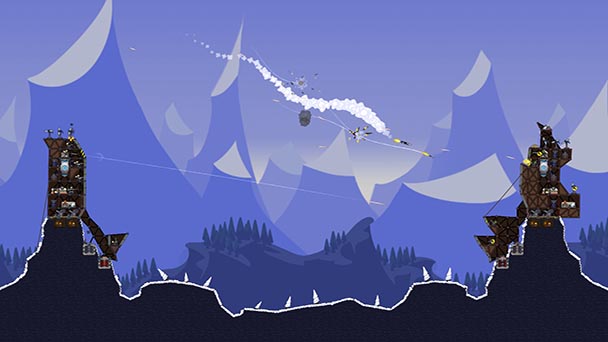 Offense arrives through an arsenal of upgradable weapons, with each armament having their own strengths and weaknesses. While machine gunners aren't much of a match against metal reinforcements, they are capable are autonomously mortars raining down on your fortress. Clicking on one or more gives control to the player, who is provided with an aiming system that exhibits a different level of accuracy and cool-down timer for each unit type. While gunners spread fire over broad areas your snipers are precise enough to zero-in on an opposing nest, and when powered up, they can send rounds through reinforced materials. Conveniently, mortars even display a trajectory, making them especially lethal.
Largely, there's enough strategy in Forts to support a turn-based experience, but given that the game is played in real-time, battles can get hectic. During play, you'll want to focus on a single task like allowing your long-gunner to hone in and eliminate enemy threats. But if you do concentrate one thing, you'll likely be annihilated by a multitasking opponent focused on your blind spot. While RTS titles occupy players with the simultaneous duties of building, repair, upgrade, defense and attack, Forts adds aiming and maintaining structural balance, making for a wonderfully harried experience.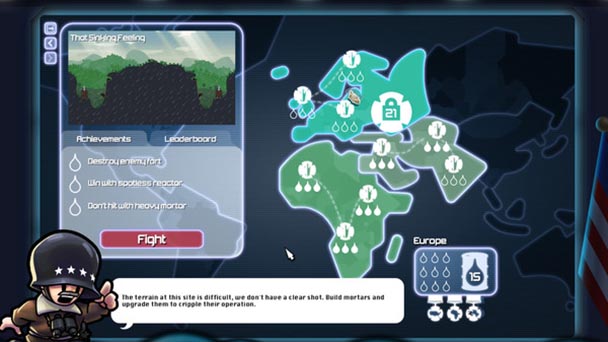 That said, there's still some quirks that developer EarthWork Games needs to iron out. While the single-player game seems like it's going to extend a gentle learning curve, occasionally some stages escalate in difficulty or require a specific strategy that the game isn't very forthright about. At various times of the day and night, the game's multiplayer audience was rather small. As such, lag with global opponents were commonplace. But that said, the option for playing with local opponents demonstrated nuances buried in the single-player game. Here, players can hide troops from other players, waiting for the right time to open hatches and let loose with the hell fire. Alternatively, you can bluff, building what looks like a mighty wall of weapons, intimidating opponents. Occasionally, the game didn't seem to save our progress when we did some work between rounds.
When playing Forts in Skirmish or Multiplayer, the addition of Commanders adds an interesting fight-game like component. After picking from one of the nine different types which range from a construction-assisting architect to tech-boosting Eagle Eye, each starts with a passive ability. When they either absorb or dish out damage, a meter gradually fills and when it's filled, players have the ability to use a tide-turning active ability. For some, Fort's lack of asymmetrical arsenals might be disheartening. Although the integration of Commanders adds a bit of distinction, it's not quite as indulging as having factions with radically different weaponry.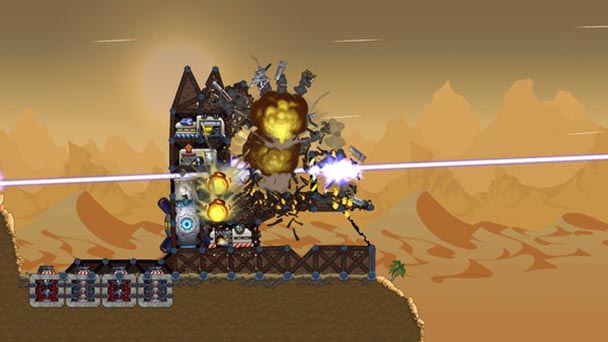 Visually, Forts can be a bit average. While the game's output allows for clear identification of units and structural components, assets tend to reveal the game's independent roots. On the upside, the lack of graphical sophistication allows the game to run exceeding well on a variety of mid-range laptops, enabling an easy multiplayer tournament without much trouble. One caveat is that the game's units can be small, so play and anything less than a fifteen-inch monitor isn't advised. Aurally, the focus is mainly on weapon sounds, which is a commendable decision, as you'll want to be able to heed the call of a reactor's klaxon.
Steam has a multitude of number of artillery-based titles, with Team 17's Worms franchise having no less than nine main iterations. But Forts is something quite special, weaving into real-time strategy and physics-based difficulties into the genre. Considering the depth of the EarthWork Games' offering, with single-, multiplayer (both on and offline), and even a map maker, players who appreciate these tests of tactical prowess will undoubtedly get their money's worth from Forts.
Forts was played on PC with review code provided by the publisher.
Forts
Platform:
 PC
Developer:
EarthWork Games
Publisher:
 EarthWork Games
Release date:
 April 19th, 2017
Launch Price:
 $14.99 via
Steam
Review Overview
Summary : Forts is an ambitious effort, fusing a multitude of different mechanics together. Despite a few minor quirks, it's engaging as well, stirring sessions that reach into the night. A full priced purchase is advised, but to get the most out of it, you might want to wait for a deal on a two-pack. This is the type of game best enjoyed with friends.