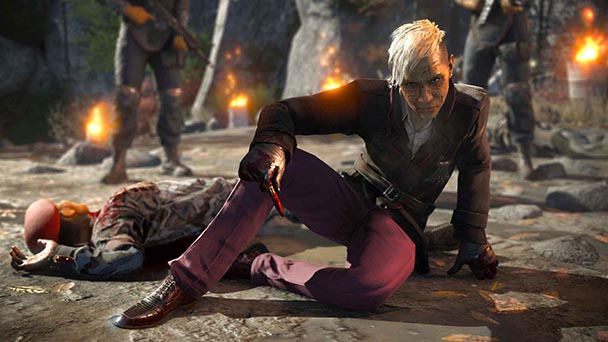 In the East, the amnesiac hero is a pervasive trope, showing up reoccurring in the role-playing genre. As an expositional device, the method can be effective, with the player's gradual discovery of the world mirroring the perspective seen by the main protagonist. But in the West, there's a slightly different approach, with 'the outsider' serving as a prevailing archetype. Here, the main character is aware of their past- only uncertain of exactly how they'll adapt to a completely different set of surroundings.
It's a storytelling technique that has unified each of the four main installments in the Far Cry series. Crytek's inaugural entry transposed U.S. Special Forces operative Jack Carver to an archipelago in the South Pacific while the Ubisoft Montréal-developed follow-up asked players to choose one of nine international mercenaries tasked with quelling a coup between two African factions. Far Cry 3 followed a similar narrative, with Jason Brody plunged into a pirate-infested string of islands situated between the Indian and Pacific Oceans. Unsurprisingly, it's also the set-up behind Far Cry 4, the latest entry in the franchise what extradites players to yet another exotic locale- where they'll have to refine their raw potential in an effort to survive and inevitably surmount a reigning leader.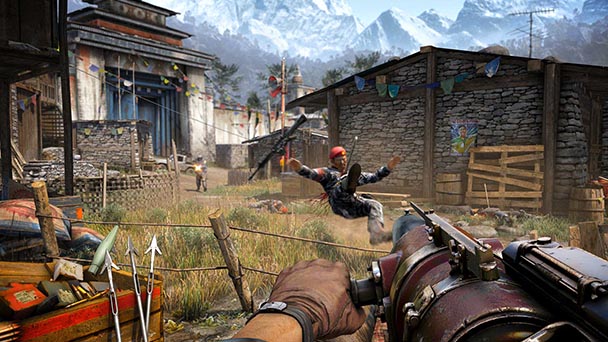 The game's opening cinematic introduces players to Ajay Ghale, a protagonist returning to his birthplace, the country of Kyrat, honoring a wish to scatter his mother's ashes. Between an overheard voicemail left by a bureaucrat at an American embassy and the ubiquity of armed guards, political instability coats the sequence, much like how snow blankets the game's Himalayan backdrop. At an inspection point, volatility ensues, and a number of innocent people are gunned down, before the game's heavy, Pagan Min, offers an ostentatious entrance via helicopter.
Ubi Montréal prodigiously frames the scene, offering a captivating combination of adept voice work, realistic motion capture, and convincing character models. But while the technology behind the preface is adept, the set-up feels a bit too similar to Far Cry 3's introduction. Like Vaas Montenegro, Pagan Min is a mesmerizing character- a dictator teaming with contradiction and rendered with just enough unpredictability to ensure players hang on every cinematic and Handsome Jack-like message. And while Min's personality is fascinating, with mix of obedient manners and over-the-top mayhem that complements the game's tone, in execution it recycles the same twisted pathos explored in the last game.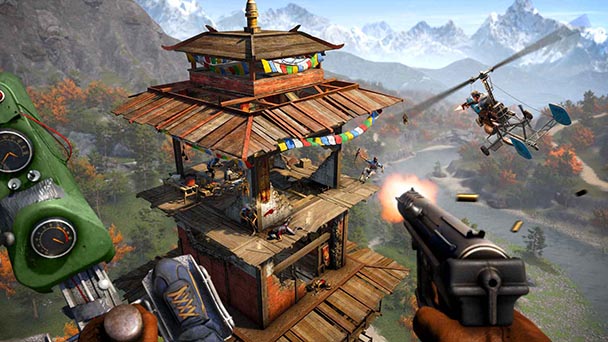 Look past the similarity between antagonists, and Fry Cry 4 does extend other narrative-based niceties. Interaction with NPCs begins filling in the details of Ajay's father as well as explaining the reasons behind his mother's last request. Soon, ancestral allegiances draw players toward The Golden Path, a resistance movement focused on dismantling Min's control of the country. On a basic level, this equates to missions which gradually ebb away at the dictator's command, such as reclaiming propaganda towers or liberating military outposts and palaces.
Like its predecessor, Far Cry 4 excels at offering the players a myriad of takeover methods. Those who prefer a clandestine approach was perform reconnaissance, using the in-game camera to locate and tag foes, covertly lowering the guard population. Alternatively, gamers who appreciate an adrenaline-pumping run-and-gun approach can storm the compound. Given the adaptability of Far Cry 4's AI, players can even change approaches on the fly, and watch the enemies abandon their investigative patrols to flank the player. Although they obey to line-of-sight rules and can hear a running protagonist, they are rarely so shrewd that the player doesn't feel like a perpetual bad ass. Regretfully, aptitude in battle doesn't extend to any computer-controlled allies that can be hired via in-game tokens. Too often, your CPU comrades rush in recklessly, taking out a few foes before perishing. Instead, players who want assistance on a mission are urged to use the drop in/out cooperative component, which exponentially escalates the title's level of contenting chaos.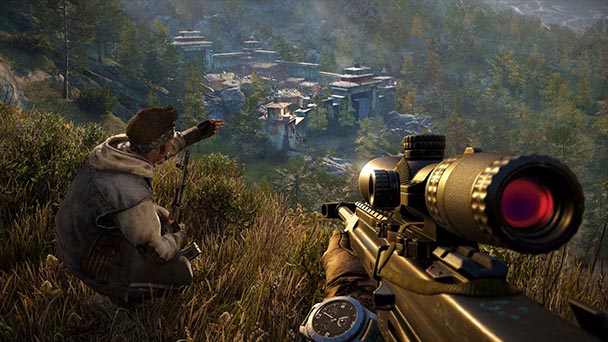 Adeptly, combat against armed foes is one part of Ajay's journey, with collection, crafting, and hunting contributing to the campaign's fifteen to twenty-hour playtime. Like its predecessor, players will be using flora and fauna to improve the capacity of their arsenal, crafting med kits from combinations of indigenous plants and increasing their carry limits by constructing slings from multiple animal skins. Like Skyrim, the level of autonomy is intoxicating, with players able to impulsively follow pursuits as they spring up and easily get back on task when provocation beckons.
Pleasingly, when players want direction, Far Cry 4 contentedly obliges giving gamers two divergent leaders to align themselves with. Sabal is a traditionalist who values human life, committed to returning Kyrat to its time-honored roots. Conversely, Amita is a pragmatist and has little problem funding the war efforts with drug money as long as the outcome increases equality. And while the discord could feel dubious with less skilled scribes, the game's writers do a compensable job at creating a complex ethical quandary. Save for the felling that the future of Kyrat hinges on your decisions, Far Cry 4 demonstrates both a skillful balance as well as the ability to make you second guess you decisions. Know that whichever path you follow, regret is predestined.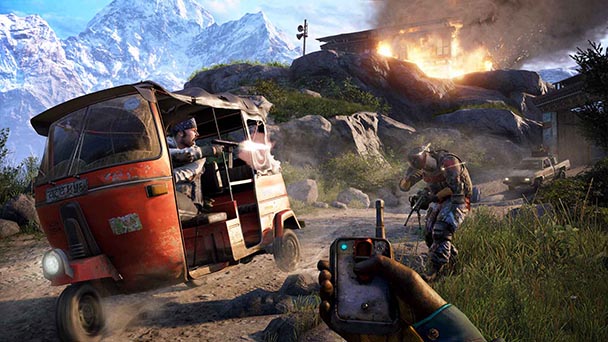 One the decisive elements for any open-word shooter is the quality of its arsenal. Agreeably, Far Cry 4's weapons and vehicles are thoroughly entertaining. A common quandary with many games that that gun feels nerfed, taking multiple blasts to incapacitate an enemy. Here, each pistol, rifle, shotgun, launcher, bow, and flame thrower is undeniably lethal, quickly downing most obstinate foes (animals seem to be the sole outlier, with multiple shots typically needed to halt a charging creature). Likewise, the game's assortment of transportational equipment allows players to quickly cut across expanses of land, sea, and air with ease and enjoyment. Far Cry 4's one notable addition is the inclusion of autodrive, with a click of the left stick telling the CPU to chase a waypoint, leaving the player able to shoot any meddling militia. Although a few pedestrians become vehicular fodder, expect to see automatic driving integrated in future open-world titles.
Beyond the core campaign, Far Cry 4 also extends a multiplayer component that pits the contemporary weaponry of The Golden Path and the traditional arsenal of the Rhakshasa. While it would seem that the rebels have an obvious upper hand, in execution the competitive matches recall the divergent factions of Splinter Cell's Spies vs. Mercs, with the opposition having the ability summon animals to supplement their loadout of bows and ability-enhancing herbs. Although matches are enjoyable, it's evident that Fry Cry 4's gameplay was designed for single-player, and then shoehorned into a multiplayer endeavor. While certainly enjoyable, bouts aren't quite as fun as titles developed around competitive contests. More praiseworthy is the inclusion of Far Cry 4's map editor, which gives gamers an indulgent amount of flexibility to build their own skirmish spots. Anyone familiar with the construction module of a game like LittleBigPlanet Karting will feel at home with the impressive toolset handed to players.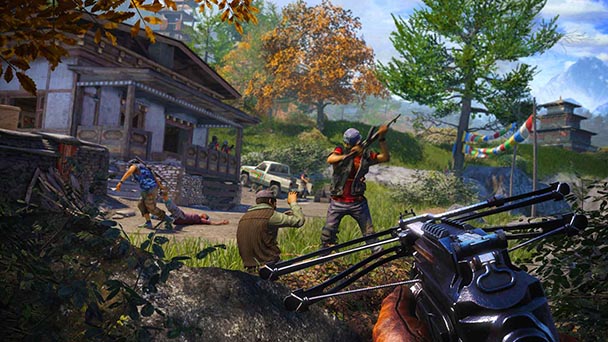 Whether players are tossing a bit of bait in hopes of luring an animal in the middle of an ensuing fracas or exploring the ethereal expanses of Shangri-La, Far Cry 4 offers a cornucopia of compelling objectives. Like its predecessor, enjoyment stems from the autonomy afforded to players, with Ubi Montréal extending a massive playground that's a near-perfect catalyst for combat, climbing, crafting, and conflagration.
Far Cry 4 was played on the PlayStation 4 with review code provided by the publisher.
Far Cry 4
Platform: PS3, PS4, Xbox 360, Xbox One, PC
Developer: Ubisoft Montréal
Publisher: Ubisoft
Release date: November 18th, 2014
Price: $59.99 retail and digital
ESRB: Mature


Far Cry 4 review
Review Overview
Gameplay - 90%
Story - 85%
Aesthetics - 90%
Content - 90%
Accessibility - 85%
88
88%
Very Good
Summary : Whether producing mayhem atop a wrathful pachyderm or planning the takeover of a regal palace, Far Cry 4 does an amazing job of reproducing the spectacle on a linear shooter, while removing a bulk of the limitations.

User Rating:

4.15 ( 4 votes)