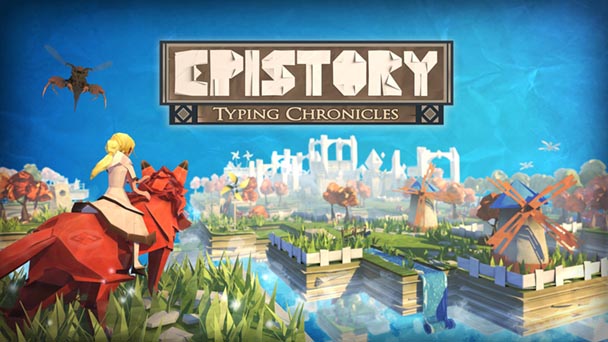 Confrontation in games takes many forms. Fighting games require the ability to predict an opponent's next move, instantly responding with a fury of quarter-circle gyrations and successions of complex button presses. While role-playing games often don't have the burden of real-time controller manipulation, they frequently require the judicious dispensing of HP-rejuvenating potions and mana-based spells, where survival demands a meticulous management strategy.
Conflict in Epistory – Typing Chronicles adopts a more atypical approach. As the title implies, players are tasked with tapping out word combination in an effort to battle hostile beasts. While this methodology might sound familiar to anyone who has played The Typing of the Dead: Overkill or Typer Shark! Deluxe, Epistory take a more relaxed style, blending bits of frantic combat with passages of tranquil exploration. While the dialectical design decision might seem unnatural, in execution the technique proves effective, permitting Typing Chronicles to be enjoyed over protracted play periods.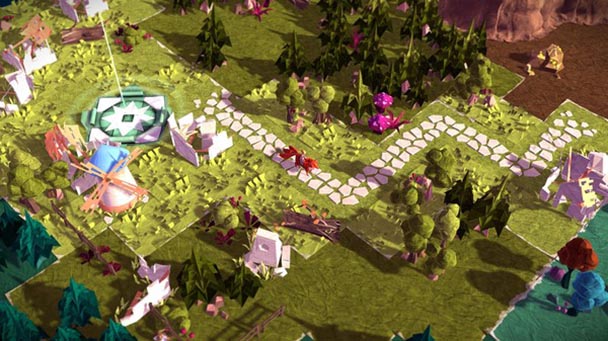 Epistory's narrative approach is metaphorical, detailing the story of a young girl who rides atop a hulking three-tailed fox. Gradually, the game's world begins to materialize around her, symbolizing an author's construction of a fictional sphere as environmental details and conflicts gradually emerge around you. Progression of the game's plotline is a bit fluid, with players able to trigger bits of narration as they move around parts of the map, recalling Bastion's innovative system of storytelling. But here the tale is more ambiguously told, which might irk some players hoping for explicit exposition. Instead, the writing has a poetic quality, endowing Typing Chronicles with a dream-like ambiance.
The sense of atmosphere is also supported by the game's visuals, which extend a realm constructed entirely of origami. When stationary, the recreation of folded papercraft is undeniably impressive, but when swaths of trees or plains all move as once, Epistory comes alive. The effect is especially notable when outdoor environments bestow deep draw distances, as interiors have a limited sense of scope.  Pleasingly, the title offers visual scalability, so those with formidable GPUs should head into the options menu to maximize the resolution and level of graphical detail. Cranked up to the 'beautiful' setting truly lives up to the descriptor, with players able to observe every tiny crinkle and a depth-of-field effect which makes it seeming like your spying on an imaginative, miniature world.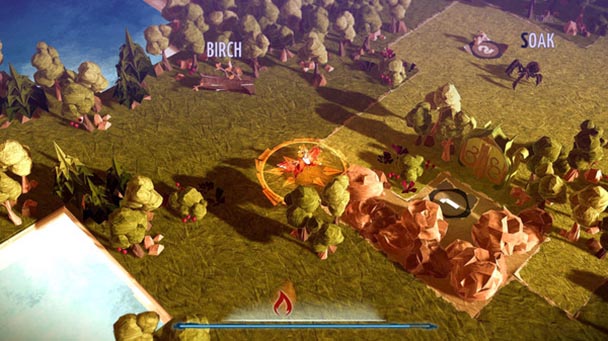 Certainty, you'll be able to enjoy the multitude of milieus as you reconnoiter the scenery in hopes of gathering resources. Collecting materials that are speckled across the landscape is performed by pressing the space bar to activate typing mode, then keying in the word that appears above each artifact or obstruction. Once typed in, resources are automatically collected, contributing to a pool of upgrade points. Here, you can invest in a growing tech-tree of enhancements that do everything from increase the walking speed of your fox, reveal points of interest, or even augment your combative abilities.
While the lone roaming monster offers just enough menace to keep the proceedings from becoming too placid, sporadically players will face an assault of antagonists. Unlike the multi-syllabic descriptors of environmental elements, lower foes extend short descriptors, compelling gamers to type in a procession of words before they're defeated. Another nuance in the integration of four types of elemental attacks, which compel players to prioritize, when multiple foes encroach. One example: fire attacks deliver residual damage so the prudent approach it to set each one ablaze early on, letting them singe and hopefully surrender before they reach you. Concluding bosses are a bit trickier, requiring players to type in elongated nouns that probably aren't part of your everyday vernacular.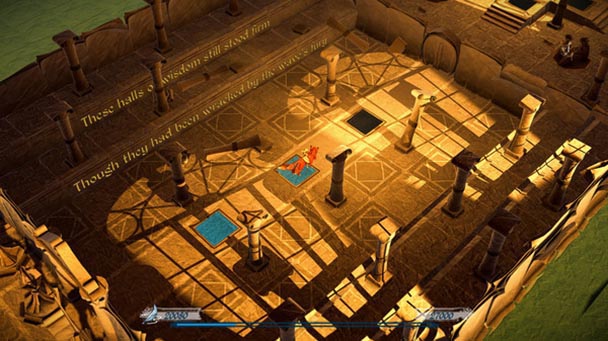 If a single enemy touches girl and fox, progress in paused, and players must begin the sequence anew. Fortunately, for anyone with even average typing skills, most encounters aren't too difficult, as Epistory imposes no punishment for typos. Likewise, puzzles are relatively informal, with the occasional sequence activation or tile-moving riddle barely slowing the pace of most players.
Epistory – Typing Chronicles' battle system might not be for everybody. It's hard to imagine someone who spends a long workday in front of a keyboard going home to type- attack adversaries. But for those who don't peer at a monitor all day, the game's sense of exploration and visual sumptuousness are likely to prove enthralling. Like the old adage about the pen and the sword, the title substantiates the power of words- along with the virtue of imagination.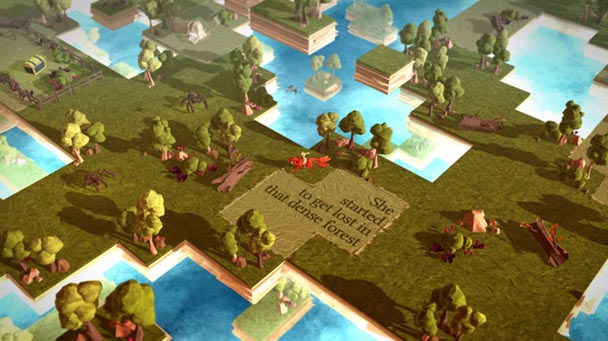 Epistory – Typing Chronicles was played on PC with review code provided by the publisher.
Epistory – Typing Chronicles'
Platform:
 PC
Developer:
 Fishing Cactus
Publisher:
 Fishing Cactus, Plug In Digital
Release Date:
 March 30th, 2016
Price:
$14.99 via
Steam
Review Overview
Summary : Not only is Epistory - Typing Chronicles' twelve hour trek enjoyable, but it's poised to improve your typing speed and spelling prowess. As such, this is as pleasurable as edutainment gets.