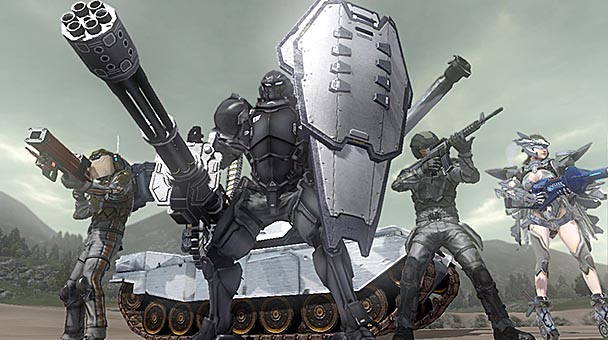 Robert's Take: First introduced in Japan in 1998, D3 Publisher's Simple series of budget-priced games has become a modest phenomenon. With an assortment of nearly four hundred titles spread across ten different hardware platforms, the concept asked developers to utilize smaller budgets and condense development cycles in an effort to produce an inexpensive product. Woefully, stateside gamers only saw a small fraction of this frugally minded output- mainly localizations for Agetec's A1 line of games, the OneChanbara franchise, and the shining star of the Simple series- the wonderfully goofy Earth Defense Force franchise. EDF's success on this side of the Pacific resulted in North Carolina-based Vicious Cycle Software being assigned development duties for 2011's Earth Defense Force: Insect Armageddon. While this sequel captured much of the B-movie charm of the series, bug blasting devotees were able to detect a change in creative forces. Recent PlayStation 3 and Xbox 360 release Earth Defense Force 2025 returns production responsibilities to the team at Sandlot. Delightfully, the developers have delivered a game which truly delivers on EDF's tantalizing premise while supplying an expected dose of impish camp.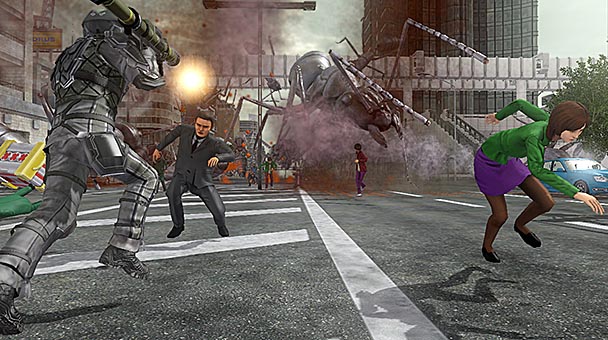 The Simple series habitually shirks storyline in favor of undiluted gameplay; 2025 is no exception. Players are tasked with defeating a persistent procession of ants, spiders, bees, and robots whose distressing quantities, menacing appearance, and inhuman gait offers more than enough visual information to establish malicious intent. Further context is composed through in-mission voice over, with the EDF personnel delivering a mix of military chatter and comical quips. Meanwhile, the cacophony of survivor shrieks and oft-amusing laments ensures that players can't take the Ravager invasion too seriously. Earth Defense Force recruitment efforts have rarely relied on the franchise's technical prowess. Instead, the series' core virtue can be found in the lively arsenal of character classes and myriad of weapons provided to players. 2025's newcomers are advised to start the eighty-five stage campaign with the Ranger class. Initially outfitted with a machine gun and rocket launcher, these are your all-purpose soldiers, balancing an offensive punch with respectable mobility. Able to traverse the terror-filled skies, Wing Divers are the game's nimblest units, but are forced to distribute energy between their jet packs and weapons systems. Encumbered Fencers take a tank-like approach, sacrificing mobility for the ability to carry an extra offensive punch as well as a shield. Rounding out the classes is the Air Raider, who leans toward a support role, calling in health regeneration fields, vehicles, as well as powerful artillery strikes.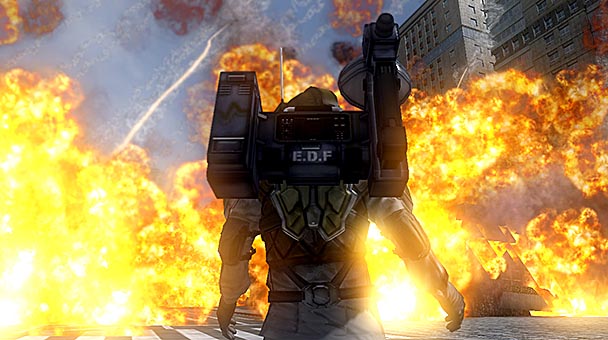 In theory, the game's classes should complement each other, forming an ecosystem where burly Rangers and Fencers keep watch as precarious Wind Divers and Air Raiders dart around to deal damage. Yet in execution, team coordination proved unusual, stifled by the large discrepancy in speed between units and the game's inclusion of friendly-fire. Most often, my online team whittled away at foes from detached zones- a practice which seemed to benefit the title's persistently precarious framerate. This was especially apparent during EDF 2025's split-screen multiplayer sessions. While the inclusion of the mode is appreciated, evading the snapping mandibles of giant ants can be especially difficult when refresh rates vary widely. Much like its predecessors, it is easy forgive Earth Defense Force 2025's performance problems since the game supplies players with such a humungous array of hyperbolic weaponry. With roughly 175 unique armaments for each class, the incentive to push forward rarely wanes; EDF continually rewards progress with new and increasingly powerful antagonistic annihilating hardware.  This decision is further bolstered by 2025's decision to bind the quality of loot drops to difficulty level, encouraging gamers to replay previously stages in hopes of earning some awe-inspiring piece of tech like a lightning gun or bright blue tactical nuke.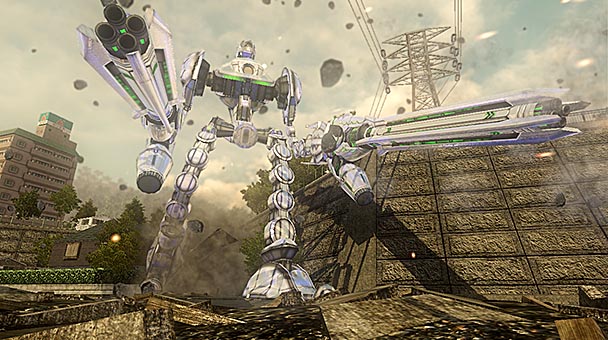 2025's shooting model shuns pedantic precision, finding gratification in the Havok-powered ragdoll animation of dying enemies. While hit detection is often be suspect leveling an insect-besieged building with a single rocket hit doesn't get old. Initial stages of the game's campaign tread familiar territory, with players confronting hordes of heated opponents, but later levels gradually reveal many of the game's new adversaries- such as a giant dragon which help distinguish 2025 from its predecessors. Earth Defense Force 2025 draws inspiration from a nearly bygone era, when gameplay ruled over grand narrative. As such, before enlisting in the EDF army, players should know that the title is like an interactive tokusatsu, with lower production values balanced against primal action. While the game's $49.99 MSRP doesn't quite honor its Simple series heritage, for obsessive-minded single players or those who crave cooperative bug-hunting, 2025 establishes the franchise's new highpoint.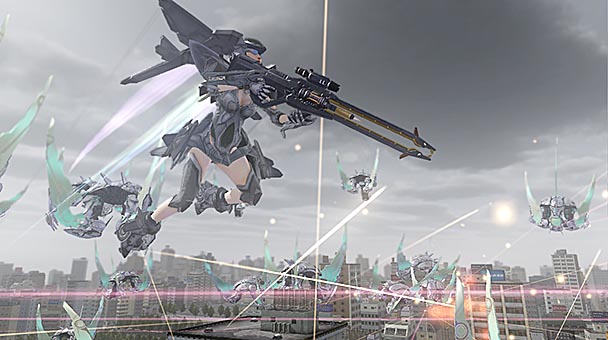 Review Overview
Summary : If you take pleasure in blasting legions of angry insects and robots, Earth Defense Force 2025 might just be the ultimate catharsis.