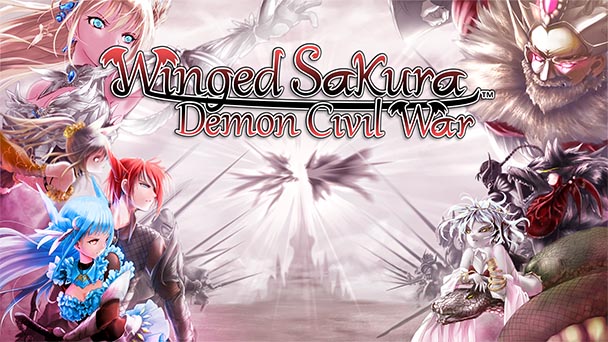 Last year's Winged Sakura: Mindy's Arc blended visual novel exposition and tower defense mechanics, forming an appealing blend of genres. With the release of Winged Sakura: Demon Civil War, the eponymous studio has created a more customary concoction by marrying static dialog screens with dungeon crawling. The result is a game that extends a multitude of menu fiddling, making this follow-up seem a bit flat. That said, fans of attractive anime-inspirited art and traditional turn-based battles might be able to look past the Civil War's constrained ambitions to find a humble Wizardry wannabe.
Initially the game's storyline seems disorienting, as everyone seems to know what's going on save for the player/protagonist. But soon you'll realize that developer Winged Sakura is crafting a sense of confusion as a plot device, nurturing interest as players strain to comprehend what's going on. Stick with it and you'll discover that the game's moniker is referring to an escalating conflict between power-hungry demons known as Pandemoniums and the insurgents who rather sensibly refer to themselves the Rebellions.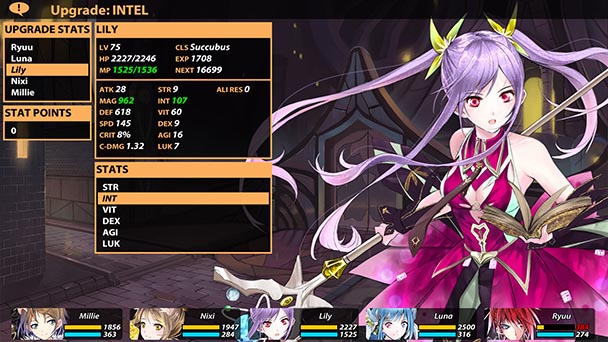 When a wandering group of mutineers explore a tower, they stumble across the lead undergoing an incarnation ritual. Essentially, the act converts reborn beings into Masters, allowing them to build temporary or permanent bonds with a multitude of servants. Thus forms Demon Civil War's impetus as players form contracts with allies, all in effort to grow strong enough to confront the Pandemoniums. While characterization is competent and the lore is certainly interesting (if slightly derivative, recalling Conception II: Children of the Seven Stars' classmating), the titular civil war rarely feels appropriately epic. Instead, the game adopts a more personal tone, which isn't bad per se, but doesn't quite make good on the ambition signaled by the title.
When players delve into the game's dungeons they'll find the emphasis is decidedly on combat. Each floor consists of the same four by four grid of rooms, allowing players to move freely to any adjacent areas. Interior investigations are depicted by a slightly disoriented sweep of the room that resembles the players doing a spin in the center, with the rotation sporadically culminating in a trap, treasure, or an enemy encounter. If you're accustomed to the type of movement in dungeon crawlers like Legend of Grimrock or even Ray Gigant, the in-room revolution will feel strange, as it seems like the Rebellion party is doing pirouettes. But much like other of the game's components, it's probably much easier to program a single horizontal scroll that to render a three-dimensional interior.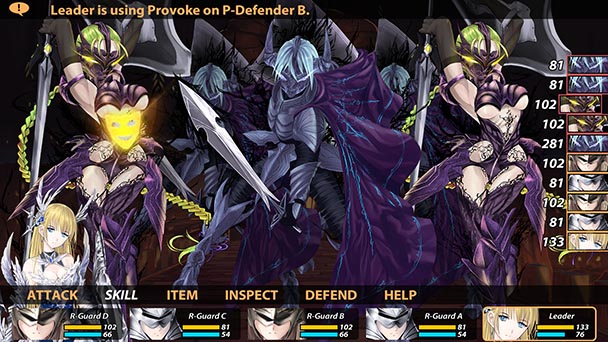 When you do encounter hostiles, a turn-order indicator appears on the right side of the screen, revealing the sequence used by allies and enemies. Following role-playing custom, all the typical options are available to players, offering the ability to attack, use spells, items, or even escape from the encounter. Pleasingly, players can use either a mouse and keyboard or controller to issue orders, with both systems functioning adeptly. Given the game's four difficulty settings combat can be as arduous or easy as you desire, with the higher tiers challenging players to protect healers and utilize the full repertoire of their heavy hitters.
Soon enough, sound strategy won't be enough to overcome opponents, with stat and skill notifications reminding players to augment their allies. This is the area where Demon Civil War excels, with players able to pour (and redistribute) points into six attributes and a healthy array of upgradable skills. Across all challenge levels, balance is needed, with lopsided characters eventually succumbing to adversity. On the upside, Demon Civil War's campaign doesn't have many difficulty spikes, allowing for enjoyment without much frustration.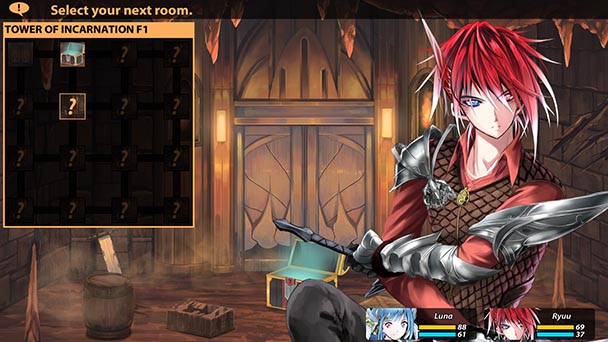 Aesthetically, the title favors quality over quantity. The game's irrefutable high point is character art, which bestows screen-size renditions of both allies and antagonists. Seemingly, the studio has hired a new artist, with portraits that are considerably improved over Mindy's Arc. But the number of assets are restrained, so expect to see the same monsters and dungeon wall textures as you work to build up your party. Largely, that's the same situation with Demon Civil War's sonic output. What's there is charming melodic, but by the time players reach the end of the adventure, they'll likely gave grown tired of the tracklist. Unsurprisingly, the game lack's voice work, which would have made for a gratifying addition.
While Winged Sakura: Demon Civil War delivers dramatic screenshots, in execution the game isn't as visually diverse as players might expect. Both simplified mechanics and asset recycling dampen an otherwise competent role-playing experience. Likely players will be able to find enjoyment in the journey, but don't be surprised if you leave wishing Winged Sakura had larger ambitions.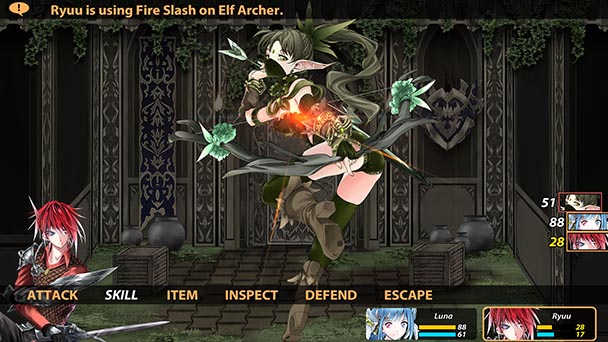 Winged Sakura: Demon Civil War was played on the PC with review code provided by the publisher.
Winged Sakura: Demon Civil War
Platform:
PC

Developer:
 Winged Sakura
Publisher:
 Winged Sakura
Release date:
 December 8th, 2016
Price:
 $9.99 via
Steam
Review Overview
Summary : More of a dungeon scroll that a true crawl, Winged Sakura: Demon Civil War feels constrained by its budget. There's little doubt that the developer has the capability to make a memorable role-playing experience, but this is a war destined to be neglected.