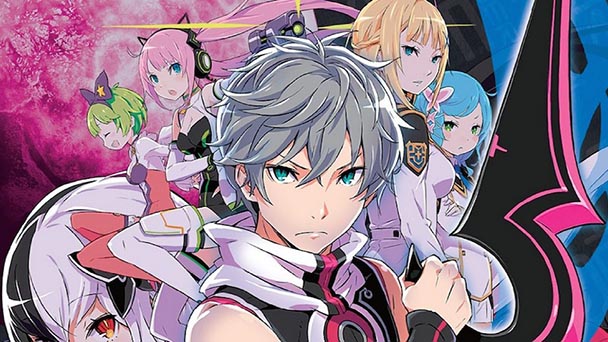 I once had a psychology professor who claimed that self-preservation was the stimulus behind almost all human action. According to the instructor, a person's desire to own a spacious house wasn't just motivated by conspicuous consumption- a bulky estate presumably offers better protection against any would-be invaders. Likewise, self-enrichment isn't always fueled by actualization- instead we improve ourselves in an effort to secure a wider selection of potential mates at the gene pool. Undoubtedly, my professor would have appreciated many of the perspectives which propel Conception II: Children of the Seven Stars, a recent release for the PS Vita and Nintendo 3DS.
As sequel to 2012's Japan-exclusive PSP title, Conception: Ore no Kodomo o Undekure! (roughly translated to "Please Give Birth to My Child!") the title thrusts players into the role of an affable, teenaged protagonist. After choosing either the default name or selecting from an assortment of randomized monikers, gamers are ushered into an enrollment at the Aterra Academy. No ordinary secondary school, the academy's body is made up entirely of students who have grown a distinct marking on their skin. After a cursory examination by the school's head priest, the protagonist and two acquaintances undergo additional testing to gauge the potential of their powers.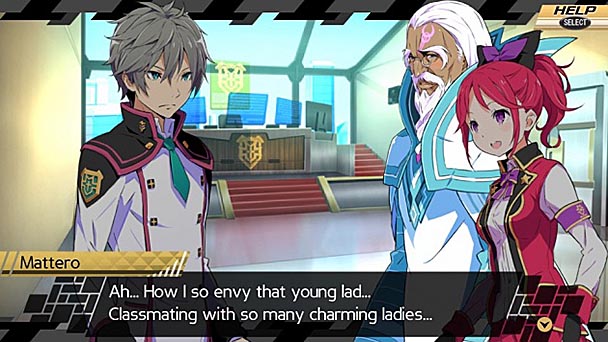 While both friends score high enough to put them near the top of the academy's militaristic echelons, the protagonist reveals an extraordinary high Ether count, thereby earning the nickname of "God's Gift". Able to generate sustaining fields around him, the character becomes crucial in Aterra's battle against seven monster-spewing Dusk Circles which have recently opened. While the 'chosen hero' trope is pervasive in the role-playing genre, Conception II wisely places the fate of humanity in the backdrop- instead focusing on the impish escapades of the player and accompanying characters. Specifically, this means bonding with seven females at the academy in order to conceive Star Children- adorable chibi-stylized offspring who lend an assortment of talents in the fight to raze the Dusk Circles.
Puckishly referred to as Classmating, the protagonist's potential partners cover the conventional manga/anime/game archetypes. There's Serena, a diminutive, third-year student who can bring the pain with her Kick Gun legwear and Narika, a reserved class vice-representative armed with a formidable crossbow. Chloe is an older sister of one of your friends, with a maturity and poise which led to her earning a position as an academy instructor. Adeptly, the game's cast quickly transcends these stereotypes, with each of the seven women extended a stimulating and often poignant backstory. As such, it's hard not to care for each for each character, elevating Children of the Seven Stars above the often insubstantial harem-based title. What's more, players can potentially learn the personal history of each character without the tedium of having to play the game multiple times.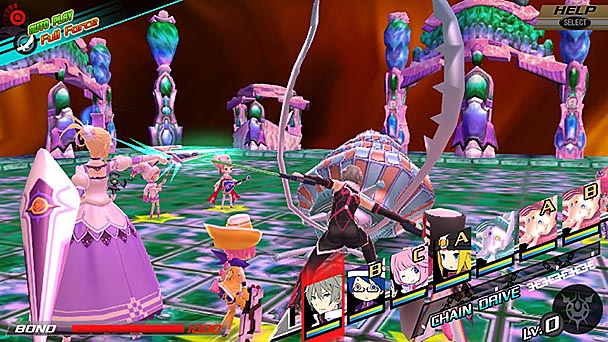 Pleasantly, the Classmating process is exhibited in a fairly tasteful manner, with a neon-hued hand- holding sequence resulting in babies born in various types of Matryoshka dolls. That's not to say that Conception II is a bland affair- it's just not excessively bawdry. Instead, the game offers a spirited, comical approach to propagation- with elements such as an older priest who is envious of God's Gift's undertakings or a younger brother who gives his consent to Classmate with his sibling. Most should find Conception II's dialog tenaciously charming and playful- a number of times I had to stifle a laugh due to playing in public spaces.
Naturally, Classmating isn't assumed; much like Persona 3 and 4's Social Link mechanics, players will have to socialize, date, accompany, and engage in a bit of gift-giving to establish rapport with their prospective partners. Players start the game with a trio of heart points which permit up to three social interactions with any of Conception II's heroines, with additional points earned by either resting in the Academy's dorms or after skulking through one of the game's Dusk Circles. Mercifully, events aren't positioned against a dwindling time clock, keeping the level of player anxiety at a minimum.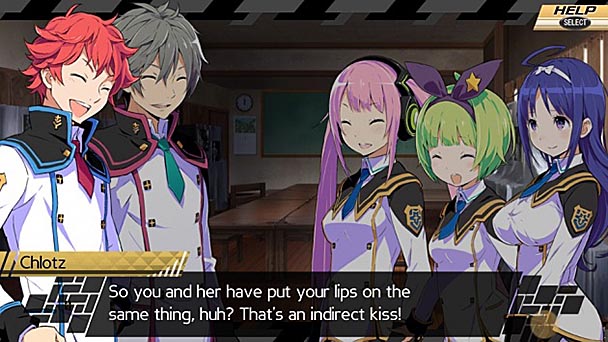 Dialog choices typically come in sets of threes, with considerate responses balanced by the occasional temptation of insolence. Unsurprisingly, attentiveness pays dividends, so understanding the background and motivations of each colleague becomes an imperative tactic for those seeking to make their family tree flourish with descendants. In an effort to keep the game moving, conversations are intermittently truncated- which can sully the illusion of forming a relationship. Along those same lines, Conception II doesn't do enough to promote a feeling of patriarchal warmth.
While your Star Children lovingly refer to you as 'Daddy', there's doesn't seem to be enough interaction with them outside of the Dusk Circles to cultivate a sense of family pride. That's not to say that raising a brood of Star babies isn't fun, but expect a bit of the absentee salaryman guilt. In essence, conceiving offspring taps into the same primal desires which fuel the Pokémon franchise, allowing players to father up to ninety simultaneous offspring. Witnessing the birth of a child (replete with congratulatory song) remains perpetually endearing- as is the joy of selecting your ancestor's vocational pursuit from a selection of role-playing fixtures such as Cleric, Magicians, Smiths, Archers, and Swordwielders. Understandably, your choice has a profound effect on combat- diversity might be the safe choice, but having a trio of three homogenous unit can provide a formidable force in battle.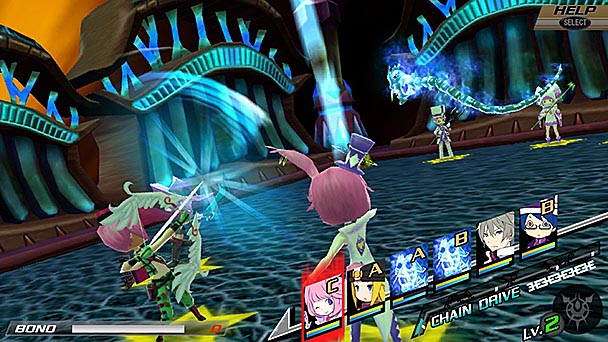 Conception II's conflicts take place across a series of seven Dusk Circles as well as a number of supplemental labyrinths ideal for side-quests. Although these nondescript procedurally-generated environments are no match for pre-design dungeons, the rooms and halls provide the essentials of exploration- complete with plenty of scattered treasure, monsters, and staircases which ultimately lead to a final boss. Pleasantly, these spaces are free of random encounters, and even allow parties to automatically defeat lesser enemies ala Earthbound.
Prowling these dungeons is a family affair- with father, mother, and a triad of trios in tow. Children of the Seven Stars' combat mechanics are rooted in the directionality of units, allowing characters to either attack a weak point for additional damage or strike from a vulnerable position to increase your chain meter. The benefit of the latter permits players to attack with their entire family, uprooting the traditional sequence of turn taking. Enjoyably, your children can even form up Voltron-style to issue potent collective attacks. I'd expect nothing less from my offspring.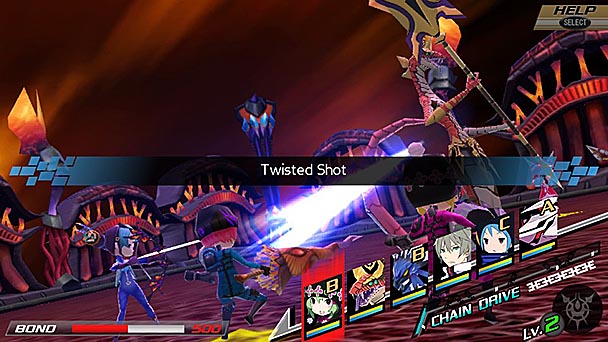 Visually, the game's portrait art and short animated sequences are skillful, each exhibiting the nuances of skillful character design. During dialog, Conception II's cast comes alive with subtle animations, which reveal the anxious breathing of a character or even a bit of bosom jiggle. Unfortunately, when it comes to dungeon crawling, the polygonal model lose a bit of their detail. Sonically, Children of the Seven Stars loses a few points for not providing an option for Japanese voice acting- instead players will have to tolerate a dub of varying quality. Specially, the performances offered by a number of voice actresses don't match the personality of the character they are portraying.
Combining components of the visual novel, dating simulation, and dungeon crawler, Conception II: Children of the Seven Stars is a wonderfully unique experience and shouldn't be missed by any player who enjoys unconventional titles. Although it may take an hour or two before gamers understand the combat system and appreciate the game's addictive cycle of bonding, breeding, and battling, once this initial obstacle is past, a thoroughly engaging thirty-five to forty-hour adventure awaits. With any luck, many of Conception II's involving mechanics will be based on a prospective successor.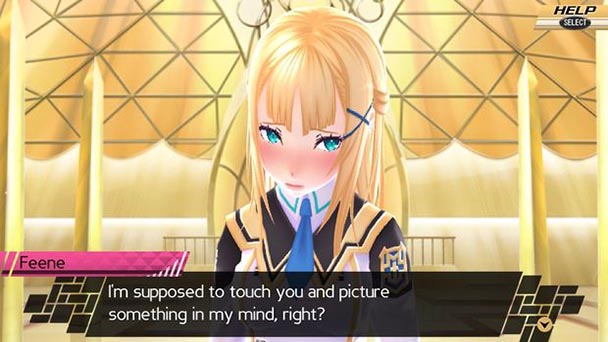 Conception II: Children of the Seven Stars was played on the PS Vita with review code provided by the publisher.
Review Overview
Summary : The concept of creating babies with a cast of lolis might seem a bit odd, but Conception II: Children of the Seven Stars handles the premise with poise, polish and a plethora of double entendres.