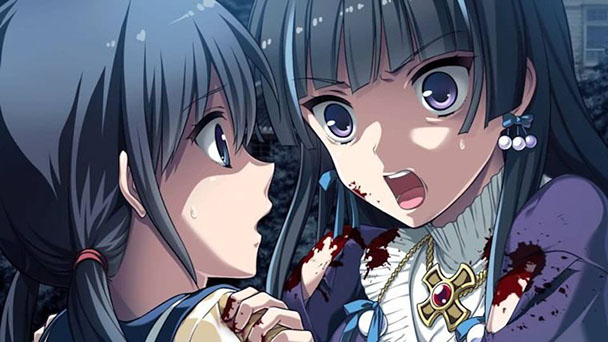 Most game franchises follow a path of consistency, with follow-ups that obediently adhere to formula. But that's rarely been the case with Team GrisGris' Corpse Party series. The inaugural title in the West, 2006's Corpse Party, blended exploration-based survival horror and light role-playing elements. Players witnessed a seemingly innocuous friendship ritual turn into a rite that sent the game's cast into a dreadful alternate dimension.
Corpse Party: Book of Shadows followed in 2011, offering two chapters that continued the story of the ghoulish goings-on at Heavenly Host Elementary School. But curiously, the game's remaining segments presented a 'what-if' scenario as the game adopted a blend of point-and-click as well as visual novel-like qualities. Then, there's the Corpse Party: Sweet Sachiko's Hysteric Birthday Bash, an eccentric spin-off that inserted a bit of dark humor into the franchise's grisly occurrences.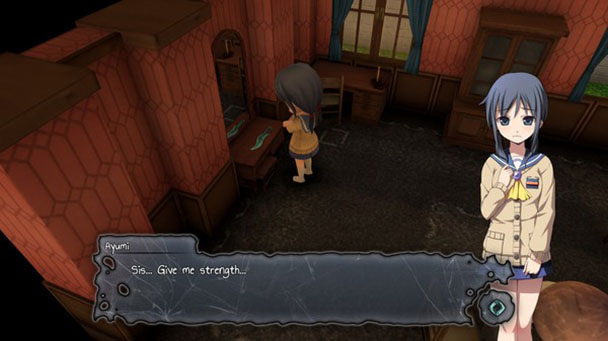 For Corpse Party: Blood Drive, GrisGris varies their approach once more. In many ways, the game recalls some of the accomplishments of the first title, albeit with a visual delivery that uses polygonal characters instead of 16-bit-era sprites. While it's still not as much of a success as the original Corpse Party, it will undoubtedly delight fans of the gruesome series. But just make sure you've played the original game, and possibly Book of Shadows first. Familiarity with surviving characters, and especially the departed, will amplify your appreciation for the game's storyline and events.
Blood Drive takes place two months after the events of the original Corpse Party. Devastated by the events which not only lead to her friends' death but also their disappearance from collective memory, protagonist Ayumi Shinozaki is overcome with guilt.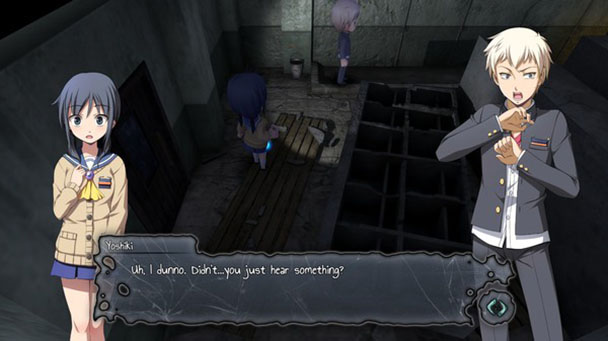 But like any reputable horror property, there needs to be a very compelling impetus for delving back into this hellish underworld. After all, you'd think the class representative would have learned a lesson or two about tampering with the occult. But the prospect of bring back her departed friends and restoring things is the only way Ayumi can free herself from torment.
Expectedly, she's not the only one suffering from anguish, and soon a cast of returning and new characters are back at Heavenly Host, concerned that the sadistic Sachiko might still be around. It's here that Blood Drive doesn't match the exposition distinction set by its predecessor. Corpse Party fashioned some intriguing set-ups from what initially seemed like traditional tropes. Watching catastrophic events bring several characters together was one of the game's understated achievements.
Here, you won't find the same level of satisfaction- especially with some of the new characters. Not only do they not challenge archetype enough, but their relations aren't as appealing. Another issue is that when problems arise, they're sporadically solved too quickly, undermining a sense of tension. On the upside, there's a wealth of storytelling here, making Blood Drive much longer than the original game. Another asset is the quality of the localization. While there are fewer meme-worthy references (and what can top the "butter up my pooper" line?), the title delivers a solid translation.
In many ways, Heavenly Host has been the series' ersatz character, gradually revealing bits of its own backstory. Here, the school continues to decay, which is reflected in Blood Drive's explorational elements. It's dark, of course, but you've provided with a flashlight and a limited number of batteries to assist with navigation. Navigation on the original release of Blood Drive was an issue, with the use of Unity on the PlayStation Vita dispensing frequent slowdown.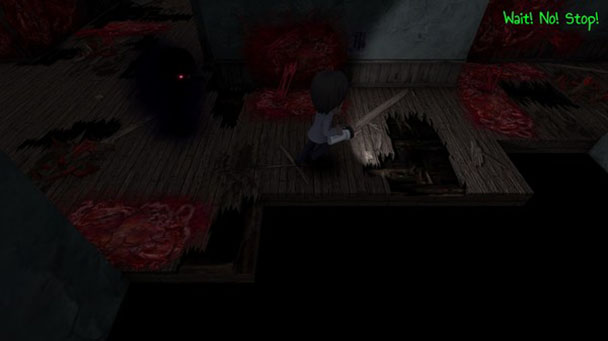 With this PC iteration, that's all been eliminated of course, making directing a character though traps filled areas an easier experience. Blood Drive's biggest change is the incorporation of three-dimensional chibi avatars, which replaced the sprite-based delivery of the first game. While some might encounter dissonance when cute looking characters undergo horrific trauma, other might feel the opposite. Early on, Ayumi repeatedly stabs herself with scissors in an act of guilt-filled self-harm. I'm not sure that I'd want to endure than with near-photorealistic characters.
That said, if you play Blood Drive with a set of headphones and you'll realize that game's scares are impeccably intense. Blood-curdling screams, crunches of shattered bones, and squishes of entrails are all captured in binaural audio. There's a lot of other horror series that try to deliver visual representation of splattered viscera, but there's something quite unnerving about hearing the sound of it all, permitting your imagination to run wild.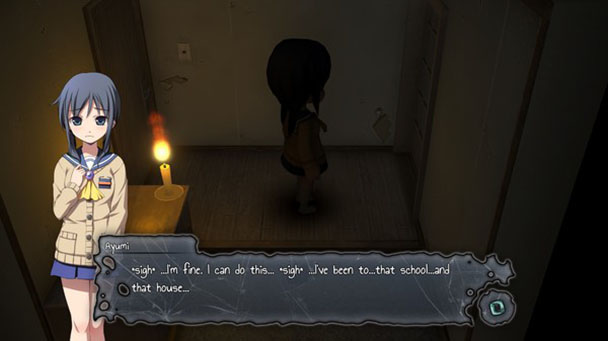 But despite these merits, Blood Drive can feel rather antiquated at times. Respectable horror games generate a sense of panic in players. But all off often, the sensation wafts into frustration. A significant amount of time in the game is spent running away from spirits and creatures. But with a hiding system that's occasionally unresponsive, a punishing fatigue system, and traps all around, the game sporadically errs on the side of annoyance. Perseverance will get you through these sections, but you won't always be enjoying the process.
Despite the presence of an in-game encyclopedia that attempts to summarize the content of previous games, Blood Drive needs to be played only after experiencing the preceding Corpse Party games. While it occasionally fumbles with its expanded cast, witnessing the returning characters struggle with distress, and put themselves at grave risk is a scenario that's mined for maximum tension. As a player, you'll occasionally endure a bit of anguish. But the possibility of closure makes the journey vital.
Corpse Party: Blood Drive was played on PC with review code provided by the publisher. 
Review Overview
Summary : Players no longer have to deal with the unnervingly coded Vita game. This remake mends all the technical issues, allowing Blood Drive's merits to shine, even if some of its expositional and occasional mechanical deficiencies remain rusty.