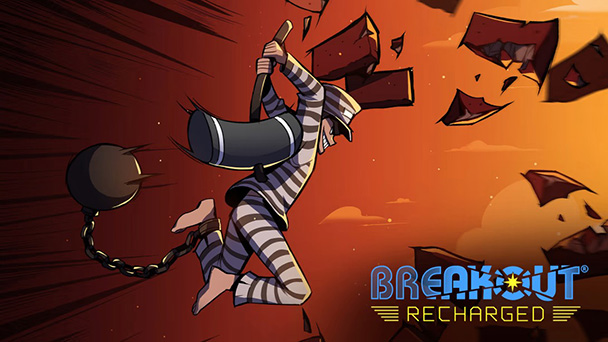 The latest entry in the Atari Recharged series demonstrates continued obedience to formula. If you're a appreciate the approach, it's time to hit the bricks.
Breakout: Recharged
Platform:
Switch, PC, PlayStation 4, Xbox One, and Atari VCS
Developer:
Adamvision Studios, SneakyBox
Publisher:
Atari
Release date:
February 10th, 2022
Price:
$9.99 via digital delivery
Availability:
Nintendo
eShop
and other digital marketplaces
Adamvision Studios follows a strict pattern when modernizing classic Atari titles. If you've followed the updates of Missile Command, Centipede, Asteroids, or Black Widow their methods are apparent. First, every game is given a fancy faux vector graphics aesthetic, even if the original title employed vector graphics. Next, Megan McDuffee contributes a thumping, synth-driven soundtrack. Power-ups play a key role, and here developer Adam Nickerson offers a bit of innovation, often upping the intensity of the original works. While the single-life approach to play is a bit contentious, it makes for shorter games. Finally, there's the inclusion of cooperative play and a challenge mode, with the latter extending a succession of trials.
Unsurprisingly, the release of Breakout: Recharged does little to disrupt this approach. The 4:3 ratio of the 1976 has been altered to fill contemporary widescreen perspectives and the original rotational dial has been mapped to the analog stick. Interesting, Adamvision Studios seems to favor parity across platforms. While handheld play on Switch could support touchscreen input, Breakout: Recharged forces players to use physical controls. As anyone who has played an Arkanoid port knows, the tiny adjustments intended to change the trajectory of a ricochet aren't as easy without a dial-style controller.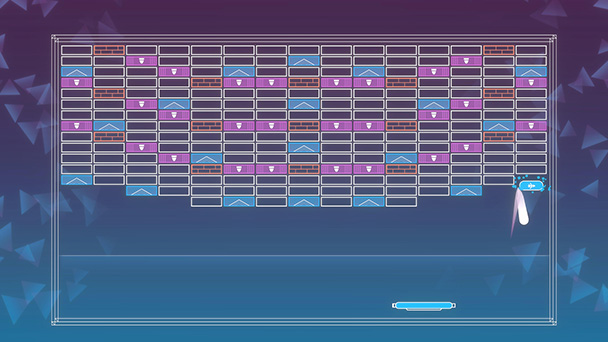 Both the original Breakout and 1978 follow-up Super Breakout, pitted players against discrete stages. Occasionally, that meant a tense but repetitive stalemate, as you tried to angle the ball toward the last remaining brick on the stage. Although you're able to clear every block from the screen and start with a new brickyard, Breakout: Recharged keeps things lively by moving the slabs toward you. Occasionally, the game replenishes the wall when the action becomes sluggish.
The big change here are color-coded blocks. The ones which look like tiny brick walls will take multiple hits to destroy, while glowing ones are explosive and will destroy adjustment obstacles. Timed power-ups are signified by an arrow pointing up, releasing icons that you'll need to catch with your paddle. Most of these are exceedingly helpful, increasing the size of your paddle, putting multiple balls in play, emitting homing missiles, or slowing down time when the ball nears the bottom of the screen. But there are also hazards, such as blocks that drop bullets when they are destroyed. Touch one of these or let the last on-screen ball pass you and it's 'game over'.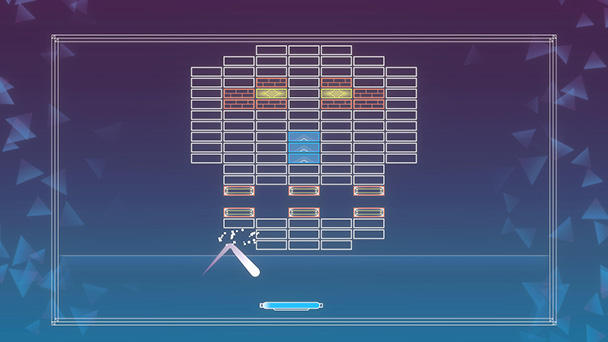 As such, there's the occasional game that ends all too quickly due to a single miscalculation. Chain reactions like explosive bricks triggering a bullet drop will undoubtedly cause the sporadic bout of wearing. It's frustrating, but for better or worse, that's the Recharged template. At least solace can be found in the game's fifty challenges, where you're attempting to complete a specific feat instead of stiving for a place on the online and local leaderboards. From meeting scoring requirements to keeping the ball in play for a specific period of time, there's a bit of variety across these fifty stages.
Enjoyment of Breakout: Recharged hinges on whether you're gotten your fill of brick-busting over the years. Sure, Centipede and Asteroids have inspired clones over the years. But none of these titles can match the sheer number of copycats that Breakout as spawned. So, if you are looking for a respectable update at an affordable price, this is where you'll want to aim.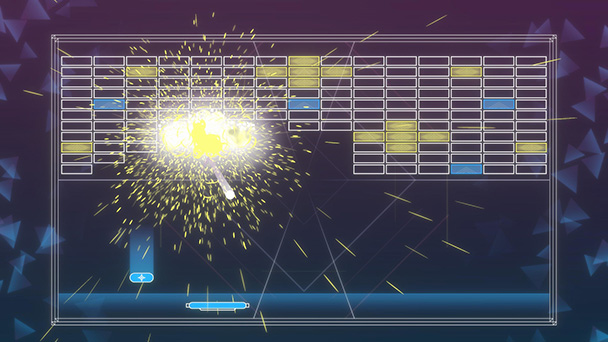 Breakout: Recharged was played on Switch with
review code provided by the publisher. 
Review Overview
Summary : Although it's not the best entry in Adamvision's line of modernizations, Breakout: Recharged shows there's still some life left in Atari's 46 year old brick-breaking formula.