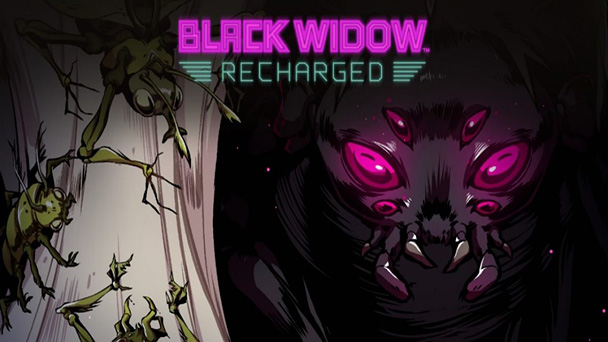 Black Widow isn't one of Atari's most popular properties. But that's probably because the game was released alongside another well-respected twin-sticker shooter. Adamvision's contemporary adaptation demonstrates the merits of the original game, while keeping the contemporary amenities modest.
Black Widow Recharged
Platform:
PC, Switch, PlayStation 4/5
Developer:
Adamvision Studios, SneakyBox
Publisher:
Atari
Release date:
October 28th, 2021
Price:
$9.99 via digital download
Availability:
Steam
and other digital marketplaces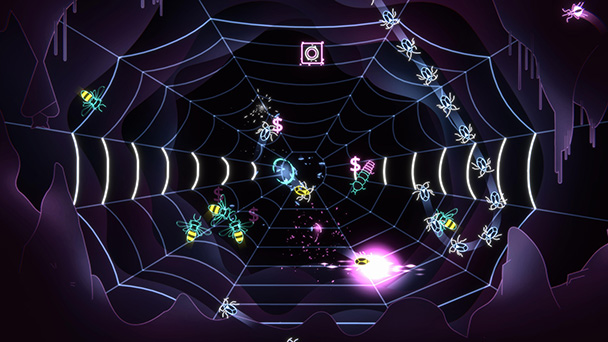 Although the video game crash (commonly known as "Atari Shock" in Japan) was imminent, 1982 was a fruitful year for the industry. In arcades, beloved titles like Pole Position, Dig Dug, and Donkey Kong Jr. debuted. Meanwhile, coin-op games like Berzerk, Frogger, and Defender were ported for home consoles.
Yet, the early signs of Atari's struggles were unmistakable. Although the troubles associated with the rushed adaptation of Pac-Man for the Atari VCS/2600 have been well documented, the 70,000 store returns of Defender cartridges aren't discussed as often. Clearly, the industry leader was losing its way.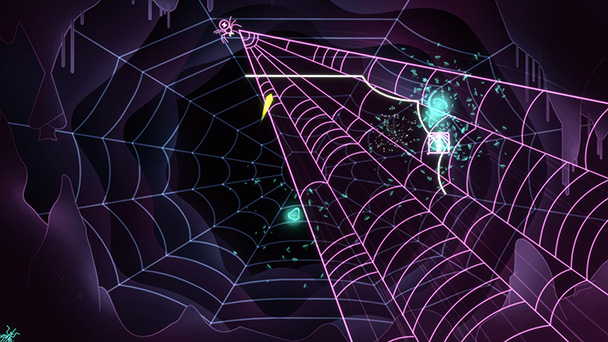 The Tragedy of Being in Eugene Jarvis' Shadow
Yet, you'd probably wouldn't guess this from Atari's 1982 arcade releases. Gravitar might be notorious for its formidable difficulty, but the title nearly stands up there with Atari's other vector graphics gems, like Asteroid, Tempest, and Battlezone. The year also saw the release of Black Widow. While the twin stick shooter couldn't measure up to an analogous rival like Robotron: 2084, nearly four decades on, it's remains solidly entertaining.
Much like his work with Missile Command Recharged and Centipede: Recharged, Vancouver-based Adam Nickerson has contributed a modern revision. Like his previous efforts, Black Widow Recharged doesn't radically change things up. Atari tried that approach about a decade ago with everything from Haunted House, Yars' Revenge, to Star Raiders, and the results were embarrassing.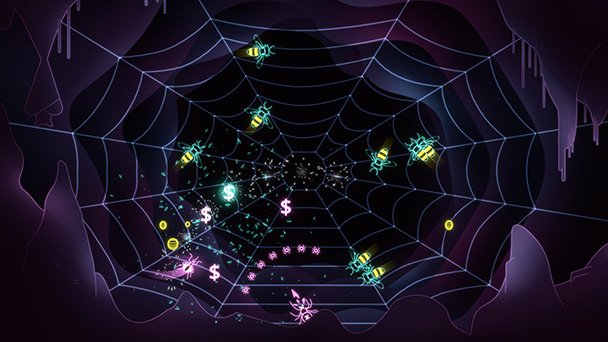 Surfing the Web
This time, Adamvision even retains the original color vector graphics visual style, while adding a pulsating contemporary soundtrack, co-operative play, power-ups, and succession of standalone challenges. Like his previous Atari updates, the formula largely works as it preserves the qualities of the source material.
The game puts you in the role of the eponymous spider attempting to protect her web. Much like Centipede, there's a procession of insect invaders striving to take over, from standard issue Mosquitos to Grenade Bugs that perish in a flash of destructive power. Stimulatingly, there's an ecosystem that guides adversary behavior.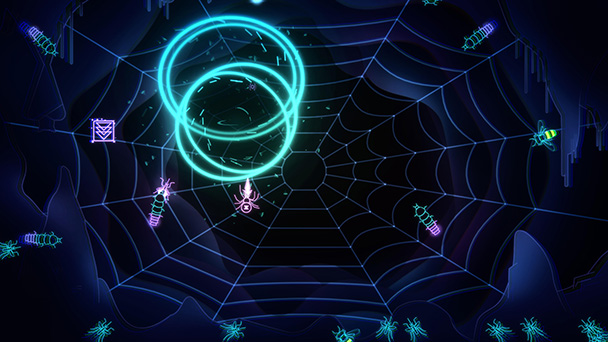 Egg Drop Soup
From basic foes that turn into dollar sign icons when shot, other bugs who eat dollar signs, and hornets that lay eggs on the symbols, Black Widow requires you to constantly 'read' the playfield. Survival means not colliding with foe. But success means anticipating scoring opportunities that will emerge in a second or two.  Getting back to that Grenade Bug, you can simply shoot it as it emerges on-screen. But a slightly more tactical approach is to wait for it to walk near other adversaries. Waiting to fire can result in a detonation able to clear enemies in a circular blast radius.
Although the challenge level begins meekly with just a few, slow-moving enemies, it ramps up progressively. Not only do more opponents dot the playfield, but strands of the web temporarily grow solid, hindering your movement. As such, your field of vision will inevitably narrow, as you concentrate on your immediate vicinity.
Luckily, not everything is lethal. Eggs can be tossed into the void before they hatch. To do this, the Black Widow can push them into the center of the screen, earning a healthy scoring bonus for her efforts. Although the invulnerable Bug Slayer from the original game is oddly missing, local co-operative play allows another spider-mate to assist with the extermination.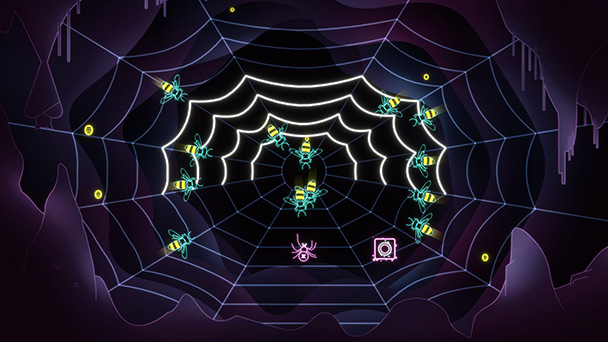 A Venomous Widow, Indeed
You also have access to a rather powerful arsenal. Collect enough dollar signs to fill a meter and you can discharge a wide cone-shaped band of destruction. But you can't use it as a last-minute lifesaver since it takes a second to discharge. Shooting pink-colored foes leaves a power-up icon on the playfield. Picking up one revisits many of the same enhancements of Centipede Recharged. From explosive shots, three-way shooting, and temporarily slow down, each provides a few seconds of assistance that can be a life saver. Just like the Centipede update, Black Widow Remastered gives you a single life, which keeps playtimes succinct.
Like Adamvision last effort, there's a collection of standalone challenges that can break up the scoring runs. Additionally, there are fourteen in-game achievements to chase, as well as local and online leaderboards for bragging rights. While Black Widow Recharged isn't a jam-packed package, there's enough arcade-style play here to get trapped in this spider's web. Well, at least for a weekend or two.
Black Widow Recharged was played on Switch
with review code provided by the publisher. 
Review Overview
Summary : Black Widow Recharged follows the Adamvision formula of not messing with the original too much. You find a respectable update that largely lets Atari's oft-overlooked shooter take a well-deserved moment in the spotlight.