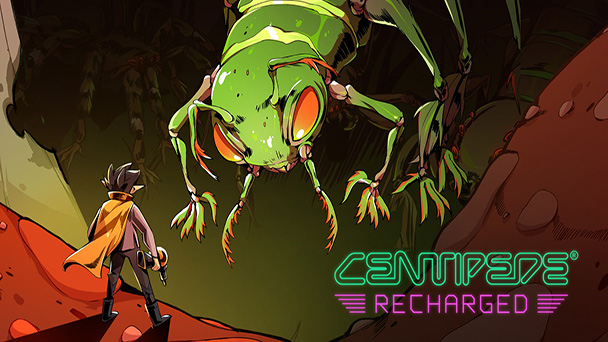 A multitude of minor alterations adds up to Centipede: Recharged deviating from the original game. While purists might take offense, it's a respectable reboot that's far better than most Atari updates.
Centipede: Recharged
Platform:
PC, Switch, PlayStation 4/5
Developer:
Adamvision Studios, SneakyBox
Publisher:
Atari
Release date:
September 29th, 2021
Price:
$9.99 via digital download
Availability:
Steam
 and other digital marketplaces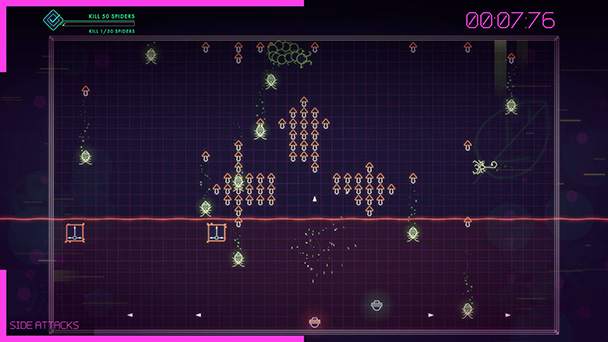 The industry has a woefully uneven record when it comes to updating Atari classics. Sure, there have been some successful updates, with Tempest 2000, as well as Hasbro's PlayStation-era updates to Pong, Breakout, Centipede, and Breakout, all offering worthwhile modernizations. But there have also been a number of abominations, like the 2011 remakes of Yars' Revenge and Star Raiders which downright abandoned the strengths of the source material.
Centipede: Recharged was placed in the capable hands of Vancouver-based Adam Nickerson. The developer's Missile Command Recharged reinvigorated Dave Theurer's original title with faux-vector graphics visuals and a multitude of useful power-ups. Beyond the incredibly reasonable three-dollar price, the title avoided the kind of feature bloat that all too often accompanies these updates.
Largely, Nickerson adopts the same approach with Centipede: Recharged. Although this isn't a radical reinvention of Dona Bailey and Ed Logg's beloved 1981 shooter, a multitude of small alterations push the game in a divergent direction. It's mostly fun and at ten dollars, somewhat affordable. But the game's most fervent fans might be disappointed that Recharged doesn't stick closer to the original.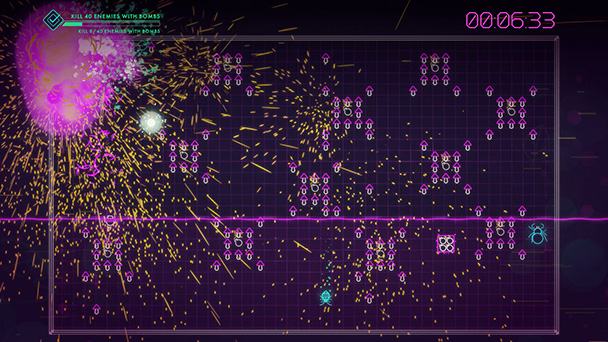 Cursed Land of a Million Legs
Like Missile Command, the game's visuals have been redone and now resemble the output of an oscilloscope. There's a persistent grid on the screen and everything on-screen is drawn with neon-colored glowing lines. The switch is visual styles permits the game to flaunt plenty of eye-pleasing particle effects. Every time you shoot one of the game's four types of enemy insects or any of the mushrooms that dot the screen, sparks fly. The game's shift from a 4:3 to 16:9 screen provides players with a bit more room to maneuver.
Largely, that's a good thing. Death in the original Centipede often arrived in two forms. The first occurred when the segmented insects descended on the lower quarter of the screen. There, they'd follow a predictable pattern, maneuvering around mushrooms. But when too many bugs filled the region, it was difficult to keep track of them all, and a collision was imminent. With a bit more room, it's easier to manage larger number of moving pests. To balance things, there's are no waves of attackers, but more of a persistent barrage. I miss the split-second reprieve between color-coded waves, that signaled a sense of progression.
Spiders were another leading cause of player casualty. In the original, they moved unpredictably, recalling their real-world counterparts. Here, they crawl around slowly and shooting one provides players with a power-up, causing a fundamental shift. In the original game, you'll gun down the eight-legged foes to less the sense of danger in the bottom part of the playfield. Now, spiders are little more that fodder that provides additional firepower.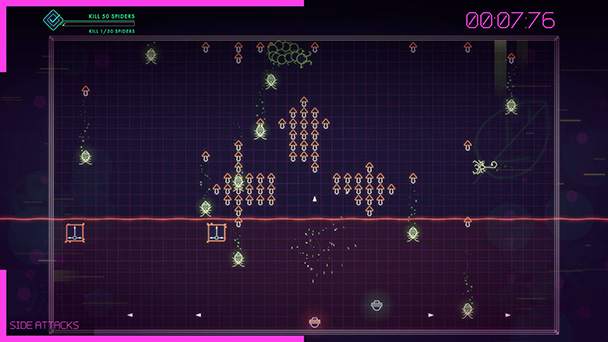 The Tools of Extermination
But at least the powerups feel worthwhile, from rapid fire, a spread shot, explosive bullets, and even a player clone that shoots downward from the top of the screen, most of these augmentations are quite helpful. Sure, aiming at a scorpion-corrupted mushroom is a bit more difficult with the spread shot but it's a trade off for being able to decimate clusters of foes. Pleasingly, Recharged is generous with the length of time for perks. Better yet, the power-up icons don't disappear too quickly, so strategic players can keep the abilities flowing. The downside of a larger bottom region and access to firepower boosts is that Centipede Recharged only give players a single life. A single misstep instantly ends your game, which removes the tension of striving for an extra life.
Fortunately, all the familiar enemies are in here- from the meandrous centipedes, falling fleas, meandering spiders, and treacherous scorpions. The original game didn't have a soundtrack, allowing the distinct sounds of each insect to signal their presence toward players. Here, there's some muted synth melodies that drive the action. Ideally, Recharged would have brought back the cacophony of iconic waveforms.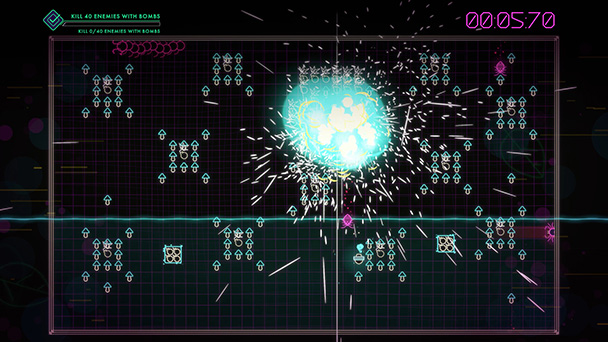 Conclusion
With the inclusion of co-operative play, online and local leaderboards as well as multitude of challenge stages, there's just enough substance to justify the increase of price from Missile Command's reboot. But small details, like the lack of trackball or even mouse support seem to demonstrate that Centipede: Recharged didn't obtain opinions from retro aficionados. Given Nickerson's plans to modernize Black Window and Asteroids, let's hope the talented developer seeks out a bit of feedback.
Centipede: Recharged was played on PC
with review code provided by the publisher
Review Overview
Summary : There's fun to be had with Centipede: Recharged, as long as you don't expect a reboot that dutifully adheres to the original.