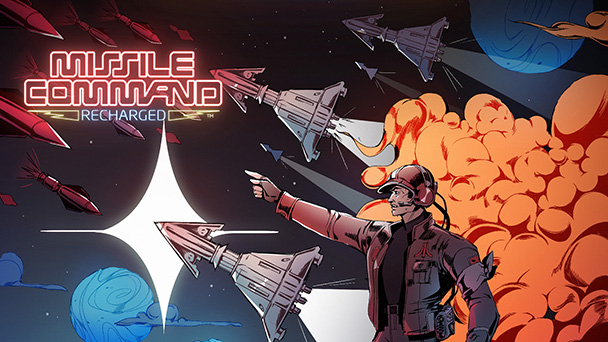 The 1980 coin-op classic returns with a faux-vector graphics look, power-ups, and new enemies. It's minimalistic approach is reflected in its exceedingly affordable price. 
Missile Command: Recharged
Platform:
PC, Switch, mobile
Developer:
Nickervision Studios
Publisher:
Atari
Release date:
May 27th, 2020
Price:
$2.99 via digital download
Availability:
Steam
When a remake of a beloved Atari classic is announced, disappointment often follows. Sure, there is the occasional outlier, with Llamasoft's handing of Tempest 4000 staying true to the source material. But too often, the results fall closer to the disappointing quartet of Atari remakes from 2011. Modernizations of Haunted House, Star Raiders, Yars' Revenge and Star Raiders are best left forgotten, with each deviating from the simple enjoyment of their source material.
As such, it's natural to approach the recent release of Missile Command: Recharged with a healthy dose of skepticism. But in the hands of Nickervision Studios, the single-person studio behind Ding Dong XL, Orbt XL, and Bit Blaster XL, something quite remarkable has happened. Building on Adam Nickerson's appreciation for minimalism, the game shirks the bloat often exposed by remakes.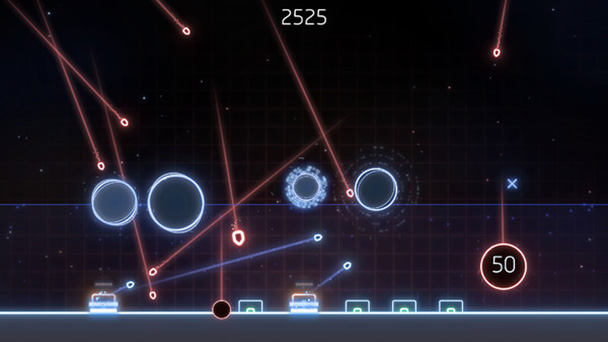 One Mode, No Nonsense
Head into Recharged and you find much variety. Like the original 1980 coin-op (and unlike the 34 variations found on Rob Fulop's 2600 port), there's a single game mode. Even the game's options are sparse, with players able to switch between ten languages, as well as toggle sound effects and music. It's a far different approach than most contemporary games, which extend the ability to select difficulty level or starting wave. Following early arcade tradition, Nickervision offers a solitary challenge, goading you into mastery.
In case you missed the original game or its occasional ports, remakes, or clones, Recharged offers an exceedingly succinct tutorial. Using a mouse or a controller, you move a cursor around the screen while enemy missiles slowly rain down from the sky. You task is to defend six cities and a trio of batteries from the airborne assault. Pressing a button releases a counter-missile, which leaves a lingering denotation cloud that can wipe out any enemy warhead or object it comes into contact with.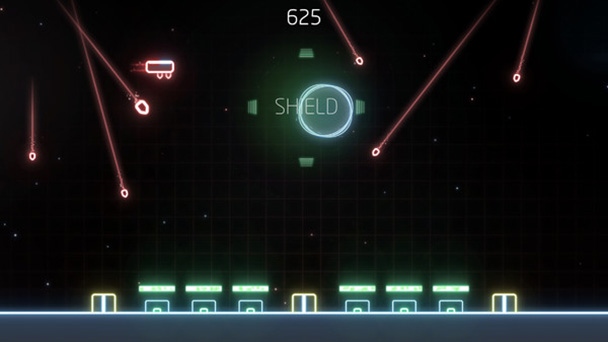 One Button or Three?
Opt to take on Recharged's endless barrage of enemy projectiles with a mouse and you'll use a single mouse button. Instead of worrying about a finite number of anti-ballistic missiles (ABMs) in each silo, Recharged provides an infinite number, although there's a gauge that reflects a cool-down time before another can be discharged. Obviously, mousing the cursor around the screen is much faster and accurate than using a controller, and consistently I was able to gain higher scores in my quest for a place on the online leaderboards.
But when using a controller, you can use the buttons to select which silo fires an ABM. The advantage is often a shorter distance for your countermeasure to travel. This eliminates the shots that must travel across the whole screen, often missing their target during the voyage. It also reflects the intensity of the original game, requiring players to track each descending warhead but also the status of each silo.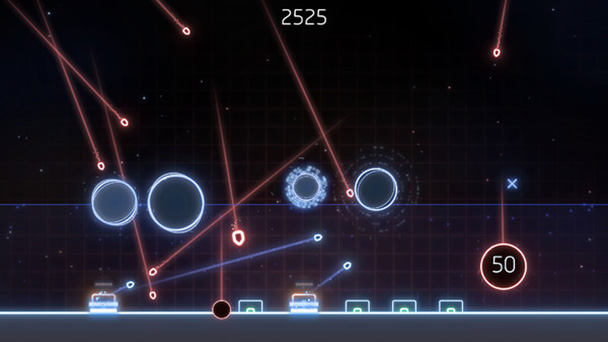 Intelligent Changes
Given the game's mobile release, it's not too surprising to find rewards for continued play. With Recharged, your final score can be applied to purchase upgrades that do things like increase the speed or size or your ABMs, boost the reload speed of your silos, and gradually rebuild destroyed silos. These grow in price exponentially, meaning assistance arrives at a slower rate the more you play. But remarkably, these invert the game's difficulty. As your own skills improve, these perks work in conjunction, helping you survive the game's rather unforgiving onslaught.
Beyond new enemy types like bombers who drop warheads at regular intervals as they float by, the other major change to Recharged is the inclusion of power-ups. By destroying one of these you'll enjoy a brief benefit than can help repel the bombardment with capabilities like rapid-fire, city shielding, homing missiles, or a smart bomb that can clear the entire screen. Given the game's rapidly escalating difficulty, where a dozen projectiles can fill the screen after a few minutes of play, these are exceedingly welcome. More importantly, that add an appealing risk-reward element, as taking the time to nab one of these power-ups can potentially save you from imminent disaster.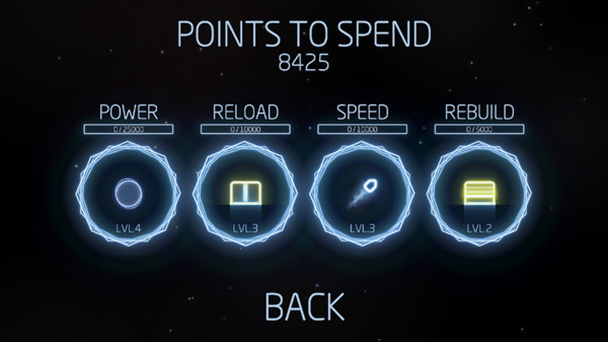 Conclusion
Curiously, Recharged abandons the look of the original game, opting for a faux-vector graphics style. Given that original Missile Command designer Dave Theurer also created Tempest, the change toward visual austerity is fitting for a game about cold war worries. But just as importantly, it's eye-catching with neon lines radiating soft auras. Finally, it would be negligent to not make mention of the game's price. At $2.99 USD, this is far cheaper than most modern remakes. If Atari can generate revisions of comparable quality at the same price point, redemption could follow.
Missile Command: Recharged was played on PC with review code provided by the publisher. 
Review Overview
Summary : Missile Command: Recharged adopts a back-to-basic approach, with one game mode and a modicum of options. However, with a price of less than three dollars, this tactic is commendable.